January 2010 Steinlifters Online
The 10,000th Panamera rolls off the Porsche production line. Read about
this sales milestone in this issue.
It's the time of year when most (but not all) Porsches are hibernating. But that need not be the case for PCA Milwaukee Region members. The region has a year 'round schedule of activities to keep members connected and active.
In this issue of Steinlifters Online, review the details for Historic Turbo Spaghetti which is set for Feb. 6, read a region member's review of the L.A. Auto Show complete with an array of photos of the Boxster Spyder, learn about a weekend in Door County that's been planned for the fall (to ensure a room at our designated lodging place you must place a reservation before the end of February), a new year's greeting from Region President Don Kiepert, a message from our 50th Anniversary Committee Co-Chair Gary Messing and much more.
Upcoming events
Jan. 7 - Board meeting. All members are always invited to sit in on the regular monthly board meeting. We meet at the Brew City Grill, 10250 N Cedarburg Rd., Mequon, WI 53092. Brew City is on Hwy 57 between County Line Road and Donges Bay Road. 6:30 p.m. Join us.

Feb. 6 - Historic Turbo Spaghetti. This is the kick-off event for our year of activities to celebrate the region's charter as a defined chapter within the Porsche Club of America (PCA). In April 1960, 10 PCA members who were part of the Chicago Region petitioned PCA to form a Milwaukee Region. The petition was granted and on April 30, 1960, the Milwaukee Region got its start. To celebrate 50 years of "Everything Porsche," we have planned a variety of activities that will have an extra spark. Historic Turbo Spaghetti is one of the longest-running events in our region and is an ideal event to kick off our region's 50th anniversary year. This event, which alternates every year with Carrera Chili, began years ago and continues to today, bringing members together in the cold, darkness of February. The main focus is getting together for food and conversation. Attendees can sample a variety of pasta sauces, brought by members who want to enter the friendly competition. It's perfectly OK to come without a sauce to enter -- we need impartial judges, too! All the fixings to round out the meal, along with beverages, will be served. The details are here.
We'll celebrate the end of Winter and the eve of Spring at
the March 19 casual dinner. Please join us. Details here.
March 19 -- Spring is around the corner casual dinner. No speeches, no formalities. Just a casual dinner on the last day of winter (at least according to the calendar -- no guarantees that the weather will actually reflect spring-like temperatures). We will gather at the Open Flame, Highway 100 and W. Edgerton, on the border between Greenfield and Hales Corners in southwestern Milwaukee County. This location is easily accessible from the interstate system. We will be ordering from the Open Flame's extensive menu. There's something for everyone. An RSVP is required so we know how many will be attending. This is a Friday. Start off your weekend with a fun get-together as we look forward to another season of great driving experiences. Details here.
April 30 -- 50th anniversary gathering at the Harley Museum in Milwaukee. Details coming.
New! Reserve by Feb. 28. Weekend in Door County, Oct. 22-23. A block of rooms will be held at the White Gull Inn until Feb. 28. Reserve your room before that date if you plan to join us for this fun weekend of Porsches, people and Door County, one of Wisconsin's richest treasures in the fall. Details here.
New! June 12 -- Spring tour. While you're circling dates on the 2010 calendar, be sure to save Saturday, June 12, for the annual spring tour. This driving event will take us on some of Wisconsin's most interesting and less traveled roads. More details to come. For now, save the date. This is always a fun event.
Region news and updates
A new year's greeting from Region President Don Kiepert. Welcome to the Sixth Decade.
2010 anniversary news: The new year will glitter as the Milwaukee Region prepares to celebrate everything Porsche in recognition of its golden anniversary. It was 50 years ago that the Porsche Club of America approved a petition to charter the Milwaukee Region. That was the start of a Wisconsin presence for 10 men who had been traveling to Chicago to meet with other Porsche enthusiasts to participate in events centered on the marque and a budding sense of camaraderie....More
Milwaukee Region member Jeff Kuklinski attended the Los Angeles Auto Show to get an early look at the new Porsche Boxster Spyder. Read Jeff's review of the L.A. Auto show here.
California dreaming -- Speaking of the Boxster Spyder, check out this video of a new Spyder as it's driven along the coastal highway in California.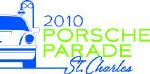 Porsche Parade 2010. The annual gathering of members of the Porsche Club of America will be in our backyard in July 2010 in St. Charles, Ill., about 30 miles west of Chicago. Check out this explanation of what Parade is all about as well as the official Web site of Parade.
Porsche sales reach 10,000 for the Panamera. Read the details here.
Welcome new members
The Milwaukee Region welcomes the following who joined the region in December 2009:
John Donovan, who lives in Hartland and drives a 1988 944 Turbo
Arthur Maurer, who lives in Pleasant Prairie and drives a 1980 911 SC
Geoffrey McLaughlin, who lives in Cedarburg and drives a 1988 911 Turbo. His family member is his son Daniel.
Sean Moriarity, who lives in Waldo and drives a 1982 911. His family member is his wife Brenda.
Scott Pietila, who lives in Sussex and drives a 2004 Cayenne. His family member is his wife Sandy.
Congratulations to these members who are observing a January membership anniversary:
| | |
| --- | --- |
| Michael G. Roubik | 1977 |
| Gregory P. Formella | 1980 |
| Leonard A. Jastroch | 1981 |
| David Kittleson | 1990 |
| Fred D. Niedermeyer | 1991 |
| Gary Princl | 1991 |
| Robert Henschel | 1996 |
| Jonathan M. Hershey | 1998 |
| Scott F. Niedermeyer | 1998 |
| Roy W. Olivier | 1998 |
| Richard W. Hilgendorf | 1999 |
| Edward F. Treis | 2002 |
| Aaron M. Hauschildt | 2002 |
| Nicholas A. Roush | 2002 |
| Nick Schmidt | 2002 |
| Wingate F. Clapper | 2002 |
| Jeff Barr | 2003 |
| Todd N. Roberts | 2003 |
| Samuel D. Dickman | 2003 |
| Andy F. Stever | 2003 |
| Gene Guszkowski | 2003 |
| Jack J. Ford | 2003 |
| Steve Dimakos | 2004 |
| Tim K. Lynn | 2005 |
| Drew H. Meacham | 2005 |
| Jeffrey A. Jaeger | 2005 |
| Wilfred B. Szerenyi | 2006 |
| John W. Orth | 2006 |
| John M. Steinwart | 2006 |
| Robert P. Schwade DDS | 2006 |
| Jamie Wolff | 2006 |
| Dan S. Allison | 2006 |
| William K. Oberbeck | 2006 |
| Benjamin D. Duke | 2007 |
| Tomer T. Bitton | 2007 |
| Thomas E. Klatt | 2007 |
| Austin E. Stich | 2007 |
| Mark D. Weber | 2008 |
| Greg Kizevic | 2008 |
| David Sislowski | 2008 |
| Michael T. Jarrett | 2008 |
| Christos J. Karampelas | 2009 |
| Ryan T. Schuelke | 2009 |
| Robert G. Radder | 2009 |
| David W. Rose | 2009 |
Classifieds
Check out the latest classifieds here. Information on how to submit a classified online is also on this page.
And finally, may you or the driver behind you never be in such a hurry that this happens: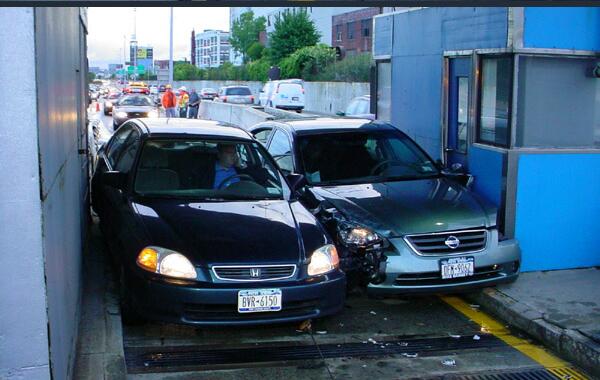 Suggestions, submissions always welcome. Send to Milwaukee Region Webmaster Bev Jurkowski, beverly.jurkowski@sbcglobal.net
Posted on Sunday, January 3, 2010 12:00 AM, updated on Monday, January 4, 2010 1:18 PM
Return to List of Journal Articles