August 2011 Steinlifters Online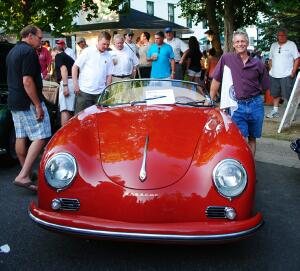 Dave Zimmer earned national recognition at the 2011
Road&Track concours d'elegance for the restoration
he completed on a customer's 356. Story details below.
Porsche Parade, the annual gathering of the members of Porsche Club of America, is under way now -- the first week of August -- in Savannah, Ga. We hope there are a few Milwaukee Region members at Parade to represent our region and enjoy the camaraderie of this event that attracts PCA members from across North America. We have plenty of region activities coming up for all members. Check out the details for the upcoming autocross, the monthly Cars & Coffee gathering in Lake Mills, the Milwaukee Masterpiece, dinner at Mader's (lederhosen optional) and more.

Upcoming events
Aug. 4 – Board meeting. Wisconsin Club Country Club, 6200 W. Good Hope Rd. Members are always welcome to sit in on these meetings. Bring your ideas to the board for their consideration and/or action.
Aug. 7 – Cars & Coffee. The monthly gathering of fine automobiles in Lake Mills at 2Shores International. Details here. Read about the July event here. Great pictures!
Aug. 21 – Autocross at Miller Park. This is the final autocross event of the season that will be hosted by our region. Check it out. You can have great fun in your Porsche while driving a low speeds through a cone-defined course. Details here.
Aug. 27 - Dinner at Maders. Our host is Kim Zinda. This is on the Saturday evening of the two-day Milwaukee Masterpiece, a premiere car show at the lakefront. Join us for dinner after enjoying the Masterpiece or just come for dinner. Details about the dinner here.
Aug. 27 - 28 - Milwaukee Masterpiece at Milwaukee's Lakefront. Details here.
Sept. 1 - Board meeting. Members always welcome to join in the discussion about region events.
Sept. 10 - Fall Tour. Save the date. More details to come on this annual driving event on some of Wisconsin's great roads. This will be a half day tour.
Sept. 17 – Dinner at Timmers. This is a social gathering. Our hosts are Sharon and Paul Stewart. Details here.
Oct. 16 - Drive to breakfast. Our host is Al Wagner. Save the date. More details available in the September newsletter and online. The drive will start in Mequon and end in Delafield where we'll enjoy breakfast together.
Oct. 20 - Dinner at Tony & Mia's in Delafield. This is a Thursday evening. Our host is Bob Shellman. Join us for dinner at one of Delafield's newest restaurants. Details about this event here. Note, an RSVP and deposit is required by Oct. 10.
Oct. 14 - 16 Rennsport Reunion. Read the details of this unique gathering here.
Paintwerks in national spotlight
Milwaukee Region member Dave Zimmer earned national recognition at the 2011 Road&Track concours d'elegance. Read the details here.
Welcome new members
Welcome to the following who joined PCA in July:
David Andrews and his affiliate member Tamara Andrews, Plymouth, Wis., 1982 911 SC
Robert Engle and his affiliate member Rebecca Engle, New Berlin, Wis., 1988 911
Marcia Moden and her affiliate member Mighty Moden, Pewaukee, Wis., 2006 Cayenne
Richard Pearson, Mequon, 2011 911
Bryan Rasch and his affiliate member Laura Craemer, Salem, Wis., 2006 Cayman S
Gene Reddick, Hartland, Wis., 1985 911
David Simon, Delafield, Wis., 2001 Boxster
Ross Williams, Milwaukee, Wis., 2007 911
Transferred to our region:
Anthony LoGiudice, Milwaukee, Wis., 2005 911CS
August anniversaries
Congratulations to these members who are observing a membership anniversary with PCA this month:
35 years - Arthur T. Hillmer
33 years - Lynn Johnson
31 years - Thomas J. Kurey Jr.
22 years - Robert Kaufman
20 years - Bud Sova, Paul Madsen
18 years - John J. Csiha
15 years - Fred C. Schwierske
14 years - Tim McKenzie, Michael Dober
13 years - John Cibik, Edgar L. Hoffman, Anthony Rotheray, Todd J. Barden
12 years - Robert F. Frediani, R M. Knutson
11 years - Jerome L. Franke, John T. Fried
10 years - Dianne E. Schmitz
9 years - Ben Kordus
8 years - Scott R. Carroll, Peter R. Bray
7 years - Todd Flemming, Philip Richards, William E. Rall
6 years - Roger Byhardt, Robert Honor, Nicholas M. Port
5 years - Jim E. Lindenberg, Alan B. Wagner, Jim Rosenbaum, Todd Hetherington, David Bornhuetter
4 years - Dave J. Knebes, DeWayne Egly
3 years - Mark D. Kreple, Mark Roller
2 years - Brent E. Barg, Brad L. Buss, Paul R. Miller, John C. Harper, Jeffrey Gaines
1 year - Michael G. Dowling, Andy G. Lechtenberg, Neal F. Schulz, Mike W. Bender, Vini V. Alarcon, Herb D. Mills, Andy Ciesielski, Jeff M. Czarnecki
Recent events review
Here's a recap of some of the events that region members have enjoyed recently.
July 3 Cars & Coffee. The July 3 Cars & Coffee attracted a variety of exotic foreign cars and several examples of American muscle. Read about the event here.
July 3 Autocross at Miller Park. Check out the action here. Thanks to Ron Pace for the photos.
July 16 Kohler International Challenge and the Road&Track concours d'elegance. Al Wagner hosted a drive to Elkhart Lake so that region members could enjoy the annual Road&Track concours d'elegance on the streets of Elkhart Lake, along with dinner at the Lake Street Cafe. At nearby Road America that same weekend, the annual Kohler International Challenge was under way, offering the finest in vintage racing. Read the details of our region's event here.
Classifieds
Check out the latest classifieds online here.
Porsche in the news
Thanks to members who find interesting and sometimes wierd news and articles about Porsche. This month's contributors include Paul Roller and Mike Wiviott.
928 revival rumors. Is Porsche bringing back the 928? Read on.
Video test drive of the new 911GTS. The Wall Street Journal's automotive section features this video about Porsche. Check it out.
GT2 climb up Pike's Peak. Great sound and video of a GT2's run up Pike's Peak. Check it out.
LEGO Porsche? Yes, you read that right. Someone built a Turbo Cab with Lego's. No expensive oil changes required for this Porsche. Details here.
Porsche wins J D. Power award for 7th consecutive year. Read on.
Porsche to return to LeMans in 2014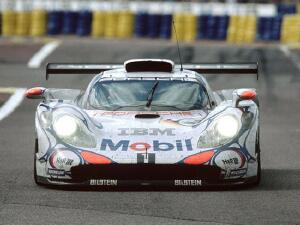 ATLANTA -- June 30, 2011 -- Porsche returns to Le Mans with a works-run LMP1 sports prototype. The first outing of the completely new developed race car is planned for the year 2014. With 16 overall victories, Porsche is the most successful manufacturer in Le Mans. The most recent win was in 1998 with the Porsche 911 GT1.
"Motorsport was always an essential part of the Porsche brand," emphasises Matthias Müller, President of the Executive Board at Porsche AG. "So for us it was only a matter of time before we returned as a factory to the top league of racing. Porsche's successes in Le Mans are unrivalled. We want to follow up on this with the 17th outright victory."
With the RS Spyder sports prototype that was run with great success from 2006 to 2008 by the factory-backed Penske Racing team in the USA and to 2010 by several customer teams worldwide, Porsche has set the benchmark recently in the LMP2 category. "With the RS Spyder we proved that our motorsport engineers in Weissach are at the forefront," says Wolfgang Hatz, Board Member for Research and Development at Porsche AG. "For instance, we were the first to run a high-revving race engine with direct fuel injection, DFI, setting new standards in performance and efficiency. Recently, with the 911 GT3 R Hybrid, we adopted a completely new drive technology for racing purposes and achieved a considerable reduction in consumption."
Hartmut Kristen, Head of Porsche Motorsport, is already prepared for one of the most challenging development programmes in the company's history. "We're looking forward to the task of developing new technologies and to continue on with the success of the Porsche RS Spyder. After the conclusion of our works-supported sports prototype programme in the American Le Mans Series we have kept up with the latest technological advances. Now we will begin with detailed research in order to evaluate the various concept alternatives for our new car. These obviously depend on how the regulations for the year 2014 look in detail. In principle, these regulations are interesting for us because the integration of our hybrid technology in the vehicle concept is one possible option."
Hans Herrmann and Richard Attwood claimed the first overall victory for Porsche in 1970 with the legendary 917 short-tail. The 16th and by now last overall win was secured by Laurent Aiello, Stéphane Ortelli and Allan McNish in 1998 with the 911 GT1. In the years 2008 and 2009, the Porsche RS Spyder sports prototype won the title in the LMP2 category.
July sales are up, Porsche Cars North America reports

Posted on Tuesday, August 2, 2011 12:00 AM, updated on Wednesday, August 10, 2011 7:47 AM
Return to List of Journal Articles