February 2012 Steinlifters Online
It's February, the month of Valentines and all things red, especially red Cabriolets. It's also the month in which the region's activities move from idle to first gear. We have a few events on the calendar starting this month and more are being added at a regular pace. You can read about the region's plans in this issue, as well as welcome new members and get to know a couple of members who joined late in 2011. You also will have the opportunity to read a few words from George Kowalski, region president. Be sure to read to the bottom of the page as we have found a few interesting videos.
A note from the President:

It was an email from the very wise and talented Bev Jurkowski right after the first of the year that brings me to you today. Bev suggested that the newly elected president (Me) should write something for the monthly edition of Steinlifters. I immediately applauded her suggestion and said that yes, I would be more than willing to do that. The present reality of that suggestion is that the blank computer screen has been mocking me for the better part of this Saturday. Where on earth do I begin?
I started thinking of all the events that transpired to put me in this position as your club leader. Specifically, what is it in my genetic code that draws me, and all of us for that matter to cars and Porsches in particular? Are we all "Car guys"?
This thought brought me back to an article I read several years ago in Road & Track. In his column, "Side Glances," Peter Egan lists 20 or so defining characteristics of "Car guys." I reread that article and if you have to ask why I have 20 years worth of back issues of car magazines, you aren't a Car Guy. Anyway, I reread the article but other than a chuckle or two, I came up empty once again. It wasn't the whole "Car Guy" mystique that was sustaining our membership. Now what?
Back to the drawing board. Then I remembered, very vividly, my first experience with Milwaukee PCA. It was May 2010, right after I moved to Wisconsin. Knowing absolutely no one other than the people who hired me, I reached out to this organization. They readily replied to my emails. Invited me to meetings. Gave me the Autocross schedule. They even followed up to see if I was going to attend an event. When I did I was greeted with warm smiles and firm handshakes. They didn't know me but they respected our kinship and that made me OK. They were even kind enough to not make any "What exit?" jokes after seeing my New Jersey license plates. These were GOOD people and I wanted to belong.
So I guess I'm onto something: What keeps this legendary organization alive is the people. The cars, both literally and figuratively are merely the transportation devices that bring us together. While this revelation may sound overly sentimental or even juvenile to some, it is the underlying truth. Challenge me on this. I dare you.
The revelation here is that we don't have to reinvent the wheel in order to grow our organization. We just need to invite people in. It worked for me!
My goal is to grow this organization. Not just in membership, but that would be nice too. But to grow the number of interactions that members have with each other. That's the key. Email, Board meetings, Autocross, DE, Social events, rally, tech sessions. It doesn't matter where you interact just as long as you do. And just for fun, invite another "Car Guy" (or gal!) We'll all be glad you did.
Editor's note: George's contact information, as well as that of all board members and committee chairs, is found on the Contact Us tab on this website.
Upcoming events
Feb. 4 – Garage/Tech session. The RSVP deadline has passed but there may be room for you. Please follow the RSVP instructions here.
Feb. 18 – Turbo spaghetti. Please RSVP. You can pay at the door. This is the a favorite event for many members. Peggy and Jerry David are hosting this event in their home in Franklin. Details here including costs and how to RSVP.
March 1 – Board meeting. All members are always welcome to attend. We meet at 6:30 p.m. at the Wisconsin Club Country Club, N. 60th and W. Good Hope Rd.
March 13 – Registration opens for Parade 2012. This is a week of total immersion in Porsche with activities for the whole family. http://parade2012.pca.org/
March 30 – Tentative date for region fish fry/casual dinner. Plans are shaping up for a return visit to the Thunder Bay Grille in Pewaukee. Stay tuned.
April 1 – First Cars & Coffee of the season. Join other car people on the streets near 2 Shores International in Lake Mills, easily accessible from I-94. Drive your Porsche. It won't be alone in this casual car show. Details here.
April 5 – Board meeting. All members are always welcome to attend. 6:30 p.m. Wisconsin Club Country Club, N. 60th and W. Good Hope Rd.
Check the calendar on the region website for events already confirmed for the months of April through December. http://www.porschepark.org/events/calendar.php
February anniversaries
Congratulations to these members and affiliate/family members on their membership anniversaries this month:
Thomas M. Golner, 1982
John May, 1983
Arthur L. Cunningham, 1989
Edward E. Lisowski, 1993
Fritz Seidel, Jack Hoffman, 1994
Randy Stenson, 1995
Don Berchem, Doris Henschel, 1996
Kurt W. Krueger, Frank A. Boucher, Mike Wiviott, John A. Ricci, Susan Niedermeyer, Julie Hershey, 1998
Sean Dicks, Kristina Hilgendorf, Kimberly Ricci, 1999
Robert J. Flemming, Brian Faust, William O'Neill, 2000
Grant A. Gallinger, Michael C. Schmitz, 2001
Sandra Clapper, Jeff Serra, 2002
Patrick Cibik, Cynthia Stever, Patricia Barr, Kevin T. Kwasniewski, Andrew Cunningham, Joanne Ford, Barbara Stenson, Ann Stevens, 2003
Kristin Dimakos, 2004
Matt Van Zelst, Betsie Alverson, Carrol Jensen, William Alverson, 2005
Joseph J. Komanecki, Carol Komanecki, 2006
Robert A. Hieb MD, Cyndi Carini, Debbie Casto, Melissa Ringwall, Glen W. Ringwall, William O. Casto, Jack Carini, 2008
Stephen R. Stickler, Scott Sampson, Mark A. Holzwart, James H. Kuehn, Trudy Pesic, George Pesic, Ray W. Knight, Ginghus C. Bresser, Jay J. Philipp, 2010
James F. Adelsen, Fritz Seidel, Diane D. Lake, Richard Brian Rose, Gregg C. Achtenhagen, Nick J. Curran, Tyler M. Vassar, Amy Adelsen, Lisa Spirewka, Kathleen Vassar, 2011
Welcome new members
The Milwaukee Region welcomes these members who joined PCA in January or transferred to the Milwaukee Region in February:
Paul Horanoff and his affiliate member Linda Johnson, of Hartford, Wis., 1986 911
Mark Sandler and his family member Ellen Sandler, of Whitefish Bay, Wis., 2001 Boxster S
Wilhelm Borgstrom and his family member Anne Borgstrom, of Milwaukee, who transferred from the Nord Stern region, 1995 911
Ernest Hirn and his family member Karen Hirn, of Lake Geneva, Wis., who transferred from the Chicago Region, 2004 911.
New member profiles
Ross Gulotta joined in December. He drives a 1988 911 Carrera Cabriolet, with 88,000 miles. He reports he found it online from a private party in Chicago while surfing the web and "it was love at first sight!" The owner originally had sold it, but the other buyer couldn't get financing so the deal fell through. "I have always wanted this body style and have joked with my wife that she would be able to tell I was having my mid-life crisis when I came home with a Porsche." Ross turned 50 on Dec. 21, 2011, so his prediction was accurate.
The '88 Cab is his first Porsche, and like most of us, he "ALWAYS wanted one." (Upper case emphasis from Ross.)
Ross holds an operations management position. He said he is looking forward to any reason to drive his Porsche and he also loves to cook and eat.
Chris Kohn also joined in December with his first Porsche, a 2007 911 Carrera S with a manual transmission. With low miles, it is white on black with black wheels, tinted windows, and black stone guards from a 911 Speedster. Like Ross, he found the car online. It was at a dealer in Atlanta. "After weeks of emails and phone calls, I pulled the trigger," Chris said.
A global product manager, Chris manages an aftermarket services business for an industrial automation company. He's open to all of the activities the region offers so we hope to see Chris and the 2007 Carrera S at events in 2012.
Aaron Hoffman is a first-time Porsche owner, too, with his 2010 GT3 RS that he will use exclusively for drivers education (DE) and track events.
Aaron's GT3 RS is white and has a roll bar, harnesses, padgid yellow brake pads and a Shark Werks center muffler bypass. He found the car, which has very low miles, at a dealer in Knoxville, Tenn., and had it shipped to him.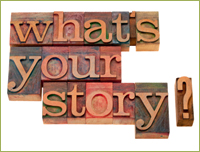 Welcome to these new members and thanks for responding to newsletter editor Bev Jurkowski's email requesting profile information. If you received an email recently or months or years ago and have not responded, there's still time. There's always time to tell the stories about our members and their cars. Contact Bev at Beverly.jurkowski@sbcglobal.net
Social committee reports on its planning meeting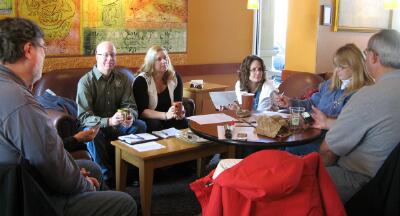 On a cold, sunny Saturday morning with a fresh layer of snow on the ground, the Social committee gathered at Panera Bread in Brookfield to develop plans for warmer weather activities involving our Porsches. Despite the snowfall, the Stewarts - Paul and Sharon - arrived in their Boxster, true to form.
We discussed last year's efforts, what worked and what didn't as well as debating alternatives. Feedback from participants is important to help us develop future plans, so feel free to comment. Last year's Fish Fry was well attended and the restaurant was very easy to work with so we plan to return to Thunder Bay Grille. The tentative date is Friday March 30, so watch the website for further details. Also discussed were a picnic during the summer, another Christmas Party, possibly a Sunday Brunch and perhaps a party to watch the finish of the 24hr Rolex race next year. If you have any suggestions or would like to help with some of the events please feel free to contact any of the social committee members. Kim Zinda – chair, Bob Shellman, Paul and Sharon Stewart, Larry and Lise Miley, Mike Elliott or Donna Daufenbach. We're looking forward to seeing you this year.
Don't forget Turbo Spaghetti is coming soon: Saturday, Feb. 18, at Jerry and Peggy David's. Details here.
Classifieds
Check out the latest classifieds. Members may use this area to advertise Porsche-related items they wish to buy, sell or trade. www.porschepark.org/classifieds
Video corner
Members find interesting videos about Porsche or its family and share them with the editor for this newsletter. Thanks to all who do that.
VW factory tour -- If you haven't seen this video, it's worth a few minutes of your time. Check out how VW produces the Phaeton at its manufacturing plant in Dresden, Germany. Watch video.
New Porsche 911 driven -- Watch the video and hear the engine as the car is put through its paces.
The 911 identity -- Watch a video that explains Porsche's DNA.
Other news
1967 Can Am at Road America featured in Motor Sport magazine - See the photo spread here.
Magnus Racing leads Porsche 911 GT3 Cup sweep of Rolex 24 at Daytona podium
Daytona Beach, Fla. --January 29 -- Richard Lietz (Austria), sharing the #44 Magnus Porsche 911 GT3 Cup with John Potter/Andy Lally/Rene Rast, took over the driving duties with less than two hours left to go at the 50th Rolex 24 at Daytona. He then guided his car through two pit stops and to the GT victory for the Salt Lake City-based team owned by Potter and led a sweep of the GT podium by Porsche 911 race cars.
In fact, with Lietz, Henzler and Lieb – all Porsche factory drivers - driving their cars to the checkered flag, Porsche Motorsport North America president Jens Walther is especially proud of the Porsche people, not just the race cars.
"With both our customer race car owners and our factory drivers, we have the best people in the motorsports business associated with Porsche, and they are a key part in making our street cars and race cars great," said Walther, who has been president of Porsche Motorsport North America, Inc. since 2010.
Winning team owner John Potter could not contain his feelings in the pit box after the checkered flag dropped, as his team was victorious in one of the greatest sports car races in the world after being in existence less than three years.
"This crew works so hard, and we have come so close to the top step of the podium in Grand-Am in the past, but to win for the first time, at this race is something special. Rene and Andy are great guys, and Richard really brought us home strong," said Potter.
Lietz was pleased that Potter chose him to finish the race, and he thought the field of drivers was especially strong.
"I was honored to carry the team flag to the finish line, and we bested a field of world-class GT drivers," said Lietz.
For Rene Rast (Germany), the defending Porsche Mobil 1 Supercup champion, it was his first time at Daytona, but the significance of the victory did not escape him.
"To finish at the top with perhaps the greatest GT field ever is an honor, and I thank Porsche and Magnus Racing for allowing me to be involved," said Rast.
Andy Lally (USA) won this GT event last year, but switched teams this year to join Magnus Racing.
"This was a great victory for John Potter and Magnus, but it is only the first step in our quest for the Rolex Grand-Am GT championship and North American Endurance GT Championship," said Lally, who will run with Potter for the entire Grand-Am season in their Porsche 911 GT3 Cup.
Finishing the Porsche sweep of the podium is the second-place TRG Porsche of Steve Bertheau/Marc Goosens/Wolf Henzler/Spencer Pumpelly/Jeroen Bleekemolen, and the #59 Brumos Porsche (Leh Keen/Hurley Haywood/Andrew Davis/Marc Lieb) was third. Both teams led for substantial lengths of time during the 24-hour event, but, in the end, both the cars couldn't catch the Magnus Porsche.
"We ran the whole event flat out, and spent hours and hours in the lead, but we had some front-end body damage that hurt our aerodynamics, and an extra pit stop in the end brought us up a little bit short. Still, we are proud of our Brumos drivers and crew, and we won the GT championship last year after finishing fifth, so we will proceed on that mission again," said Hurley Haywood, five-time Daytona overall winner an current Brumos team manager.
For Porsche factory driver Wolf Henzler (Germany), qualifying woes put their TRG Porsche near the back of the field for the start of the race, but they also led for multiple hours before clutch woes slowed them down near the end.
"My Porsche colleague Richard Lietz is very fast, and we could not make up any time on the Magnus car in the end. But we are happy with our second-place finish, and the TRG crew prepared a Porsche which performed great all race," said Henzler, who won the GT class at Le Mans in 2010.
Alex Job Racing's WeatherTech Porsche was hit by a prototype, ruining its suspension and other parts – causing a long pit stop and a 17th place finish. Similarly, Flying Lizard Motorsports Porsche lost its power steering (preceeded accident during the night), which put another pre-race favorite at the 15th finishing position.
Trivia time
Cars have long been the subject matter for rock 'n roll songs.
Match the song title with the band/musician. Answers in next month's issue.
| | |
| --- | --- |
| 1. "Mustang Sally" | a. Bruce Springsteen |
| 2. "Little Red Corvette" | b. Beach Boys |
| 3. "G.T.O." | c. Prince |
| 4. "Pink Cadillac" | d. Ronny and the Daytonas |
| 5. "Little Deuce Coupe" | e. Wilson Pickett |
Posted on Wednesday, February 1, 2012 12:00 AM, updated on Sunday, February 19, 2012 11:16 AM
Return to List of Journal Articles