March 2012 Steinlifters Online
Greetings Milwaukee Region members. After a somewhat dormant schedule in winter, our region activities revved up in February with two events. Several more events are on the calendar for the year and more are being planned. Read about the recent events and learn what's coming up in this edition of your newsletter. The answers to last month's rock 'n' roll trivia close out this month's newsletter.
Upcoming events
March 30 - Fish fry at Thunder Bay Grille, Pewaukee. Pre-order from a limited menu, including a classic fish fry and other tasty entrees. RSVP deadline is March 25. Details here.
April 1 - Cars & Coffee hosted by 2 Shores International, at 119 Church St., Lake Mills. Ample parking near the showroom. Rain or shine event. Bring your classic or sports car. Mingle among great cars and visit with the people who own them and like them. Held the first Sunday of the month through October.
April 5 - Board meeting -- 6:30 p.m., Wisconsin Club Country Club, N. 60th and W. Good Hope Rd. All members always welcome to pull up a chair and listen or participate in the discussions about matters pertaining to our region.
April 21 - Porsche only swap meet in Pennsylvania. Details here.
April 21 - Milwaukee Oyster Roast to benefit the Leukemia and Lymphoma society. If we have 10 or more Porsches at the event we can get a reserved area in the parking lot for a mini car show. This is an all-you-eat feast at the Harley Davidson museum. Details here.
June 16 - Tour the U.P. with the Fox Valley region. Contact Al Curran for details. arcllc@gmail.com
June 23 - Spring Driving tour. Details coming soon. Jay and Lee Heppe will be leading one of their terrific driving tours that will take us on some of the best roads in Wisconsin. An all-day tour, we'll stop for lunch somewhere along the way. You're welcome to take in either half of the day if your schedule doesn't permit you to devote the entire day to driving.
June 23 - Ladies driving tour. Ladies, if the family Porsche isn't going out on the Milwaukee Region's driving tour on this date, grab the keys and join the women of Fox Valley who will be exercising their Porsches on a drive to New Glarus. Arrangements can be made to meet the group as it travels near the central part of the state en route to New Glarus for lunch and shopping. Details here. Contact Laura Prellwitz for details. lprellwitz@att.​net
July 8 - 14 - PCA Parade, Salt Lake City Utah, is the beautiful backdrop of the annual gathering of members of Porsche Club of America. Details here. For a week full of everything Porsche, this is it.
July 14 - Drive to Elkhart Lake to view the Road&Track concours on the streets of Elkhart Lake. This is an incredible event with unbelievable cars. More details to follow. Al Wagner will head up the drive.
Aug. 4 - Casual car show for our veterans at the VA Center in Milwaukee. More details later. Plan to bring your car to a special parking area at the VA Center in Milwaukee (near Miller Park) for viewing by our military veterans who live at the center. A week later, the veterans will travel to Road America and enjoy laps around the track as passengers in the cars driven by DE participants.
Aug. 10 - Driver education at Road America. Reserve this date on your calendar to enjoy some quality seat time in your Porsche on the track. Novices are welcome. Instructors will be provided. Details here about our 2012 DE season.
New members
A Milwaukee Region welcome to these new members who joined PCA in February:
Paul Dornan and his family member Marilyn Rivera-Dornan, of Whitefish Bay, 2006 911
Jeffrey Sroka, of Pewaukee, 2002 Boxster
Robert Woodruff and his family member Barbara Woodruff, of Oconomowoc, 1987 944
Richard Witkowski and his affiliate member James Nowlen, of Saukville, 1987 944
Welcome also to Suravee Ratanaproek, and his family member Sue Ratanaproek, of Kenosha, who transferred from Chicago Region, 1974 914.
New member profile
The Milwaukee Region welcomed Paul Horanoff recently. Paul reports he is happy to be a first-time Porsche owner with his 1986 911 Carrera. It is Guards Red with 76,000 original miles. "It is all stock and looks like it just came off the show room floor," he said.
Like many members, Paul said he was looking for "the right one" for more than a year and looked at quite a few both online and driving to other states. One of Paul's best friends told him that when he saw "his car," he would know. "So I was planning to go to Omaha with him on a Saturday to look at coupe when I saw a new ad on Porsche Trader. The vehicle was in Illinois and "it looked pretty nice in the pictures so we thought we would swing down there to look at it." Paul said it was "The one" and he never made it to Omaha. The owner was moving out of the country with his family and could not take it with him. He had to sell by the end of the month. "I was in a little state of shock and got home and told my girlfriend and showed her a couple of pictures. She ordered me to call him and make an offer so I would not lose it. I drove it home the next day (Dec. 15) on clear roads and put it in the garage. Can't wait until Spring!!"
Paul attended the Tech / garage session on Feb 4 and plans to attend a few of the Cars and Coffee gatherings in the summer. He also hopes to make at least one function a month with Road America being high on the list.
Paul is a manufacturing engineer for Harley Davidson and has been into motors and cars since he was a kid. "I hope to do some of my own work on the car and also teach my kids a thing or two in the process," he concluded.
March anniversaries
Congratulations to these members who are observing a PCA membership anniversary this month:
Mike J. O'Krongly - 1979
Robert J. Van Zelst - 1982
Karl Schulz - 1984
Ron A. Pace - 1986
Gary E. Messing, Gary D. Stuyvenberg - 1991
Jim Van Orsdol - 1995
Martin M. Komondoros, Jean-Louis Picouet - 1996
Dr. Michael J. O'Neill, Phillip J. Sauer - 1997
Dan Mahlik, Pat H. Seroka - 2000
David Pickens, Gregory R. Giuliani - 2001
Mark R. Schaefer - 2002
James M. Swant, Richard P. Zinda - 2003
Dr. Mark A. Dorow, Carl A. Jensen, Scott F. Kunesh - 2004
Keith Walz, Mark Thomsen, Dennis Winkleman, Tom J. Mucklin, Michael Laszkiewicz, Patrick J. White - 2005
Steven R. Quade, William C. Wright - 2007
Curtis Mann, James L. Philipp, Kenneth D. Ritter, Richard Weaver - 2008
James A. Goelz, Julia A. Jensen, Paul Leeder, Mary L. Richter, Justin A. Smith - 2009
Chris A. Ericksen, Claude R. Martens, William B. Peterburs - 2010
Werner Kordas, P.R. Schumann, Lynn D. Palmer, Mike J. Zylka - 2011
Classifieds
Check out the latest classifieds here.
Battery technology can provide a unique advantage
Chief Driving Instructor Ron Pace shares a recent discovery he made that will give him a unique advantage over other drivers when he and his 944 Turbo hit the racing circuit this season. Read all about it here.
Porsche driver finds himself in quite a sticky mess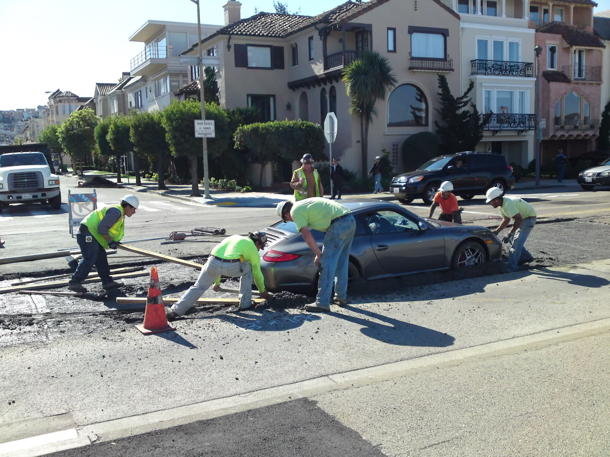 This has been all over the 'net but in case you missed it, check out the mess one driver in San Francisco found himself in when he thought he could get around stalled traffic. We hope the car has recovered from its immersion in wet concrete and that the driver is sticking to harder surfaces in his motoring.
It's Por-sche -- two syllables. Really.
Thanks to Al Wagner, who recently communicated with a local Milwaukee TV news reporter, as he corrected her pronounciation of the word Porsche which she read in one of her stories incorrectly as one syllable. As most of us know, it's a two-syllable word: Por-sche. The reporter graciously expressed her thanks for the correction. Let's win over those who still say Porsche with just one syllable. Dr. Ferdinand and his descendants of the Porsche family thank you for saying it correctly. Two syllables please.
Looking for another Porsche? Check out this collection that will be auctioned.
http://www.autoblog.com/2012/02/14/historic-porsche-collection-going-up-for-auction-at-amelia-islan/
Hemmings article reviews the classic 1988 911 Turbo
Read this insightful review of one of the nicest cars produced by Porsche.
Turbo spaghetti champs crowned for 2012; Susan G. Komen org receives region support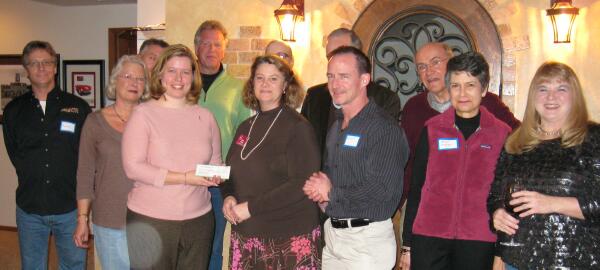 Members who have bragging rights for the rest of the year for their winning entries in the 2012 Turbo Spaghetti competition include Donna Daufenbach, Lise Miley, Jan Spiegel and Sharon Stewart. The Feb. 18 event was extra special as 50th Anniversary Committee chair Gary Messing presented a check for $1,500 to Debra Tews, who represented the Wisconsin Chapter of the Susan G. Komen for the Cure organization. Members gathered for a photo with Tews (pink sweater) above. The region raised the funds during its 50th anniversary celebration. Read more about this event, including a number of photos, here.
Feb. 4 garage session: A good way to spend a few hours on a Saturday
The early February get together at Ron Pace's toy barn was well attended. The unstructured event provided attendees with the chance to talk about winter projects and plans for the coming driving season. They also could try their hands (and feet -- brake and clutch required) at the track driving simulator. More photos here.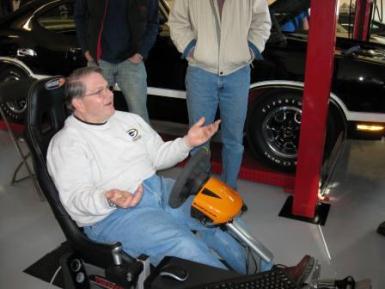 Porsche vs. Corvette -- 'Head 2 Head' analysis by Angus Mackenzie, Motor Trend editor-at-large
This is a video story that reveals the author's perceptions of the new 911. I won't reveal his conclusions but he says the PDK is "incredibly quick" and the 911 has a "fabulous chassis." He calls it the "best 911 ever" but does he say it's better than GM's latest 8-cylinder 'Vette? Watch and see. Enjoy the video here. Thanks to Lise Miley for the tip on this video.
It's Auto Show season. This Porsche was an eye catcher at
at the 2012 Auto Show in Chicago.
Trivia answers
Answers to last month's trivia game in which you had to match the artist with the song.
Mustang Sally – Wilson Pickett
Little Red Corvette – Prince
Little G.T.O. - Ronny and the Daytonas
Pink Cadillac – Bruce Springsteen
Little Deuce Coupe – Beach Boys
Posted on Friday, March 2, 2012 12:00 AM, updated on Monday, March 12, 2012 12:33 PM
Return to List of Journal Articles