June 2012 Steinlifters Online
We're well into the driving season as our region calendar can testify. In this issue of Steinlifters learn about the upcoming day-long spring driving tour on June 23, a drive to Elkhart Lake for the Road&Track concours d'elegance in July and a picnic in August. You can also catch up on past events to get a flavor of the variety of fun we have when we get together.
In this issue, we also are welcoming several new members and are featuring three members with their stories of Porsche ownership. Safe driving everyone.
Upcoming events
June 7 - Board meeting, Wisconsin Club Country Club, N. 62nd and W. Good Hope Road, Milwaukee, 6:30 p.m. All are welcome to attend.
June 23 - Spring Driving Tour. You and your passenger can spend a day in your Porsche on a follow-the-leader driving tour with other region members. Rest stops and a lunch break are included in the itinerary. Details here.
July 1 - Cars & Coffee in Lake Mills. Held the first Sunday of every month through October. Details here. (non-Region event)
July 6 -7 - Millers at the Mile. Historic race cars in action at the Milwaukee Mile, State Fair Park. Details here. (non-Region event)
July 8 - 14 - Porsche Parade in Salt Lake City, Utah. The annual gathering of all members of Porsche Club of America. Details here.
July 14 - Drive to Elkhart Lake for Road & Track concours on the streets of Elkhart Lake. Al Wagner will lead a driving tour to Elkhart Lake for an evening of great spectating. Optional dinner included at one of Elkhart Lake's nicest restaurants. Details here.
July 17 - Porsche Night at the Highland House, Mequon. Bring out your Porsche. Mingle with others on this warm summer evening. Details here. (non-Region event)
Aug. 4 - Picnic. An old-fashioned picnic. Bring your Porsche. Relax with other members. Details here.
Aug. 4 - Car show at the VA Center. Bring your Porsche for the veterans living at the Zablocki Medical Center to enjoy in this informal car show. 10 a.m. to noon. More information here.
Aug. 10 - Driver education at Road America. Learn to drive your Porsche in a controlled environment on a legendary road course. Details here.
Aug. 12 - Autocross at Miller Park. Our region's second autocross event. You'll enjoy a number of timed runs. If you don't want to run but can help with course set up, timing or other tasks, please contact George Kowalski, caymans1021@gmail.com.
Dec. 8 - Holiday party. It's not too early (well, it feels like it is), to save the date for a special holiday party. Details here.
New member profiles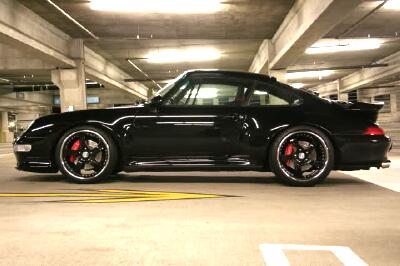 Kevin Ford joined the region in April with his 1996 Porsche 993 Twin Turbo. He's the second owner of this black (special paint) beauty with low miles (48,900). It's loaded with a number of aftermarket high-performance modifications too numerous to list.
He connected with the car via a customer referral through Mraz. The car was at MotorCarInvestments in Raleigh, N.C. He traded his 1983 Porsche 911SC convertible for the '96 993 TT.
Kevin plans to participate in driver education events and possibly autocross. He's responsible for the design of packaging for Miller Lite, at MillerCoors.
Pete Schumacher and his wife Diane joined the region in April with their black 2006 Cayman S. Pete reports he's been a sports car owner for most of his adult life, starting with a 1976 Lancia Scorpion that he owned for 26 years followed by a Mazda Miata that he purchased in 2003. "The Scorpion was a fun car and very rare but it was not fully developed and suffered from 1970s-era emissions tuning." he said. "The Miata, while not exotic, was considerably more reliable than the Scorpion and fun on a sunny summer day. After the realization that a used Cayman was within financial reach and I could fulfill a lifelong desire to own a Porsche, my car search went into full swing."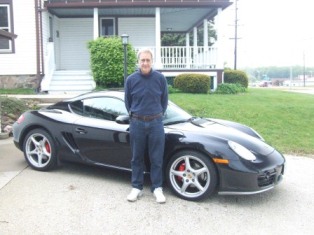 Pete Schumacher and his Cayman S
Pete said Internet searches uncovered several Caymans in northern Illinois and one at a local Milwaukee area Porsche dealer. "My wife and I were on our way to the Porsche dealer one Sunday when I noticed another Cayman as we passed the local Audi dealer from which we have purchased several cars. We turned around and stopped by the Audi dealer to check out the car and found that it was a black 2006 Cayman S with a manual transmission and 44,000 miles. It looked to be in very good shape. It was a recent trade in." The Schumachers then went on to visit the Porsche dealer to look at a base Cayman with an automatic transmission. "I was not interested in an automatic so I focused my attention on the Cayman S. I was able to work out an acceptable price with the dealer and purchased the car in early April. I'm the third owner. It's a great car, everything I expected."
Pete said he's looking forward to many miles of fun and a chance to connect with club members and see what the club has to offer. Regarding other interests, Pete and Diane and have been researching their family's history and are very active members of the Oak Creek Historical Society. Pete is manager - Customer Service for We Energies.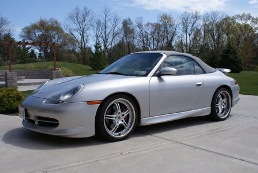 James Balestrieri flew to Philadelphia to look at and
buy this 2001 911.
James Balistrieri is a new member with his 2001, 911 (996) that is triple silver and low mileage – 46k. His first Porsche, he's the third owner of this car that includes modifications such as a full aerokit and cold air intake kit.
"I had been searching for roughly two years via all the online resources and local ads. I was waiting for the one that hit me. I was considering either a 996 or early 997 and this one showed up one day on AutoTrader," he said. "Later that night I told my wife I may have found one, she said if it was what I have been looking for go for it.
"The next day I traded emails with the owner getting several questions answered, then picked up the phone and called him (this was on a Friday). Two hours later I had a ticket booked, went to the bank, and was at the airport on my way to Philadelphia. The next morning I looked at the car and purchased it, then started my 860-mile drive back."
James hopes to get involved in events such as drivers ed, tech sessions, etc. "However with kids and family activities, attendance may be a challenge and limited," he said. James is a director of sales for a large software company.
Editor's note: New and not-so-new members are invited to send their information to be featured in our member profile section of the newsletter. Contact newsletter editor Bev Jurkowski. She'll ask a few questions and craft your story. Don't be shy. beverly.jurkowski@sbcglobal.net
Welcome new members
The Milwaukee Region welcomes these members who joined PCA in May:
Kinney Adams, Milwaukee, 2008 Cayman S
Steven Bartels and his wife Laura Bartels, Franklin, 2006 Carrera 4
James Bezzo and his family member Janice Bezzo, Kenosha, 1990 911
Brad Boyles and his family member Cathy Boyles, Mequon, 2001 Boxster S
Ryan Braithwaite, Pewaukee, 2004 911 Turbo
Christopher Hall, Racine, 1989 944
Craig Husar and his wife Danielle Husar, Brookfield, 2002 Carrera 4
David Moore and his wife Sharon Moore, Milwaukee, 1979 911 SC
Glenn Schrubbe, Elm Grove, 2001 Boxster
Tyson Schwiesow and his affiliate member Sarah Lulloff, Green Bay, 2006 911
Awais Siddique and his wife Lori Siddique, Sheboygan, 2010 Panamera
We also welcome Dennis Ruis and his wife Patricia Ruis, Wales, who transferred to Milwaukee Region from Northeast Region with their 2003 Boxster.
June anniversaries
Congratulations to these members who are observing a membership anniversary with PCA in June:
| | |
| --- | --- |
| Sue E. Wuest | 1987 |
| Paul G. Stewart | 1989 |
| Edward J. Konz | 1989 |
| Philip Sipusic | 1990 |
| Terry D. Bruss | 1994 |
| Robert Wrenn | 1994 |
| Ned Boston | 1996 |
| Lloyd I. Davis | 1996 |
| Dave Zimmer | 1997 |
| William B. Bode | 1999 |
| John W. Splude | 1999 |
| Jeff Reichard | 2001 |
| Michael H. Doland | 2001 |
| Robert V. Baker | 2001 |
| Donald F. Dutoit | 2003 |
| John J. Vitas | 2003 |
| Thomas A. Pietrocarlo | 2004 |
| Greg Wilde | 2004 |
| Gregory A. Rucinski | 2005 |
| Thomas J. Ryan | 2005 |
| Leonard G. Krebs | 2005 |
| Duane Hotchkiss | 2005 |
| Gary A. Sadoff | 2005 |
| Scott F. Eaman | 2006 |
| Patrick Tegeder | 2006 |
| Paul Stephan | 2007 |
| Stephen A. Sauer | 2007 |
| Brandon Davis | 2007 |
| Tyler R. Hayes | 2007 |
| Walter J. Strahota | 2008 |
| Drew C. Gloede | 2008 |
| John L. Wood | 2009 |
| Wil M. Borgstrom | 2009 |
| Tim J. White | 2009 |
| Wayne A. Miller | 2009 |
| Ed French | 2010 |
| Mark A. Barnes | 2010 |
| Kurt D. Bechthold | 2010 |
| Mike R. Preisler | 2010 |
| Douglas C. Boone | 2011 |
| Ross Campbell | 2011 |
| Greg A. Chandler | 2011 |
| Jeff S. Hadrian | 2011 |
| Gregg B. Eisenhardt | 2011 |
| Mark Flaherty | 2011 |
Some recent events.....
Cars & Coffee May 2012. Apparently this year, so far, Mother Nature is not a Cars & Coffee fan. April was chilly and gray. May was warmer, still gray and then about 9:30 a.m., the rumble of thunder and a few drops of rain. The droplets sent attendees scurrying to either leave or secure their cars. Several attendees with fairly open cars made a prompt departure. Those who decided to stay headed to the dry showroom where room was made for a 1960s Ferrari. We chatted with those remaining as we looked at the cars inside and listened and watch the heavy thunderstorms outside.
Impromptu Brunch May 6. Two-thirds of those planning to attend brunch at Hi-Way Harry's were at Cars & Coffee. When the rain slowed down shortly before 11 a.m. we decided to take advantage of the break and headed for the restaurant in Johnson Creek a bit early. We gained several people but lost a few due to the weather so the reservation stayed intact. Lively conversation included a layman's description of torque, the Milwaukee Masterpiece, driving plans for the season, politics, green cars and our cars. All agreed it was a nice place to meet and would like to do so again.
May 25 Driver Education at Blackhawk with the Badger Bimmers. Eight Porsches joined BMWs, Corvettes and a Lotus for a day of driving in a controlled environment on the 2-mile, twisty road course at Blackhawk. Here's a recap.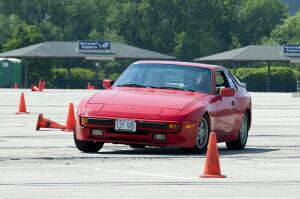 May 27 Autocross at Miller Park. Twenty-one enthusiasts met at Miller Park for the first autocross of the season Sunday, May 27. Five first-time participants joined in the fun as well as a considerable number of spectators. All were challenged by the course Jerry David and George Kowalski designed. Even seasoned campaigners were thrown for a loop more than once. Literally, since the course included a loop in the first half.
Mother Nature helped keep the temperatures reasonable with an easterly breeze. The only flaw to the day was a technical problem with the bar code printer which delayed the start and will be fixed for the next event, Aug. 12. Top finishers were:

Mike Radle with an adjusted time of 0:52.424
Dean Fabritz with an adjusted time of 0:52.639
Bruce Tammi with an adjusted time of 0:53.090

Individual results will be posted shortly.

Thanks to all who attended and to all who lent a helping hand. As always, many thanks to Gary and Renee Messing for their unwavering support and for manning the timing equipment.
More photos of the autocross competitors are available here.
Paint repair clinic. Now you see the ding, now you don't. Check out the story and some photos from the session held recently at Paintwerks.
Porsches cover the roads in U.P., northern Wisconsin for 2012 Waterfalls Tour
by Laura Prellwitz, Fox Valley Region
For the third consecutive year, the Fox Valley Region held its spring waterfalls tour in Upper Michigan, hosted this year by Greg Rigoni. Several members of the Milwaukee region also joined the troupe. In total, 24 members in 13 cars, spent Saturday, May 20, exploring several of nature's most beautiful natural displays of rock and water formations in the Iron Mountain, Mich., area including Long Slide Falls Morgan County Park and Pier's Gorge on the Menominee River.
The weather was sunny with temps in the upper 80s so it was perfect weather for driving our Porsches more than 125 miles on curvy, hilly, back roads. Leaving our cars to explore some of the spectular scenery up close by briefly hiking in the forest was a great way to spend the day with PCA members from across Wisconsin and Michigan.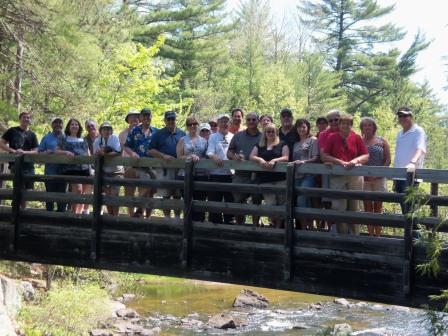 Milwaukee and Fox Valley Region members pose for a group photo at the stop at Dave's Falls near Amberg, Wis.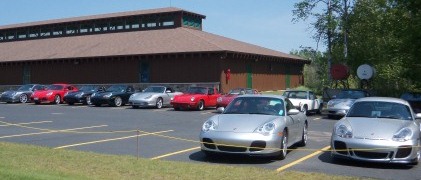 Porsches rested while drivers and passengers ate lunch mid way through the waterfalls tour hosted by the Fox Valley Region in mid May.
Classifieds
Check out the latest classifieds here.
April Porsche sales in North America -- best ever.
Read the story here.
A dream commute
Patrick Long commutes to his job in a GT3 RS 4.0. Watch and listen here! (Volume up to enjoy the purr of this Porsche.)
Porsche preserving its history
Check out this video about a little known activity in Stuttgart.

Parade is coming. It's not too late to join the fun.
Read what's in store and register.
Questions, ideas? Contact any board member. Region contacts list.
Posted on Friday, June 1, 2012 12:00 AM, updated on Monday, February 29, 2016 10:06 AM
Return to List of Journal Articles