August 2013 Steinlifters online
Region member

Wayne Moses

ran through the autocross course in mid-July in his slightly modified 914. Join Wayne and other members for more fun as the driving season continues at full throttle.
Details about upcoming events and reports of recent events are reported in this newsletter.
An important deadline is looming -- online registration for the Aug. 16 driver education (DE) at Road America closes at midnight on Aug. 10. After that day you can register at the track but the price goes up.
Upcoming events
Aug. 4 - Cars and Coffee, Lake Mills. 2 Shores International hosts this monthly free car show. 7 a.m. to 10 a.m. You'll see plenty of foreign, American muscle and exotic cars.
Aug. 10 - Last day to register online for the Aug. 16 DE at the regular price. Register online at www.motorsportreg.com.
Aug. 16 - Driver education at Road America. Register by Aug. 10 to take advantage of the regular price. Register at www.motorsportreg.com. You can register on the day of the event at the track; the entry fee goes up to $325.
This will be an outstanding day at Road America. Novices can learn how to handle their car on the track with the help of a driving instructor while intermediate and experienced drivers can continue to hone their skills as they navigate one of the best road courses in North America. For more information about the region's DE activities, visit the DE events page.
Aug. 24 - Club Saturday At The M, a car show on Milwaukee's lakefront. Details here.
Aug. 25 - Geneva concours d'elegance. Details here.
Sept. 1 - Cars and Coffee, Lake Mills, hosted by 2 Shores International. 7 a.m. to 10 a.m.
Oct. 12 - New event...Show your Porsche during Cedarburg Octoberfest. The Porsche Club of America-Milwaukee has been invited to display Porsches at the Cedarburg Octoberfest on Oct. 12, 2013. Old and new Porsches are needed for the display. The Octoberfest event will run from 11 a.m. to 5 p.m. in downtown Cedarburg. The car display will run from 1 p.m. to 3 p.m.
From 1 to 3 p.m., all guests will be asked to vote for their favorite Porsche with trophies to be presented to the five most popular cars.
There is a registration fee of $10 per car to cover the cost of trophies, registration costs and car label forms.
Members wishing to participate may bring their cars any time before 1 p.m. and may leave any time after 3 p.m. if they wish.
Please email your registration to John Orth at orth.john@gmail.com. Questions should go to John as well. In your registration, include your name, the year and model of your car and a phone number.
Oct. 18 - Drive for Babies....Spend time on the track at Road America while raising funds for an important cause. Dinner is part of the event. Details here.
Oct. 19 - Dyno day....Fox Valley Region invites Milwaukee Region members to participate in dyno day at a shop in Green Bay. Details here.
Oct. 24 - 27 - PCA's Escape to L.A. A mini-Parade-like experience. Details here.
New member profiles
Brian Hinde joined the region in June with his 2010 911 Carrera cabriolet. It is dark blue over beige. He previously drove a Cayman. Brian, a physician, said he is interested in drivers education (DE) track events.
Ben Holzen owns a 1968 911L. It is his "first Porsche after 33 years of waiting (I'm 33 years old)," he said. He is a middle school principal for the Racine Unified School District and helps his wife run her restaurants--Antigua Real (Mukwonago), Senor Thomas (Hartland) and Taco Amigo (Pewaukee).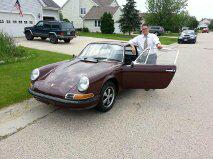 "I actually found this car on Craigslist for my father a few years ago. I was in the middle of racing my Formula Ford and didn't have the room for another project. He bought it and didn't have time to use it. When I sold my race car this year, he sold it to me for what he paid for it. It really is a great car! This winter I will probably restore it completely. I'm basically interested in getting to know people in the Porsche community, track days, car shows, tech forums and club activities. Looking forward to being a part of PCA!""My wife is also into classic cars--she owns a 63' Mini Cooper. Our new Porsche also shares the Garage with a 1963 Formcar Formula Vee. We live in Eagle with our 2 year old daughter Liesel. Even though this is my first Porsche, my father and father-in-law have owned several Porsches (there are currently couple of 2.0 914s, and a Euro-spec 77' 911 SC in the family)," he said.
Karen and Peter Hanson recently transferred to the Milwaukee Region from the Peachstate Region with their 2012 Carrera GTS Cab. "We are glad to be back in the Midwest after being in NJ and GA the past 16 years," Peter said. He noted the GTS Cab was delivered in July 2011 and now has 15,000 miles.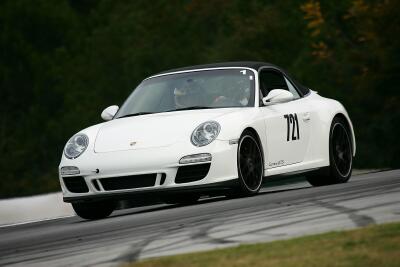 Of the 2012, he said, "I had been reading the reviews on the GTS as they were closing out the 997 model. My wife and I stopped at a dealer to drive what they had in stock. It was an amazing car. So I placed an order with everything I wanted (including a 6MT short shifter) and then waited 4 long months for it to arrive."
This is Peter's second Porsche. The prior car was a 2005 Carrera (C2).
Peter is a veterinarian. "I head up an R&D group that develops medicines for animals at a major pharma company," he said. He noted he is interested in social events and driver education (DE).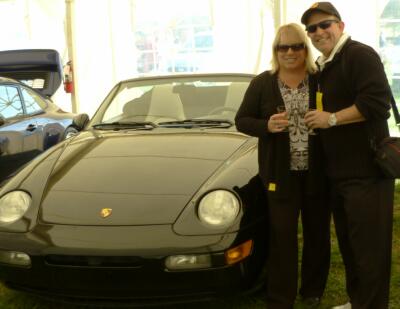 Max and Rhonda Moser recently transferred to the Milwaukee Region from the Potomac Region. "We recently moved to Mukwonago from Washington, D.C. Max is a Commander in the U.S. Coast Guard and will be serving as the Deputy Commander of Sector Lake Michigan," Rhonda said. Max has owned a Porsche since 2002 and currently is driving a 1994 968 Cabriolet, black with white interior (1 of 7 of that year sent to the U.S.). The car is original and has less than 73,000 miles. "We were occasional participants in a few events in the Potomac Region, including Drive and Dine, rally, and Porsches and Polo. The pictures are from the Porsche of North America-sponsored Gold Cup, a steeple chase held in Middleburg, Va.. Our Porsche was selected by the region representative as a sample of unique Porsche vehicles from the Potomac Region."
"We are looking forward to meeting the enthusiasts from the Milwaukee Region and hope to join in at the festivities during the annual picnic. We may see other members out there as we attend other events during the season," Rhonda concluded.
Welcome new members
Jeffrey Bailet and his affiliate member Mark Prodoehl, of Lake Geneva, 2013 911 C4S
David Crockford and his family member Rachel Crockford, of Mukwonago, 1999 Boxster
Bryan Gleisner and his family member Brandi Gleisner, of West Allis, 2007 Boxster
Brandon Koltz and his family member Jacqua Koltz, of Milwaukee, 2006 Boxster
Louis Netz and his family member Dawn Netz, of Grafton, 2010 Cayman S
Keith Parle of Lake Geneva, 2009 C4S
David Smith of Wauwatosa, 2000 Boxster
Aaron Squires and his affiliate member Laura Snyder of Wauwatosa, 1998 Boxster
Transfers to Milwaukee Region:
Keith and Rhonda Moser of Mukwonago, transferred from Potomac Region, 1994 964
Kim and Debbie Seidelman of Hartland, transferred from Southeast Michigan Region, 2008 911
August membership anniversaries
Arthur T. Hillmer 1976
Lynn Johnson 1978
Thomas J. Kurey 1980
Robert Kaufman 1989
Bud Sova 1991
Fred C. Schwierske 1996
Michael Dober 1997
Tim McKenzie 1997
David E. Andrews 1998
Edgar L. Hoffman 1998
Anthony Rotheray 1998
R M. Knutson 1999
John T. Fried 2000
Christopher R. Schuh 2000
Jerome L. Franke 2000
Dianne E. Schmitz 2001
Daniel A. Matre 2001
Ben Kordus 2002
Peter R. Bray 2003
William E. Rall 2004
Todd Flemming 2004
Philip Richards 2004
Bob Honor 2005
Tim K. Lynn 2005
Jim E. Lindenberg 2006
Alan B. Wagner 2006
Todd Hetherington 2006
Jim Rosenbaum 2006
David Bornhuetter 2006
DeWayne Egly 2007
Dave J. Knebes 2007
Mark D. Kreple 2008
Clifton Albino 2008
Jeffrey Gaines 2009
John C. Harper 2009
Derek Gibbs 2009
Paul R. Miller 2009
Neal F. Schulz 2010
Toby T. Watson 2010
Deb Lushine 2010
Andy G. Lechtenberg 2010
Jeff M. Czarnecki 2010
Vini V. Alarcon 2010
Jeff A. Gaudes 2010
Marty J. Gnatzig 2011
Phillip W. Harding 2011
Chris D. Gittens 2011
Scott R. Clausing 2012
David A. Stephens 2012
Claudius Mahr 2012
Dan P. Hlavachek 2012
Tom M. Wilhauk 2012
Recent events
The July autocross included competitors from the Badger Bimmers. Read a recap, check out some photos and the standings after a day of running through the cone-lined course.
Cars and Coffee, July edition. Read the recap and check out a few photos of the variety of cars that made an appearance.
The region's visit to the concours d'elegance on the streets of Elkhart Lake included several members who enjoyed the route mapped out by tour leader Al Wagner. Read the recap and check out some of Al's "artsy" photos here.
Porsche in the news
Find an interesting story that we can share here? Send it to the webmaster. Look for the webmaster/newsletter editor email in the Contact Us tab of this website.
Motor Trend reviews the 2014 911 Turbo. Read the article here, contributed by Mike Jurkowski of the Fox Valley Region.
Porsche reports 'best June in history' - sales up 23 percent over 2012

J.D. Power honors for Porsche brand

For the ninth year in a row, U.S. customers have rated Porsche highest among all nameplates in the industry in the J.D. Power 'APEAL' (Automotive Performance, Execution and Layout) Study. In addition to the brand taking overall honors, the Porsche Cayenne and Boxster models rank highest in their respective vehicle segments (Midsize Premium CUV, Compact Premium Sporty Car). This is the second time this year Porsche led a J.D. Power study – Porsche also ranked highest among all nameplates in the 2013 J.D. Power Initial Quality Study.
The J.D. Power 'APEAL' study measures the attitudes of more than 80,000 U.S. customers who purchased or leased a new 2013 model-year vehicle between November 2012 and February 2013. Questions are designed to evaluate 10 categories of vehicle performance and design: exterior and interior styling, storage and space, audio/communication/entertainment/navigation (ACEN), seats, heating, ventilation, and air conditioning (HVAC), driving dynamics, engine/transmission, visibility and safety, and fuel economy.
Porsche earned 884 points on the 1,000-point scale, compared to the premium industry average of 844. The overall industry average was 795.
Classifieds - Check out the latest for sale and wanted to buy ads. Info on how to request an ad posting is also noted on the page.
Parting Shots....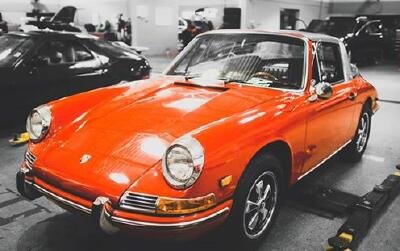 The 1968 Targa....classic beauty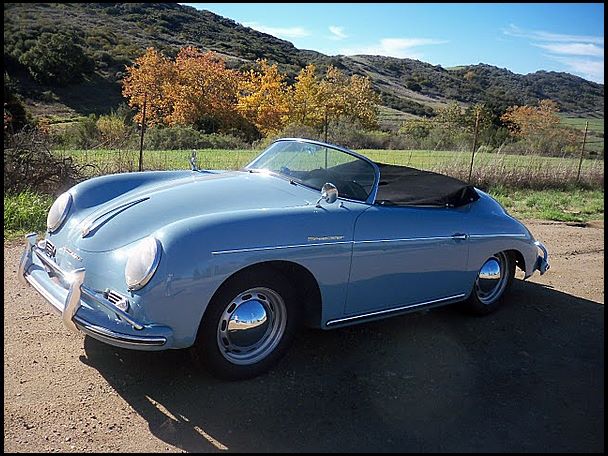 The 1958 Speedster....its lines are never out of date.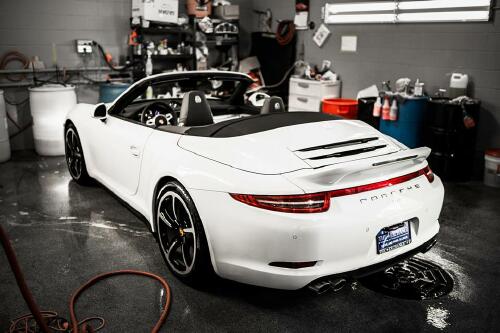 The latest 911 Cab with Sport Design package.
Posted on Friday, August 2, 2013 12:00 AM, updated on Thursday, August 9, 2018 2:32 PM
Return to List of Journal Articles