11 casseroles competed for prizes
Forty-two region members and guests attended the 901 Casserole Challenge in late February. The event was held at the Franzel residence in Brookfield.
Attendees sampled 11 different casseroles including several with chicken, one with turkey, a mac and cheese variant, a beef and sweet potato chili and an egg/noodle kugel.
Judges, selected from among those who did not bring a dish for the contest, were Charley Cook, Bob Geiser and Mike Wenzel.
The judges selected Bill and Joann Frazier's casserole as the top entry. Tied for second place were Debbie and Todd Ponath and Patrick and Patty Murphy. People's Choice Winners were Peggy and Alan Bloom.
Special shout out to Pat Johansen for her many-layered jello contribution.
Best Dressed '60s award was captured by Mallory and Philippe Guyony. They won a groovy lava lamp.
People were decked out in bell bottoms, tie dye, peace signs, mini skirts, and fringed vests.
Lucky random drawing winner of the gas card was Tunch Turna. Tunch also won the 911 book which region member Rich Housfeld offered as a fundraiser for Make A Wish. Rich reports $301 was raised for that charity.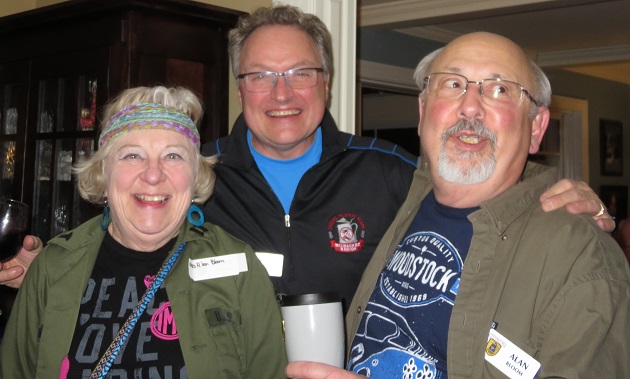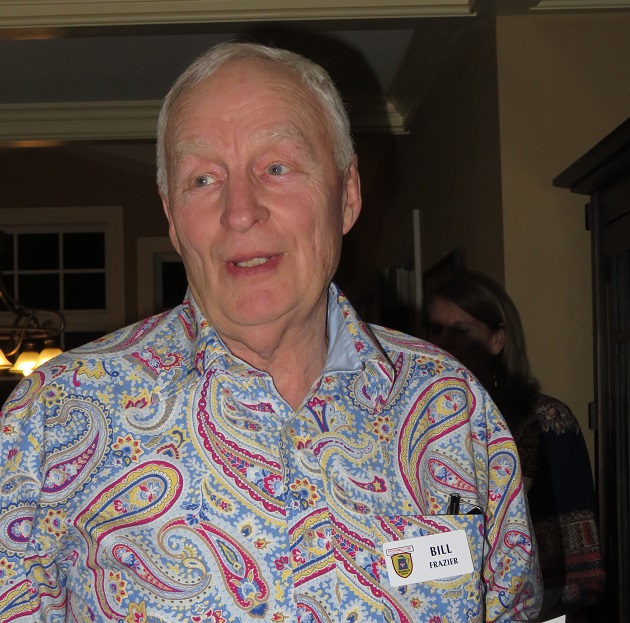 Bill Frazier was the chef for his Ultimate Smoked Chicken and Green Bean Casserole. See recipe below.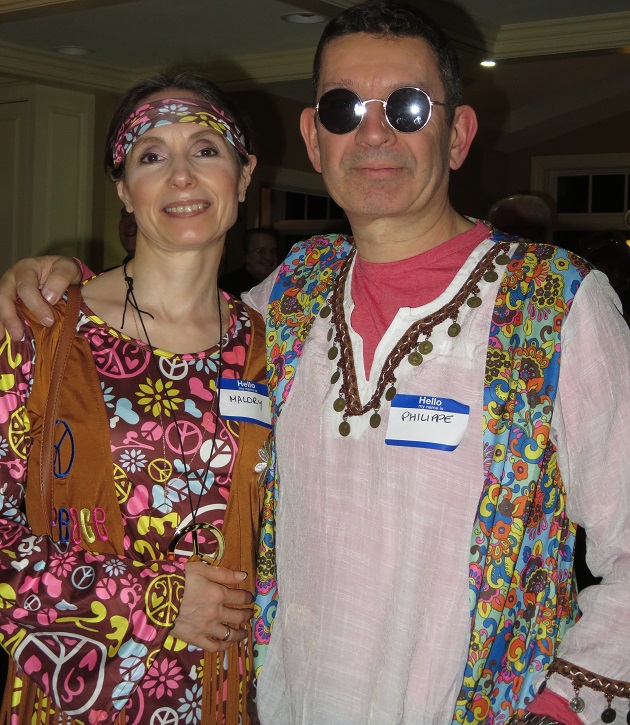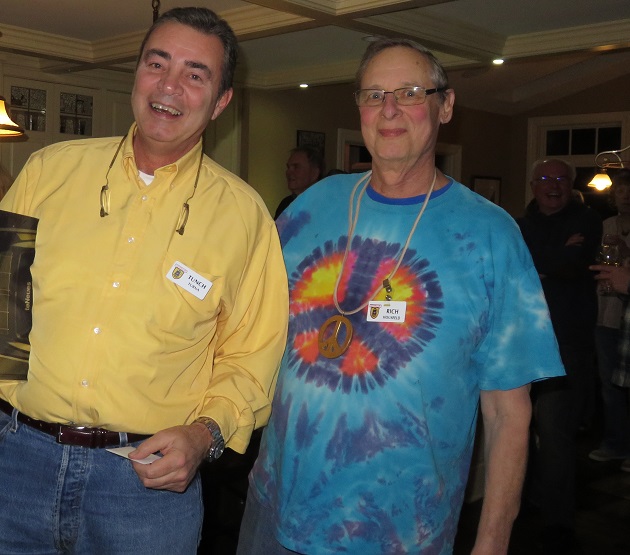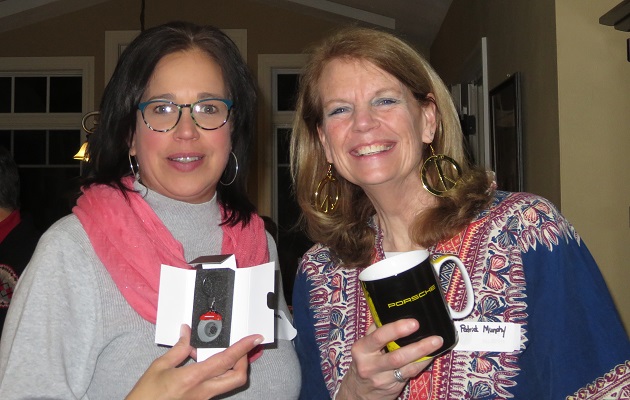 Photos by Donna Daufenbach
Ingredients
Mesquite Smoke three big chicken thighs, deboned, skinless.
5 slices thick-cut bacon (diced after cooking)
3/4 cup finely chopped yellow onion
1 teaspoon of minced garlic (from a jar)
12 ounces fresh button or cremini mushrooms - sliced thin
3 tablespoons butter
3 tablespoons all-purpose flour
1 cup half-and-half
1 cup chicken broth
3/4 cup shredded white cheddar cheese or mild cheddar
3/4 teaspoon salt
1/4 teaspoon freshly ground black pepper
1 pound fresh green beans trimmed, halved, and blanched (boil 5 minutes, place beans in ice water for a couple of minutes, drain)
1 container of French fried onion rings
1 tsp Traeger chicken rub (or similar rub)
Instruction
1. Fry the bacon in a large skillet over medium-high heat until crispy. Remove bacon and dice, set aside.
2. Lightly sprinkle rub on both sides of the thighs. Smoke the chicken for 3-4 hours and then cook at 225 for 30 minutes to raise the internal temperature of the meat to 165 degrees. (Turn the chicken after 2 hours)
3. Slice the chicken into small pieces (1/8" by 1"), set aside
4. Add the onions to bacon grease and cook until soft and translucent, about 4-5 minutes. Add the sliced mushrooms and garlic, cover and cook for another 4-5 minutes, stirring occasionally, until the mushrooms are getting soft. Transfer the mixture to a bowl.
5. Melt the butter in the same skillet and whisk in the flour. Once combined, continue whisking for another 2 minutes until the mixture has slightly deepened in color. Add the half-and-half and chicken broth while constantly whisking to prevent lumps. Once slightly thickened, add the cheese and whisk until melted and combined.
6. Next add the mushroom/bacon mixture to pan (scoop mixture from the bowl with a sieve spoon so that the water from the mushrooms stays in the bowl). Add the salt and pepper. Let the sauce simmer for a couple of minutes, add chicken and stir it in, then add the green beans. Gently stir all ingredients to combine.
7. Pour the bean mixture into a 9" x 13" casserole dish and sprinkle all of the French fried onions rings over the top. Bake uncovered for 30 minutes at 350 degrees.
Notes: Preparing in Advance: Everything can be done in advance except for adding the crispy onions, otherwise they'll get soggy. Add those just before baking. Also, let the casserole sit for at least 30 minutes after removing it from the fridge before baking.
Posted on Monday, February 24, 2020 10:59 AM, updated on Tuesday, March 3, 2020 7:51 AM
Return to List of Journal Articles