Sept. 20 autocross at the Motorplex, Road America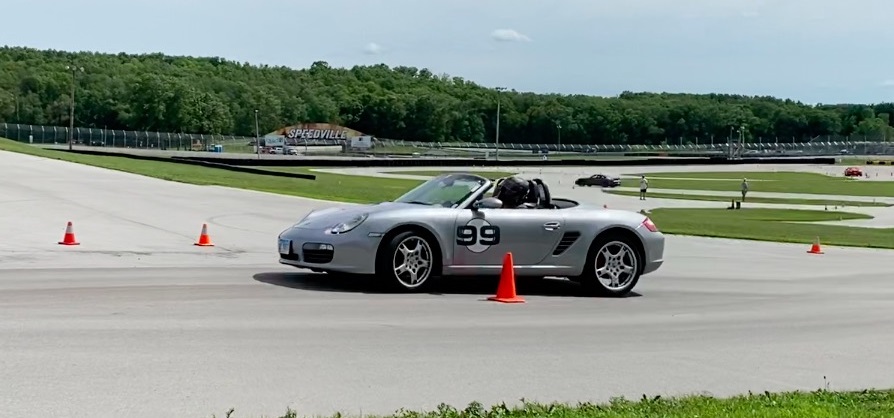 The region's first autocross of the season – and the first since 2018 – was a resounding success and the participants' comments affirm that assessment. The event was held at a new venue – the Motorplex at Road America. Many of the participants had 12 runs on the course. Their Porsches got much-needed exercise.
Here's what some of the 50 participants had to say:
Gorgeous weather, a world-renowned race venue and supportive, friendly club members. The "trifecta" of fun. Oh did I mention being able to drive your Porsche the way it was intended to be driven? Riding with each other for improved track times was not possible because of the pandemic, though. – Rich Housfeld.
The venue was really great. It was almost like a mini time trial. I have only autocrossed in parking lots so having the big elevation changes was quite challenging, in a good way. I am definitely in for the next event. – Tim Dotson
I had a great time, it was neat to almost have the autocross be more of a mini-track event vs parking lot style flat autocrosses. The elevation changes were thrilling and scary. I liked how we had a nice park like setting in the "pits" and it was super nice to have a "on deck" area to line up safely with the cars separate from the "grid-like" area on the track where the active drivers were lined up ready to run.
I didn't get time to get over to it, but having the foods stand open for a little bit was really nice, tons of bathroom options around was also very nice.
Just a fantastic venue. The organizers did a great job. Oh the rolling in tech check was really nice and moved quick too.
Great event. I heard Dave was shooting for 3-4 per summer that would be amazing. – Gerd Bauer II.
Loved the course. it was a lot of fun. Slalom, top of the hill, first 90 degree left turn, thru a hairpin, wide sweeper, last 2 hair pins to the line without hitting the equipment. Almost broke 58 seconds on one of my runs. -- Jeff Chang
Sign up for the Sept. 20 Autocross at the Motorplex, Road America.
https://www.motorsportreg.com/events/milwaukee-pca-september-20th-autocross-road-america-100887
Posted on Friday, July 24, 2020 9:02 AM, updated on Saturday, July 25, 2020 10:21 AM
Return to List of Journal Articles