Michigan tour full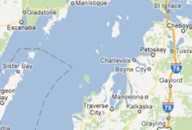 This tour is fully subscribed. A wait list has been started.
This tour will take us to the upper and lower peninsula of Michigan. Our stay will be based near the city of Petoskey.
We'll depart from the north side of the Milwaukee metropolitan area on Friday, Sept. 23, 2022. Our Drivers'/Navigators' meeting will be held early that morning before embarking on our all-day, 374-mile drive. We'll head up I-43 to Green Bay, before taking main roads (Highways 41, 35, 2, and 31) up and across the UP, and then heading south to cross the Mackinac Bridge to reach Michigan's lower peninsula.
If you have never taken the northern route across the UP, you will enjoy the scenic views of where the northern woods (we likely will see some tree color by late September) meet the northern shorelines of Green Bay and Lake Michigan. You'll also get another perspective of the Door County peninsula viewing it from across the waters, from the north shores. During our drive, we'll make rest stops every couple hours and will stop for lunch at Upper Crust Bakery & Deli in Manistique. Here's a link to their website: www.uppercrustdeli.com.
Lodging
Our home base on Friday, Saturday and Sunday nights will be the Crooked River Lodge in Alanson, MI, effectively an eastern suburb of Petoskey. We expect to reach the Lodge about 6 p.m. Michigan (Eastern) time. The Lodge has several different room choices available:
Double Queen: $189*/night Friday/Saturday nights, $159* Sunday night
Single King: $199*/night Friday/Saturday nights, $179* Sunday night
Spa King: $219*/night Friday/Saturday nights, $199* Sunday night
*plus tax
The rooms are available on a first-come-first-served basis. Breakfast is included with all three types of rooms, starting at 7 a.m. We'll have time for a leisurely breakfast before the start of our driving tours on both Saturday and Sunday mornings.
Reserve your room by July 23
To make a room reservation, please call 231-548-5000. Be sure to tell them that you want a room from the block reserved for the Porsche Club - Milwaukee Region. The deadline for making reservations is July 23. All rooms in our block will be available to others after that date. You may check out Crooked River Lodge here: www.crookedriverlodge.com. Of 969 reviews of the lodge on Trip Advisor, 95% gave either an excellent or a very good rating. An added bonus: the lodge has a fire pit. Past participants on other tours have really enjoyed gathering around a fire over a glass of wine during evenings (weather permitting). It's a great way to share good conversation with Porsche friends and a good opportunity to make new ones.
We have reservations for an on-your-own dinner at Palette Bistro in downtown Petoskey at 7 p.m. on Friday evening. The bistro has been given total flexibility as far as breaking our group into tables of 8, 6 or 4 persons each, however we can be most easily accommodated. Downtown Petoskey is about a 15-minute drive from our hotel. You can take a look at Palette Bistro's website and menu here: www.palettebistropetoskey.com.
Car & Driver Magazine recently included an article titled, "The 12-Best Driving Roads in America." One of the roads featured was Michigan Highway 22 along the northeastern shoreline of Lake Michigan and around many inland lakes in what we Wisconsinites might call "Lake Country." Saturday morning, we'll make our way (mostly, but not all, on main roads) to the south end of the route, a small town called Onekama, some 130 miles southwest of our lodge. We'll make a lunch stop at a Culvers on the way there. During our drive on Highway 22, we'll visit Sleeping Bear Dunes National Lakeshore and take a brief side trip on the Pierce Stocking Scenic Drive, from which we can view spectacular sand dunes that rise high (much higher than the dunes we find on Lake Michigan's western shore) above the lake. We'll continue north through Leland all the way to Northport, where Highway 22 turns south.
After our Highway 22 drive, we'll stop in downtown Traverse City for a group on-your-own dinner at North Peak Brewing Company before making the way back to our lodge. Here's a link to North Peak's website: www.pub.northpeak.net We plan to arrive back at our lodge in time for that promised glass of wine around the firepit (weather permitting).
On Sunday morning, you'll be in store for a real treat: driving the "Tunnel of Trees" (Michigan Route 119) which heads northwest from Harbor Springs. Car & Driver, how could you have been missed this road when compiling your 12-Best list? The "Tunnel" is a 20-mile-long, very twisty route on a high bluff overlooking the eastern shoreline of Lake Michigan between Harbor Springs and Cross Village. You may want to drive this relatively short route multiple times. In terms of Porsche-driving fun, this road is arguably better than Highway 22. We will explore the possibility of a group on-your-own lunch at a really quirky and unique venue, Legs Inn in Cross Village. However, it's only open seasonally, so detailed planning with have to wait until late spring when it re-opens. If you want more information on the Tunnel of Trees, please Google: "Michigan's Tunnel of Trees."
You may want to round out Sunday exploring the touristy towns of Harbor Springs, Petoskey and Charlevoix, all of which are close by. Dinner Sunday night will be on-your-own at a place of your choosing. Consider inviting long-standing, or newly minted Porsche friends to join you.
Perhaps you might consider adding a day or two to your itinerary. If you have never visited Mackinac Island, it's worth the time. The landing for the ferry to the island is within about 20 minutes of our lodge. Also, you may want to spend a day exploring Traverse City and/or the Old Mission peninsula which divides Traverse Bay into the east and west arms. The peninsula is home to many wineries that are worthy of a visit.
Steps to sign up
Here are the two easy steps required to sign up for the Michigan Tour:
Call the lodge (see the number above) and reserve a room of your choice.
Send an email to Alan Wagner (alan.wagner@wi.rr.com) to inform Alan that you have made hotel reservations. Also, please provide your name and the names of all co-participants, a favored email address, and the number of a cell phone that you will have with you on the tour.
Once you complete the two steps outlined above, you will be added to the list to receive further details of the tour as they develop. If you have questions about the tour, feel free to contact Alan by email or phone at 262-416-8503.
To maintain the quality that you have grown to expect from a Milwaukee Region tour, the event will be limited to the first 20 cars to sign up. We have found that if we have more than 20 cars, a tour becomes an exercise much like herding cats. We expect this event to sell out. Don't be disappointed; sign up early. We hope you can join us in Michigan in September!
Posted on Thursday, March 17, 2022 12:00 AM, updated on Saturday, March 19, 2022 9:30 AM
Return to List of Journal Articles