Oct. 22 drive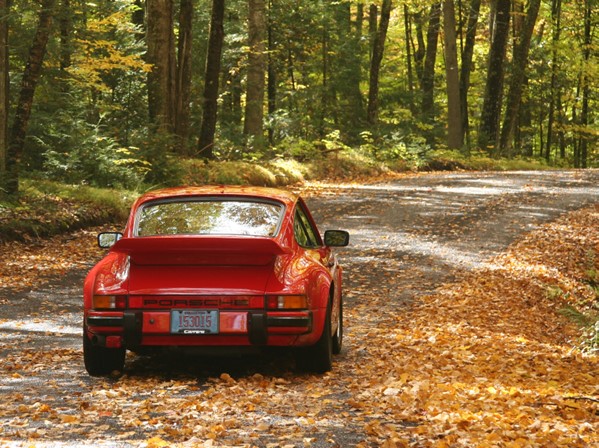 by Jim Schustedt, tour committee
If you dream about exercising your Porsche on twisty back roads, working your way up and down through the gears, the Kettle Moraine to Mequon Tour (previously billed as the "Kettle Moraine to Cedarburg Tour") slated for Saturday, Oct. 22, should be on your calendar. We definitely will not be taking a direct route! Our early morning rendezvous will be in Kewaskum and will begin with a mandatory drivers/navigators meeting. Our tour leaders for this event will be Jim and Kay Schustedt.
As the crow flies, Kewaskum and Mequon are just 23 miles apart, but the route we have planned covers nearly 120 miles and lasts 4 hours! The trees should be painted in the splendid colors of autumn, making for a memorable day.
Spectacular roads
If you've lived in southeastern Wisconsin for any amount of time, you've undoubtedly driven the Northern Unit of the Kettle Moraine State Forest countless times. The goal of the Tour Committee for this event is to introduce you to spectacular roads that you may not have driven. Sure, many roads will be familiar but others may be gems yet to be discovered. Plus, it's always fun to drive with a group of friends in our beautiful Porsches and enjoy the engine sounds as much as the ocular images.
Twisty, hilly backroads
Within two minutes of our tour departure, we will be driving spectacular, twisty, hilly backroads. Some roads will be technically challenging, while others will be more open and serene. We will weave our way over the Kettle Moraine's glacially altered terrain and its fringes in a somewhat northerly direction for 2 1/2 hours before stopping for a 30-minute refueling/restroom break. Afterward we will head somewhat southerly over more of the Kettle Moraine's eskers, kames and kettles before proceeding out across picturesque farmland and through quaint small towns and villages till we reach our lunch destination in Mequon.
The drive will end at Foxtown Brewing in Mequon. Our PCA-Milwaukee Region group will have our own private dining room behind the bar in this beautifully restored mid-1800s brewery. We will order from the full menu of food and beverages. Each person/couple will be provided with their own check which they will pay after lunch.
20-car limit
This event is limited to just 20 cars, so sign up soon before all spaces are filled. Once the 20-car limit is reached, a waitlist will be started. In the event of a cancellation, the first person on the waitlist be given the opportunity to fill the vacancy. To register, please send an email with ALL the following information to tour leaders Jim and Kay Schustedt.
1) Your name (first & last).
2) The number of a cell phone that you'll have with you on the day of the tour.
3) The names (first & last) of any guest(s) who will be with you on the tour.
4) The names (first & last) of any minor (< Age 18) guests who will be with you on the drive, if any (bring a completed minor waiver signed by both parents).
5) Whether you and any guest(s) plan to have lunch (please provide the total count for your car). If you say "yes," please honor your commitment. If there are several no-shows, we may lose the opportunity for future events at this first-time lunch venue!
RSVP deadline
Please send an email with ALL the requested information (Items 1 -5) above, to: jkschustedt@gmail.com. The deadline for signing-up for the Kettle Moraine to Mequon Tour is 11:59 p.m. on Friday, Oct. 14. However, if you wait until the deadline to sign-up, you'll likely be disappointed. This tour will drive many of the best Porsche-driving roads in SE Wisconsin and is almost guaranteed to fill up fast.
Participants will receive email confirmation, tour details (such as meeting place & time), and periodic updates. Adult participants will be required to sign a paper waiver at the start of the Drivers'/Navigators' meeting. Again, please be sure to bring a completed minor waiver signed by both parents if you'll have any minor participants with you on the drive.
We look forward to seeing you in October!
Posted on Tuesday, August 2, 2022 11:05 AM
Return to List of Journal Articles