Register now for Aug. 17 DE
LAST YEAR WAS A SELL-OUT!
SAVE THE DATE & REGISTER NOW!
Milwaukee PCA Driver Education
Aug. 17, 2018
Road America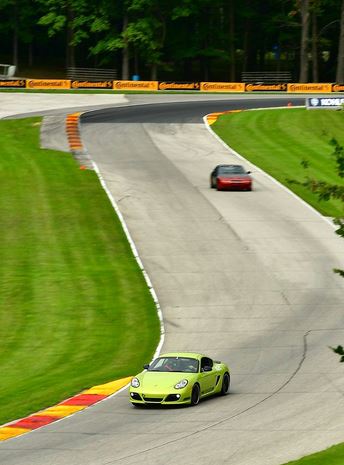 For those of you who've participated in our adrenaline-filled event, it's time to get registered again.
For those of who've not participated, here's the deal:
You will have great classroom presentations before each of your five 30-minute track sessions in the Novice Group, with a seasoned instructor in the right seat
You will slowly learn "the line" – that's where your car should be on the track at every part of this world-class road circuit
You will learn proper braking and turning
You will gradually and safely gain the skills to go faster to experience what your Porsche was so incredibly produced to do … and without flashing lights behind you
You will have fun!
And all of this for $275.
We have three Run Groups:
Group 1 - Novice; Group 2 - Intermediate; Group 3 – Advanced
We know the snow is still around, but what a great way to look forward to driving your car in the spring.
Our registration site is up, and it provides comprehensive details of what's required and what the day will look like.
Go to: https://www.motorsportreg.com/events/pca-milwaukee-de-2018-road-america-444432
Any questions email milwaukeeDE@aol.com
Posted on Thursday, February 15, 2018 11:23 AM, updated on Saturday, March 24, 2018 9:00 AM
Return to List of Journal Articles