April 2009 Steinlifters Online
| | |
| --- | --- |
| | |
| Photo by Jim Schustedt | |
Hello Milwaukee Region members. I'm trying to ignore the annoying weather forecasts, remaining hopeful that soon we will be able to confidently remove our cars from winter storage and get on with the driving season. With driving in mind, this issue offers an article on prepping your car for its first drive of the season. There are also notices of events coming up in late April and May that you'll want to get on your calendar.
Enjoy the issue. If you have comments or an article to submit or a link to recommend for future issues, please send them to the webmaster. See bottom of the page for contact information.
Events in April
Car show at VA Center. Bring your Porsche out on April 25. Details here.
Events in May
May 2 Spring driving tour. Details are now available. Put some miles on that Porsche in our group driving tour. Follow the leader or follow the tour instructions at your own pace.
May 7 General membership meeting. Details here.
May 8 and 9 Hallenbeck Drive Into Spring Drivers education at Road America. Special offer for new members: The Milwaukee Region is offering a 50 percent discount on DE entry fees for new members who have joined PCA in the last 12 consecutive months prior to the DE event. This does not include transfers into the region and is a one-time offer. Not sure DE is for you? We are again offering "Taste of the Track," an excellent opportunity to ride with our experienced driving instructors for the small sum of $35. More information will be posted to the DE section of our Web site. Please contact Kurt Krueger at 262-966-0096 or via e-mail at kurt@goporsche.net for more information. Details about the 2009 DE schedule and requirements can be found on the DE/Events page.
May 9 Drive, arrive at track for touring and cap off the day with dinner in Elkhart Lake. Check out drivers education as a spectator. At the conclusion of the DE schedule, drive your Porsche on the track (60 mph speed limit) and then head over to Elkhart Lake for dinner with other members. Details here. Please RSVP by May 1. We need to know how many will be joining us for this unique social event.
May 17 Multi-region autocross event sponsored by the Chicago Region. Venue is Tire Rack in South Bend, Ind. Details here. Also check out the Autocross Events page for directions to the Tire Rack and information about the other events scheduled for autocross this year.
Welcome to these members who joined our region as of March 2009
Mark Fischer, 2003 911 Turbo

James Goelz, 2003 911

Charles Pless, 1999 Carrera

Mary Richter, 1995 Carrera Cabrioliet

Justin Smith, 1979 911

Mary Richter's Carrera Cabriolet
Anniversaries in April
| | | | |
| --- | --- | --- | --- |
| George Burns, 1965 | Dan Matre, 1998 | Robert Ensweiler, 2002 | Patrick Kleibor, 2006 |
| James Bradburn, 1965 | Timothy Day, 1998 | Michael Kirst, 2002 | Mike Engel, 2006 |
| Mark Eskuche, 1973 | Dennis Childs, 1999 | Roger Ritzow, 2002 | Todd Hansen, 2006 |
| Frank Stockinger, 1975 | Trevor Davies, 1999 | Edward Jacob, 2002 | Chip Kubly, 2007 |
| Paul Ebbe, 1977 | Mike Ollmann, 1999 | James Schmidt, 2003 | Douglas Baumann, 2007 |
| Karl Ayer, 1983 | Tony Lechner, 1999 | Dennis Ruis, 2003 | Terry Giles, 2007 |
| Michael Meuli, 1985 | Gary Kebbekus, 2000 | Katie Schaefer, 2004 | Christopher Dale, 2008 |
| Randall Alexander, 1989 | James Stevenson, 2000 | John Kapellusch 2004 | John Versey, 2008 |
| Bob Fait, 1989 | Thomas Linstroth, 2000 | Craig Schulz, 2005 | Edward Wellner, 2008 |
| Erik Moeser, 1991 | Paul Wild, 2001 | Matt Strong, 2005 | Andrew Frailing, 2008 |
| Steve Henschel, 1995 | Brian Balestreri, 2001 | John Gaines, 2005 | Eric Jorgensen, 2008 |
| Michael Korger | David Tatem, 2001 | Mike Treptow, 2005 | |
| Luke Hesprich, 1997 | Michael Anderson, 2001 | Hawk Wilde, 2005 | |
| Bob Shellman, 1997 | Randall Schmidt, 2001 | | |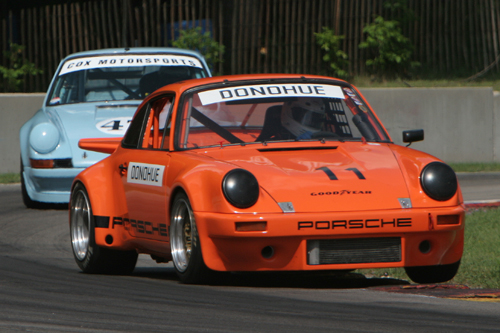 Tips for waking up your Porsche after its winter hibernation. Read it here.
Millers at the Mile. If you love historic cars and racing, this is an event for you. Mark your calendar now. Details here.
Recap of the tech session about drivers education. Read it here.
Luck doesn't help Porsche in opening round of American Le Mans series. Read about it here.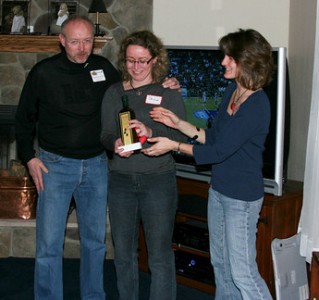 Winning chili recipe available. While we hope the worst of the cold weather is behind us for a few months, we have the recipe from one of the prize-winning chili entrees in our region's Carrera Chili cook-off to share with you. Save the recipe for next season or try it now. You won't be disappointed. Thanks to Patricia Gabarra Koller for sharing the recipe with us.
Classifieds. Visit our classifieds listing to see what's for sale or wanted. Need to sell an item or find one? Use the classifieds. They're free for members. This is an added benefit of being a member of PCA - Milwaukee Region.
What winter projects did you complete? Are you willing to share with other members any Porsche-related projects that you worked on over the winter? Some members are expert do-it-yourselfers. If you count yourself in that lucky group and you're willing to write a couple of paragraphs about what you tackled -- and learned -- we're sure other members would be interested in reading about it. Please submit your story soon. The editor/webmaster is happy to help you polish the article if you provide the basic information. Submit your article to the webmaster, beverly.jurkowski@sbcglobal.net
Porsche sales reported for March 2009. Sales decrease 29% from year ago. Details here.
And finally, on the lighter side.
| | |
| --- | --- |
| Woe to vehicles without flotation devices. | Hackers or road crew construction copywriters display a twisted sense of humor. |
| | |
Comments about the newsletter or this Web site? Contact the webmaster. beverly.jurkowski@sbcglobal.net
Contact region officers and committee chairs: Region contacts are available online.
Posted on Friday, April 3, 2009 12:00 AM, updated on Tuesday, April 7, 2009 8:34 AM
Return to List of Journal Articles