June 2010 Steinlifters Online

Milwaukee Region members line up on the starting grid at Road America
on May 8 for touring laps while driver education participants
take a break. These members participated in the drive to the
track event organized by the Social committee. A full report on that day
is in this issue.
Our driving season is in full swing and Everything Porsche, our 50th anniversary, celebration continues.
We offer lots of opportunities for you to get out and enjoy your Porsche and the company of other members. In this issue, read about the events coming up in June, July and August. Everything from an all-day driving tour (almost all day -- you do get breaks along the way) to drivers education, autocross, a spectacular day at Road America during the Kohler International Challenge, a drive to one of Wisconsin's finest vineyards, and more. Read on.
Calendar of events
June 4 - Driver education at Blackhawk Farms. Visit the DE events page here or go directly to the registration page for this event.
June 6 - Autocross at Miller Park. Visit the Autocross events page for full details.
June 12 - Driving tour. All of the details are here. If you're joining us for this 50th anniversary tour, you must RSVP by June 8. No cost to participate other than your fuel and your meals.
July 4 -- Group drive to the 2010 Porsche Parade in St. Charles, Ill., to check out the Parade's concours d'elegance. If you want to participate in this drive, read the details here and RSVP to the tour leader, Bob Schwade.
July 12 -- Driver education at Blackhawk. Visit the DE events page here or go directly to the online registration form here.
July 17 - Everything Porsche at Road America. The celebration of our 50th anniversary continues as we host a special event at Porsche Park featuring Brian Redman during the annual Kohler International Challenge vintage race weekend. The day includes an optional dinner at Lake Street Cafe and the opportunity to view the Road & Track Concours d' Elegance. Full details here, including how to purchase discount admission tickets to Road America.
July 20 - Porsche night at Brew City. Courtesy announcement -- this is not a region-sponsored event. Details here.
Aug. 1 -- Concours d'elegance - show and shine car show. Save the date. More details here.
Aug. 8 - Drive to Botham Vineyards. New! The Social Committee has put together another interesting event that involves some driving in a follow-the-tour-leader fashion along with a great venue to visit at the end of the driving tour -- Botham Vineyards in Barneveld, Wis., (west of Madison), Botham hosts an annual vintage automobile show. Set in the pastoral, lush vineyards, this is a real treat if you love vintage cars. Details here about our event and what we have planned.
Aug. 15 - Autocross at Miller Park. This event will feature a celebration of our 50th anniversary. Special activities are being planned for spectators. Mark your calendar and head out to the east parking lots of Miller Park. Details on the Autocross Events page.
Welcome to these members who joined our region in May 2010:
James Davidson, Burlington, Wis., 1974 911
Jeffrey Goelzer and his wife, Mary Goelzer (family member), Plymouth, Wis., 2004 911 C4S
John Hijjawi, Brookfield, Wis., 2008 911
June anniversaries
Congratulations to these members who are observing a June membership anniversary:
| | |
| --- | --- |
| Sue E. Wuest | 1987 |
| Paul G. Stewart | 1989 |
| Edward J. Konz | 1989 |
| Philip Sipusic | 1990 |
| Robert Wrenn | 1994 |
| Terry D. Bruss | 1994 |
| Erik Dettloff | 1995 |
| Lloyd I. Davis | 1996 |
| Ned Boston | 1996 |
| Dave Zimmer | 1997 |
| Patrick D. Garven | 1997 |
| John W. Splude | 1999 |
| William B. Bode | 1999 |
| Daniel Schwartz | 2000 |
| Jeff Reichard | 2001 |
| Robert V. Baker | 2001 |
| Michael H. Doland Jr | 2001 |
| John J. Vitas | 2003 |
| Cliff W. Mayer | 2003 |
| Donald F. Dutoit | 2003 |
| Thomas A. Pietrocarlo | 2004 |
| Jeff Pyzyk | 2004 |
| Greg Wilde | 2004 |
| Duane Hotchkiss | 2005 |
| Leonard G. Krebs | 2005 |
| Gregory A. Rucinski | 2005 |
| Thomas J. Ryan | 2005 |
| Gary A. Sadoff | 2005 |
| Patrick Tegeder | 2006 |
| Scott F. Eaman | 2006 |
| Gary A. Essmann | 2006 |
| Stephen A. Sauer | 2007 |
| Brandon Davis | 2007 |
| Paul Stephan | 2007 |
| Tyler R. Hayes | 2007 |
| H. Scot Lyman | 2007 |
| Walter J. Strahota | 2008 |
| Drew C. Gloede | 2008 |
| Scott S. Hickey | 2009 |
| Steve G. Stanislaus | 2009 |
| John L. Wood | 2009 |
| Wayne A. Miller | 2009 |
Volunteers needed at Porscheplatz
Volunteers are needed at Porscheplatz at Road America in August. Want to be around lots of Porsches on the weekend when the American LeMans racing series comes to Road America? Here's a chance to volunteer to help make the Porsche parking corral -- also known as Porscheplatz -- a huge success. Details here. All regions in Zone 13 are reaching out to PCA members to recruit volunteers. Respond soon if you are interested.
New member profiles
William Peterburs Jr. began his Porsche journey with a 2003 Cayenne, the 25th Cayenne delivered in the U.S. It bears a Wisconsin plate reading CAYENNE. "Then in 2007 my interest was a 911 C4 Cabriolet," William said. "This past winter my son ran across a Berg kit 1954 356 Cab. We purchased it and have had a fun time this spring with his entry into the Porsche driving experience." William and Billy are looking forward to driving trips and "all sorts of events."
Event reports

(a recap of recent events)
Sun shines on vets car show -- for a change
Read the recap and check out some photos of our region's 3rd annual Porsche Car Show for the Vets. Details
here.
May 8 drive to Road America -- neither rain, snow or hail could stop us
Read the report of our region's drive to Road America to observe driver education in action, take a turn on the legendary four-mile track and enjoy a great dinner in Elkhart Lake. Report here.
May 23 autocross results
Check out the standings from the region's autocross on May 23.
Waterfalls tour a visual treat
The Fox Valley Region hosted a tour of waterfalls in the Upper Peninsula. We went along for the ride and the view. Read the recap here.
Notes from the Front
Milwaukee Region member Art Cunningham, who has written articles for the region newsletter in the past, contributes this article and photos about a cosmetic upgrade to a 914. Read the article to learn about the creation of a bumblebee.
Are you working on a project? Please consider submitting your own tale of challenge and triumph to share with the rest of us. Contact the online newsletter editor with questions or send your submission to beverly.jurkowski@sbcglobal.net
It's not too late to sign up for Porsche Parade 2010, July 3-9
It won't be as close as this in a long time. The PCA Porsche Parade, the annual gathering of members of Porsche Club of America, will be in nearby St. Charles, Ill., one hour west of Chicago. (From the Milwaukee area you can avoid Chicago to get to St. Charles, an added bonus!) If you want to experience total immersion in PCA, this is the place to be. Say you don't autocross or rally and what would you do there? Spectating at the Parade events are a great way to spend the day. The evening banquets are top notch with great speakers and the opportunities to meet people from across North America. The concours d'elegance is outstanding. So is the hospitality suite and the Goodie Store, where you can stock up on items with the PCA and Porsche logos. Who doesn't need another shirt or cap or piece of jewelry? Visit the Parade Web site for registration details.
Porsche news -- competition, customer satisfaction and sales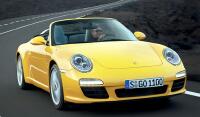 Read this report of a spectacular Porsche finish at the American LeMans Series race at Laguna Seca raceway in Monterey, Calif.
Meet the most powerful street legal Porsche ever made, the 911 GT2 RS. Details here.
Porsches dominate for 15 hours but fail to repeat victory at 24 hours at Nurburgring. Read the report here.
The 2010 911 captures top rating in customer satisfaction poll. Read the accolades here.
Porsche U.S. sales -- check them out here.
Classifieds online here. Members, don't forget, you can advertise at no cost in our popular online classifieds. Info on how to submit an ad is on the classifieds page.
Board meetings
All region members are encouraged and welcome to attend our monthly board meetings, held on the first Thursday of the month at Brew City Grill in Mequon. The meetings start at 6:30 p.m. Brew City Grill, 10250 N Cedarburg Rd., Mequon, WI 53092. Brew City is on Hwy 57 between County Line Road and Donges Bay Road.
Our parting shot. Ok, this isn't a Porsche but it's interesting. The next time you see a large motorhome rumbling down the highway or are passing one, remember that you saw this here.
| | |
| --- | --- |
| | |
| 1937 Ford "House Car." Built at a Ford factory in St. Paul, Minn. Supposedly Only six per year were manufactured. Built on the '37 Ford Pickup frame and cowling (powered by a 60-hp flathead V8 with aluminum heads), the rear framing is all wood, with the metal skin wrapped around it. The roof structure, too, is all wood, over which the heavy, waterproofed canvas top is still very securely fitted. The structure of the body is solid, appearing from underneath to be all oak. | The interior is well appointed. The door frames are thick, solid oak, and oak is visible around the window openings. |
Published for members of the Milwaukee Region, Porsche Club of America.
Beverly Jurkowski, beverly.jurkowski@sbcglobal.net, webmaster and online newsletter editor
Posted on Tuesday, June 1, 2010 12:00 AM, updated on Thursday, June 3, 2010 9:34 AM
Return to List of Journal Articles