September 2010 Steinlifters Online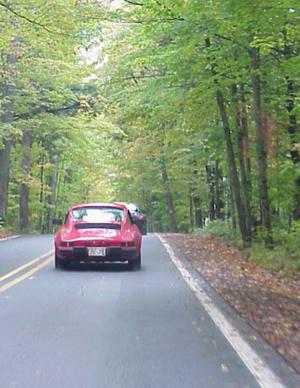 Some of the best days of the year for weekend drives to the country to take in the fall colors and crisp fresh air are upon us. Enjoy the open road with us. We have several events yet to unfold before it's even time to think about storing the Porsche for the winter season. Check out the upcoming events in this newsletter and be sure to check your region website often as new information is continually added. In this issue, we also recap some of the recently concluded events and provide news from Porsche and other items of interest.
Upcoming events
Sept. 2 - Board meeting. Members are always welcome to pull up a chair and participate in the monthly meeting of the board of directors. Several committee chairs are usually present as well. We meet at Brew City Grill, 10250 N Cedarburg Rd., Mequon, WI 53092. Brew City is on Hwy 57 between County Line Road and Donges Bay Road. Start time is 6:30 p.m. The meetings last about an hour. The post-meeting conversations could last longer.
Sept. 12 - Multi-region autocross in Melrose Park, Ill. The Chicago Region has extended an invitation to Milwaukee and Central Wisconsin region PCA members to join them for this last autocross event of the season. All of the details are here.
Sept. 18 - Half-day driving tour. Some early fall colors may be peeking through the lush Wisconsin landscape. Mark the calendar. Details here.
Sept. 25 - 50th anniversary finale. You still have time to RSVP with your payment and meal choice to ensure a spot at our Everything Porsche 50th anniversary finale. The Wisconsin Country Club on Milwaukee's northwest side will be the venue of an elegant evening. Formal attire is encouraged but not required. RSVP information and full details here.
NEW! Oct. 1- 3 OktoberFAST -- Badger Bimmers Driver Education at Road America. The Badger Bimmers extend an invitation to Milwaukee Region PCA members for a final driver education opportunity of the season at Road America. Details here.
Oct. 16 - Drive to breakfast. Looking for a fun way to spend a Saturday morning in the company of other members and their Porsches? We have a short, one-hour drive from East Troy to Lake Geneva planned. Breakfast is at the Egg Harbor Cafe in Lake Geneva, a picturesque city in Walworth County. Full details here for this casual event.
Oct. 22 - 23 Door County Weekend. Planning for this weekend trip to Door County is completed and all participants have been registered. We look forward to hearing about the experience. A report will be published in November.
Re-cap of recent events
Sun greets Porsches upon arrival at Botham Vineyards. The early morning weather on Aug. 8 was less than ideal. Constant rain diminished the number of participants but nonetheless a group drive from Lake Mills to Barneveld went off without a hitch. Read about the event here, with pictures.
The 50th anniversary autocross on Aug. 15 was a special event that included free runs for novices before the competitive runs took place in the afternoon. Read about the experience here. The results of the competitive runs are also posted. Find them here.
Welcome new members
Welcome to these members who joined the Milwaukee Region, PCA, in August.
Marco Alarcon, Eagle, Wis., 1977 911
Michael Bender, Howards Grove, Wis., 1973 911T
Andy Ciesielski, Caledonia, Wis., 1988 928 S4
Jeffrey Czarnecki, New Berlin, Wis., 1986 944
Michael Dowling, Oconomowoc, Wis., 2007 Boxster and 2011 Cayenne
Andrew Lechtenberg, Cedarburg, Wis., and his affiliate member Lydia Cooley, 1985 Carrera
Herbert Mills, Wales, Wis., and his family member Rena Mills, 1977 930 Turbo
Neal Schulz, New Berlin, Wis., 1987 944
September membership annivesaries
| | |
| --- | --- |
| Wayne Rindt | 1971 |
| Gary A. Glojek | 1973 |
| Arnold Krubsack | 1985 |
| Daniel N. Wilke | 1986 |
| Michael Mraz | 1987 |
| Russell E. Greenham | 1987 |
| Stephen Dudley | 1991 |
| Kenneth J. Rohman | 1992 |
| Michael J. Trebatoski | 1993 |
| Stephen D. Hoch | 1995 |
| Daniel J. Stritzel | 1996 |
| Paul Pelski | 1997 |
| James E. Montoure | 1998 |
| Anthony P. Lulloff | 1998 |
| Robert J. Huebner | 1999 |
| Judith K. Grunnah | 1999 |
| Robert L. Fewel | 2002 |
| Robert L. Tobias | 2003 |
| Tom M. Kurgan | 2003 |
| Jim Thomas | 2004 |
| Stephen J. Murphy | 2004 |
| Robert G. Porsche | 2005 |
| Sunil Kapur | 2005 |
| Ronald Ashby | 2006 |
| Brian J. Stark | 2006 |
| Gregory K. Webb | 2006 |
| Wayne L. Moses | 2006 |
| William R. Hotz | 2007 |
| Phillip T. Weinfurt | 2008 |
| John P. Jacobs | 2008 |
| Peter Thermansen | 2008 |
| Bob Kreinz | 2008 |
| John M. Marzullo | 2008 |
| Jeff M. Adler | 2009 |
| Bill E. Lundgren | 2009 |
| Donna R. Daufenbach | 2009 |
| Joseph A. Bichanich | 2009 |
| Loreen A. Wooden | 2009 |

New member profiles
In addition to the monthly listing of names of new members, the Milwaukee Region strives to provide additional information about members through this column titled "New member profiles." Thanks to these members who responded to the invitation to tell us a little about themselves. If you're a new or a seasoned member of years or decades and would like to tell us about you and your Porsche, send a note to newsletter editor Bev Jurkowski. E-mail: beverly.jurkowski@sbcglobal.net
Jim Para-Cremer is the proud owner of a red 1985.5 Porsche, the first he has owned. He is in the process of rehabbing it. "Though it is drivable, it is not where I want it to be at this time," he said. He wants to learn more about Porsche repair and mechanics. When he's not working on his car, Jim runs a neuro-rehab hospital called Lakeview Specialty Hospital & Rehab.
Brian Ellison owns a 1995 911 (993), Guards Red cabriolet. "I've owned it for three months and have looked (seriously) for this particular model for about one year," he said. He found it on eBay. "After too many e-mails to mention, I was on a flight to Houston, Texas, and was questioning what I was doing. I bought it at a BMW dealership and have to say it was a very pleasant experience. The salesman was very patient and extremely honest. It's great to be able to trust people. I then drove it 1,200 miles home."
This is Brian's first Porsche. He previously owned a vintage convertible Mercedes and was considering other vehicles, among them a twin turbo Lotus, but was convinced by "my favorite independent repair shop (Mraz), that a Porsche would be much more reliable. Besides, my wife said she always wanted a Porsche," Brian noted. He is interested in car shows, tech sessions and meeting others with the same interests. He's a software engineer for Hamacher Resource Group.
Darko Kalan of Verona, Wis., reports that his son found his 1979 911SC in 1996 at a dealer in Barrington, Ill. The car only had 32,000 miles on it but was not in very good condition, according to Darko. The car was involved in a lengthy litigation dispute due to a divorce prior to Darko's ownership. The auto needed paint and engine work since it was not driven for a number of years. Darko brought the car to Madison where the owner of "FastTech" (he is now with Kelly-Moss), put the car back into running order and appearance. Actually the car is in good order with almost all components now restored and currently has 48,000 miles. Darko is retired. He and his wife Judy travel a great deal in the U. S. and Europe.
Robin Barkhaus is the owner of a Pearl White 1976 930 with a slant nose conversion. "I bought it from a friend of mine after several years of badgering him for it. I've wanted a Turbo since I read an article on the original written by Brock Yates in a Playboy I snuck from my dad when I was 11 or 12 (even then I looked at it for the stories!)," Robin said. This is his first Porsche. He's interested in social activities as well as the driving tours and tech sessions. Robin is a quality assurance manager for WorkWise.
Classifieds
Check out the classified ads here. This is a free service to members. Advertise your Porsche-related items. Details on how to submit an ad also can be found on the classifieds page.
Porsche news and more
Porsches have been sold in North America for 60 years. PCNA put together a list of 60 fun facts about Porsche. Boost your knowledge of Porsche. Note the last entry! Read the listing here. Thanks to Fred Schwierske, region member, for forwarding the list.
Porsche sales in July. Details here.
Take a "drive" via video in the GT2 RS here. Buckle up. Thanks to region member Mike Wiviott for the link.
Oldest Porsche in America contest. Have an old Porsche? Here's a contest for you.
Victories at Mosport in Canada. Read how Porsche-sponsored teams performed in the ALMS race in Canada on Aug. 29. Details here.
PorschePlatz at Road America
PCA members from Zone 13 -- Milwaukee Region is part of Zone 13 -- hosted a two-day PorschePlatz (Porsche parking corral) for attendees at Road America during the American LeMans series race Aug. 21- 22. Thanks to all region members who volunteered to welcome all guests and especially to Bob Huebner and Don Berchem for presenting Porsche Park in its finest attire (flags, plantings, etc.).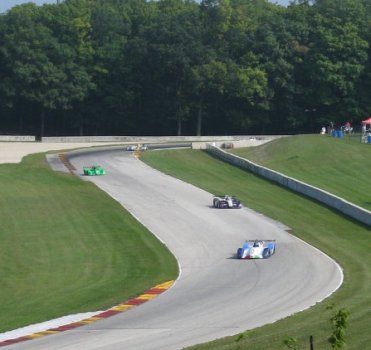 Porsches always look great on the Road America track.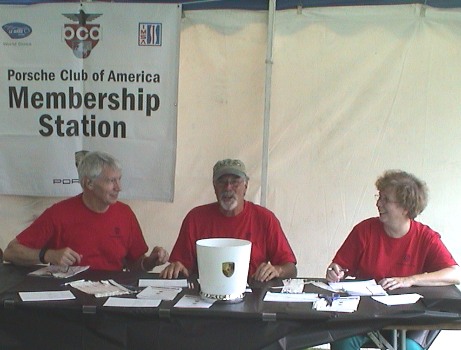 Milwaukee Region members Bob Huebner (center) and Donna Daufenbach (right)
volunteered to work the PCA membership table set up in Porsche Park at Road
America.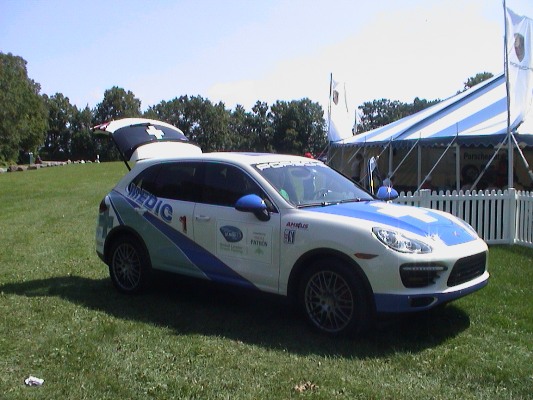 Not your typical Cayenne paint scheme. This model visited Porsche Park in Road America during the PorschePlatz/American LeMans Series weekend.

Porsche Park is the special parking area at the track that has been maintained by the Milwaukee Region for years. Members are welcome to park there when visiting Road America for events.

Region site Extreme Makeover - Milwaukee Region edition
Did you notice? The Milwaukee Region website has been updated with new graphics and navigation scheme. Read about the makeover here to learn about some of the new features and layout.
Published for members of the Milwaukee Region, Porsche Club of America. Articles, photos, suggestions welcome. Contact webmaster and online newsletter editor Beverly Jurkowski, beverly.jurkowski@sbcglobal.net
.
Posted on Wednesday, September 1, 2010 12:00 AM, updated on Saturday, September 18, 2010 2:13 PM
Return to List of Journal Articles