November 2010 Steinlifters Online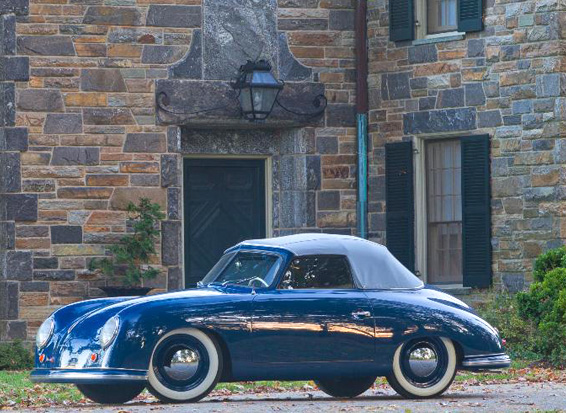 In this issue, read the results of Porsche Cars North America's
quest to find the oldest Porsche in the U.S.
It's November and that means election time. Just when you thought all of the election mania was over, your PCA region is asking that you cast one more ballot -- to elect members to serve on the board for the 2011-2012 term. We have an excellent slate of candidates who are interested in serving as your representatives on the board of directors. Take 5 minutes to review the statements that each candidate has submitted and download the ballot and cast it by Nov. 30. Election details and ballot here.
Upcoming events
Nov. 4 and Dec. 2 Board meetings: Members are always welcome to sit in on the monthly board meeting. We meet at Brew City Grill, 10250 N Cedarburg Rd., Mequon, WI 53092. Brew City is on Hwy 57 between County Line Road and Donges Bay Road.
Nov. 12 - Casual dinner and autocross awards banquet. Reservations were due Oct. 30. Event info here.
Past events -- Check out the fun we've had in recent weeks.
50th anniversary finale -- another look. Here's a photo album with more memories from the region's 50th anniversary finale at the Wisconsin Country Club in late September. Photos by Mike Wiviott.
October drive to breakfast -- Lake Geneva was a perfect destination for members who enjoyed a sunny Saturday and the chance to put a few miles on the Porsche in pursuit of a hearty breakfast in the company of other region members. Read the story here.
Weekend in Door County -- On Friday, Oct. 22, 20 members of the Milwaukee Region met at Fiddleheads Coffee House in downtown Cedarburg to kick-off PCA-Milwaukee Region's Door County weekend. In the driver's meeting before departure, trip leader Alan Wagner mentioned that the trip had a decidedly "continental" flair since we would be skirting just to the east of Belgium, and passing through both Denmark and Luxemburg (Wisconsin that is). More....
Welcome new members (joined in October 2010)
David Novaez and his wife Kristin, Salem, Wis., 2008 Cayman S
Richard Rosen and his son Zachary, Mequon, Wis., 2011 Panamera
Karen Walls and her husband Scott, Waukesha, Wis., 1996 911
Transferring into our region:
Ray Atchinson II, Fond du Lac, 1977 911S (transferred from Chicago)
Thomas Ray and his wife Lois, Libertyville, Ill., 2008 911 Turbo (transferred from Chicago)
Jeffrey Cowie and his wife Emily Copps, Cedarburg, Wis., 2004 Cayenne S (transferred from Big Sky)
Tom Kurgan and his wife Janet, Franklin, Wis., 2003 911 (transferred from Allegheny)
Anniversaries - Congratulations to these members who are observing a PCA membership anniversary this month:
| | |
| --- | --- |
| Gregory W. Baker | 1972 |
| John S. Grant | 1981 |
| Rick Yanchar | 1987 |
| James Page | 1988 |
| Tony Stevens | 1990 |
| Renee Messing | 1992 |
| Craig J. Kunkel | 1997 |
| Jay Moll | 1997 |
| Paul D. VanDuyne | 1998 |
| Gregory V. Kovacs | 1999 |
| James L. Kochan | 2000 |
| Betsy L. Jeffery | 2000 |
| Moises Rodriguez | 2000 |
| William R. Tisdale | 2001 |
| Mark J. Wimmer | 2001 |
| Timothy J. Helz | 2004 |
| Brad J. Dickmann | 2005 |
| Jeffrey D. Plate | 2005 |
| Steven J. Binkley | 2005 |
| Terry Royals | 2006 |
| Steve W. Hale | 2006 |
| Michael Keefe | 2007 |
| Douglas Feistamel | 2007 |
Ckassifieds -- Members, remember our classifieds section is free. Instructions on how to submit your ad, along with a photo, are on the site. View classifieds here.
News from Porsche
September sales in the U.S. were up 25 percent. Read the details here.
The oldest Porsche in the U.S. contest has delivered a number of outstanding examples of Stuttgart's finest. Read the story here.
Motor Trend names Cayenne the 2011 Sport Utility of the Year. Read the details here.
Cayenne Hybrid is due in dealer showrooms in November. Check the details here.
A glimpse at the future 928. If you love the original 928 -- the 8-cylinder Porsche that combined comfort, power and handling, you're gonna love the next generation of 928s. Thanks to Paul Roller, region member, for the tip. Check this out.
Looking for great photos....Did you know that the large picture on the home page of this website changes each time you refresh the screen? The webmaster would welcome photos of members' Porsches to run in this rotating area. The photos must be large in size. They must be at least 800 pixels wide by 300 pixels high. Larger is better. Send them to Bev Jurkowski, webmaster, via e-mail: beverly.jurkowski@sbcglobal.net
Steinlifters online is published for members of the Milwaukee Region, Porsche Club of America.
Beverly Jurkowski, webmaster and online newsletter editor
beverly.jurkowski@sbcglobal.net
Posted on Tuesday, November 2, 2010 12:00 AM, updated on Tuesday, November 2, 2010 12:41 PM
Return to List of Journal Articles