Tips on navigating our site
We invite members to take a few minutes to click on various segments of the region site to become familiar with the contents and where to find things. We've heard from some members who want to quickly locate details about upcoming events.
There are a couple of ways to navigate to find details about events.
1. The calendar. On the left side of the page, click on calendar and then go to the calendar date for the event. Click on the link in the calendar grid for the event that you are interested in and you will be taken to a page that provides whatever details are available.
2. The next two upcoming events for the region are displayed in the large red and blue rectangles under the heading UPCOMING EVENTS in the lower quadrant of the home page. Take your mouse and mouse over the event name. The little hand symbol that appears when you mouse over text indicates a live link. Click on the heading or event name and you will be taken to a page that provides more details.
3. Headlines. This is the list of items IN BLUE TEXT in the middle of the home page. Most events are promoted with a story. The story's headline will appear in the listing of items there. If the item has fallen off the home page due to the volume of content we have, you will find it by following the Read more headlines link.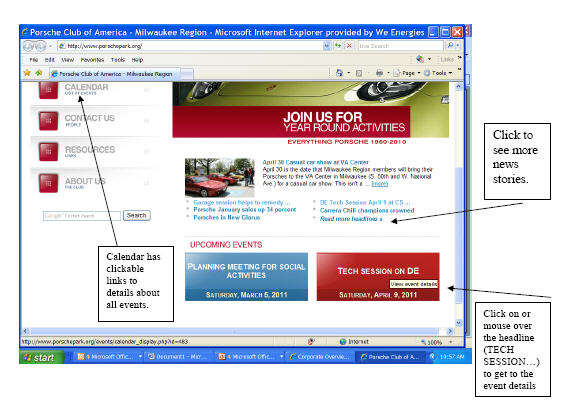 Posted on Wednesday, February 23, 2011 11:19 AM, updated on Sunday, July 17, 2011 6:07 AM
Return to List of Journal Articles