June 2011 Steinlifters Online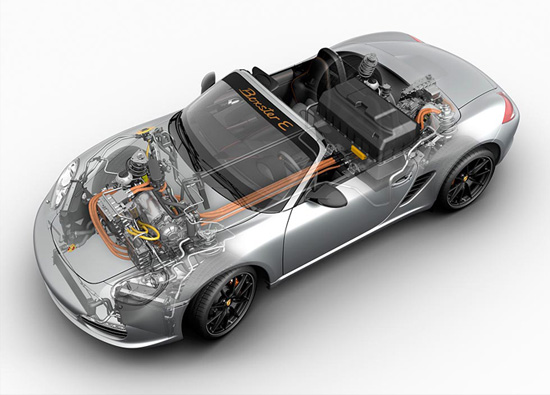 The Boxster E 2 prototype. Read about it in this issue.
The driving season is here, finally, after a slow start, thanks to Mother Nature. Your region offers a variety of events in which you can enjoy your Porsche in the company of other Porsche afficionados. Porsche Parade, the national gathering of PCA members, is coming up too -- at the end of July. Details about the region's events in June and July, Porsche Parade, and news about Porsche follow in this issue of Steinlifters Online. We hope you can join us for a couple of activities this summer.
Upcoming events
June 10 – Driver Education (DE) at Blackhawk with Badger Bimmers. This is a great track for novices and experienced drivers alike. Details including link to online registration here.
June 11 – Casual dinner at Delafield Brew Haus. RSVP by June 9. Order from a varied menu. Pay your own bill. Join us for good conversation about all things Porsche. Event details here.
June 18 – Spring driving tour. This is one of our region's most popular events. Spend time in your Porsche, exploring some great roads in Wisconsin. We will have a lunch stop and will conclude the day with dinner at the end of the tour. Don't have time for a full day? Join us for part of it. Details here.
June 25 – Fox Valley Region Ladies Driving Tour. Ladies, drive your Porsche or the family Porsche (or his Porsche) on this ladies driving tour hosted by the Fox Valley Region, our neighbors to the north. Details here.
July 3 – Autocross at Miller Park. Support our region's autocross events. This is a low-speed driving event that tests your ability to maneuver a course laid out in an obstruction free parking lot. Details here.
July 7 – Board meeting at Wisconsin Club - Country Club. 6200 W. Good Hope Rd. The meeting starts at 6:30 p.m. Food and beverages available. All members always welcome to sit in on the meeting.
July 16 – Road & Track Concours. Join us for a driving tour that will start in Cedarburg and wind its way to Elkhart Lake and dinner at Lake Street Cafe (order from the menu and pay your own bill). Then take in a fabulous concours d'elegance on the streets of Elkhart Lake, featuring more than 100 cars in outstanding condition. Refundable deposit required for dinner. Details here.
July 31 - Aug. 6. Parade Week. Details here.
Board of Directors report results of vote to amend region By-Laws
The Milwaukee Region Board of Directors wishes to express its sincere thanks to all 154 members who took the time to vote on the five recently proposed amendments to our By-Laws.
With 29% of the membership casting votes before the May 25, 2011, deadline, the results are:
88.9% of the votes received were opposed to the first four amendments. According to Article XI, Section 2 of our By-Laws, these four amendments are rejected by a majority of the votes cast by the Membership.
92.2% of the votes received were in favor of the fifth amendment. According to Article XI, Section 2 of our By-Laws, the fifth amendment has been passed by a majority of the votes cast by the Membership. Therefore, the fifth amendment will be incorporated into the Milwaukee Region By-Laws.
The strong and careful participation of all those who voted on these important matters reflects well on the dedication of our Membership.
Respectfully submitted by
John McGarry - PCA Milwaukee Region Secretary
New member profiles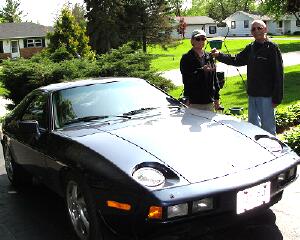 Dave Kachelek is new to the Milwaukee Region. He has owned his 1981 928 Porsche since last October. Here's Dave's story about how he acquired the 928. "About three years ago I was hired at a company called Machinery Service & Design. I was hired to take over operations for the owner who was to retire in a year. I have since purchased a large portion of the company and have been named President.
The car was stored inside for more than four years. It had been the previous company owner's "pride and joy," according to Dave. (In the photo left, Mike, the previous owner of the company, is handing over the keys for the 928 to Dave.)
The car never saw any bad weather and was always kept inside. The engine compartment is still nice and clean and the leather interior is in almost perfect condition. The car had 66K miles on it when Dave bought it in October 2010.
"When I purchased the car last year, I had the car on the road for two weeks and the water pump started leaking. So I had the water pump and timing belt replaced and then the cold weather set in. Over the winter months I did a complete brake rebuild, fixed the odometer, touched up the paint chips on the hood, fixed one door lock, repaired the driver's electric seat, and door lock motor." Dave also installed a new stereo system along with a 12-inch sub woofer and 1000 watt ADS amp.
"To date this, this is the only Porsche I own but that is subject to change," Dave concluded.

Jim Morris also joined the region recently with his 2008 Cayman S, Macadamia Dark Brown Metallic on the exterior with a sand/beige leather interior. He bought the car March 31, 2011, from Concours Motors. The Cayman S was previously a leased vehicle. With only 12,000 miles on it and still covered by the new car warranty through 2014, the purchase decision was an easy one, no doubt. "I've since put a few hundred miles on it. I love it," Jim noted.
New to Porsche ownership Jim said he "longed to own a Porsche for years and figured 'life's too short.' " Many of us agree with you on that point Jim.
He is looking forward to driving and social events with PCA. Jim attended the region's casual fish fry in April, just a week after he purchased his car.
Editor's note: Thanks to Jim and Dave for responding to my request to provide some details about themselves and their Porsches. If you missed your chance to respond to my email, it's never too late. We'd love to publish your story. Send a note to the editor to be included in the next round of member profiles. beverly.jurkowski@sbcglobal.net
Welcome new members
The Milwaukee Region welcomes these members who joined or transferred into our region during the month of May:
Thomas Duffey, of Wauwatosa, 2010 Cayman S
Daniel Ferguson, of Mequon, 2010 Cayman S
Peter Georgeson, of Racine, 1993 911
William Sturm, of Oconomowoc, 2011 Carrera
Robert Tschurtz and his affiliate member Jennifer Jones, of Lake Geneva, 1967 911
We also welcome these members who transferred to the Milwaukee Region:
Thomas Warsop, of Hartland, transferred from Fox Valley Region, 2007 997
Keith Walz, of Germantown, transferred from Chicago Region, 2000 911
John Hoenick, of Slinger, transferred from Northeast Region, 1987 911
June membership anniversaries
Congratulations to these members who are observing a PCA membership anniversary this month:
1987 – Sue E. Wuest
1989 – Paul G. Stewart, Edward J. Konz
1990 – Philip Sipusic, Terry D. Bruss
1994 – Robert Wrenn , Erik Dettloff
1995 – Robert Wrenn
1996 – Lloyd I. Davis, Ned Boston
1997 – Patrick D. Garven, Dave Zimmer
1999 – William B. Bode, John W. Splude
2000 – Daniel Schwartz
2001 – Jeff Reichard, Robert V. Baker, Michael H. Doland Jr.
2003 – John J. Vitas, Donald F. Dutoit, Cliff W. Mayer
2004 – Greg Wilde, Thomas A. Pietrocarlo
2005 – Gary A. Sadoff, Thomas Ryan, Duane Hotchkiss, Gregory A. Rucinski, Leonard G. Krebs
2006 – Scott F. Eaman, Patrick Tegeder
2007 – Tyler R. Hayes, Stephen A. Sauer, Paul Stephan, H. Scot Lyman, Brandon Davis
2008 – Walter J. Strahota, Drew C. Gloede
2010 – Mark A. Barnes, Kurt D. Bechthold, Bob Fenlon, Ed French, Lisa R. Hooper, Mike R. Preisler, Greg R. Peterson
Recent events
The May 22 autocross in the parking lot at Wisconsin State Fair Park featured a session to introduce drivers to autocross as well as a competitive event in the afternoon. Details here including results of the competitive event.
On May 7, while region members were enjoying the thrill of driver education at Road America, some members participated in a drive to Road America to tour the track at the end of the driver education event. Earlier in the day, during the lunch break for the DE participants, military veterans who live at the Zablocki Medical Center, had arrived by bus and were ready to tour the track as passengers in the cars of the DE participants. A full day of fun for many people. Read the details here. Also check out this photo album of the DE event in action.
The Paint Tech Session on May 21 hosted by region member Dave Zimmer, was well attended. Do-it-yourselfers and those who just wanted to understand more about the finer points of restoring the paint on a Porsche learned a number of tips and techniques. Read the details here.
Classifieds
Check out the classifieds here.
Other things related to Porsche, including news from Porsche
Speedsters Meet Spyders
Check out this video at an event in Carlisle, Pa., recently called Speedsters Meet Spyders. This was not a PCA event but it sure looked like the typical kind of fun that results when people who love Porsches get together.
Porsche Turbo vs. VW Beetle
The Porsche 911 Turbo and an aging VW Beetle go head-to-head in an extraordinary one-mile drag race. Richard Hammond in the Porsche must cover the distance on the ground while the Beetle is dropped from a helicopter. Which will win? The Porsche or gravity? Watch this video. Note, there is a brief commercial at the front of it. Click here.
Boxster E prototype news. Details here.
Porsche North American sales: Best May since 2007, sales up 50 percent compared to May 2010

ATLANTA, June 1, 2011 -- Porsche Cars North America, Inc. (PCNA), importer and distributor of Porsche sports cars, Cayenne SUVs and the Panamera four-door sports sedan line-up in the United States, today announced May sales in the United States of 2,817 units compared to the same period last year when it sold 1,873, an increase of 50 percent.
May's results represent the German sports car maker's best May sales total in the United States since 2007. So far in 2011, the company's sales are 12,996 units. In the same five-month period last year, Porsche sales were 8,842, which represents a 47 percent increase.
For the month, Porsche's Approved Certified Pre-Owned vehicle sales were 753, compared to 796 last year. The year-to-date total was 3,596, compared to 3,220 last year.
Our parting shot.
A big race needs
a big tire, right?
Bucyrus International
recently delivered a
really big tire to
Road America.
The tire will be part
of a display that the
mining equipment
manufacturer will have
on site during its
title sponsor event,
the Bucyrus 200
NASCAR Nationwide
Series, June 25.
Thanks to Ron Pace
for the photo.
Posted on Friday, June 3, 2011 12:00 AM, updated on Sunday, June 5, 2011 4:07 PM
Return to List of Journal Articles