July 2011 Steinlifters Online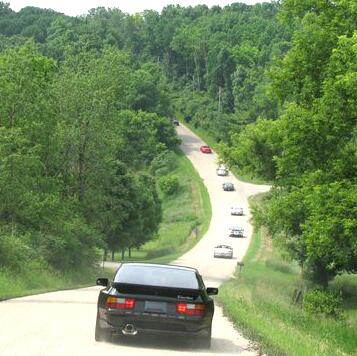 Welcome to the July 2011 issue of Steinlifters Online, the newsletter for members of the Milwaukee Region, Porsche Club of America. The board of directors and a group of committee chairs and event leaders are continuing to plan activities in which you can meet other members and share the outstanding experience of driving your Porsche. With several great events "in the books" already, this issue has some cool reports and photos. And there's more to come. We hope you will join us for an event in the near future.
Upcoming events
July 3 - Autocross at Miller Park. Details here.
July 7 - Board meeting. Wisconsin Club Country Club, 6200 W. Good Hope Rd., Milwaukee. All members always welcome.
July 16 - Drive to Elkhart Lake to view the spectacular Road & Track Concours. RSVP required by July 9. Details here.
July 21 - PCA Night at Festa. Join other region members for a night at Festa Italiana in Milwaukee. Details here.
July 25 - DE at Blackhawk. Details here.
July 31 - PCA's annual national gathering, Porsche Parade, begins. Details here.
Aug. 21 - Autocross at Miller Park. Details here.
Aug. 27 - Club Day at the Masterpiece. Porsche is the featured marque on Club Day at this year's Masterpiece on Milwaukee's lakefront. Details here.
Membership reminder
Have you renewed your membership yet? Our membership chair reports that 92 percent of members with renewal dates in July haven't responded yet. PCA only sends out one notice. Please act soon so that your membership does not lapse. We want to continue to count you among our active, PCA friends.
Welcome new members
The Milwaukee Region welcomes these members who joined PCA and our region in June:
Douglas Boone, New Berlin, 2011 Panamera
Ross Campbell, Milwaukee, 2003 911
Gregory Chandler, Cedarburg, 2007 Boxster S
Gregg Eisenhardt and his family member Christy Eisenhardt, Pewaukee, 2008 911
Mark Flaherty, Milwaukee, 2012 911
Jeffery Hadrian and his family member Susan Hadrian, Milwaukee, 2003 Boxster
July anniversaries
Congratulations to these members who are observing a membership anniversary in July.
David Hatch, Trevor Harder, 1971
Quinn Fiske, 1979
Mark P. Schneider, 1981
John Stalter, 1983
Bruce A. Tammi, 1988
Roger L. Aronson, Dr. Donald J. Brescia, 1989
Allen C. Hoeppner, 1991
Ed Creamean, David M. Tyler, 1992
Mary A. Medo, 1995
Ronald A. Marasco, Dave A. Bender, 1996
Wayne P. Soder, Gerd F. Bauer II, Mike Kressin, Alan S. Bloom, 1997
David M. Szewczykowski, 1998
Carl J. Pace, Harald Kreug, 2000
Luis Arisso, Andrew C. Campbell, 2001
Jerry Sanfelippo, 2002
Paul J. Grabowski, 2003
Timothy W. Riley, Tim McCarter, Timothy F. Hunt, 2005
Jerry J. David, 2006
Michael Tagtow, James R, Westdorp, Lynn J. Wallace, Timothy J. Shanahan, 2007
Patrick G. Quick, 2008
John R. Robertstad, Robert W. Hinzpeter, Ralph L. LaMacchia, 2009
David Barna, Brian Bergner, Brian L. Ellison, Mike Sura, Darko S. Kalan,
Vito J. Sorce, Jim A. Para-Cremer, Jon. S. Phillips, Robin Barkhaus, 2010
Member profiles
Tom Duffey Jr. joined the PCA and the Milwaukee Region recently with his 2010 Cayman S. He has a long history of owning and driving German sports cars and notes that this is his first non-manual transmission. "Notice, I did not call the PDK an automatic," Tom notes. In the past he's traveled from one coast to the other – Newport Beach to Newport, R.I., to find the right car but the 2010 Cayman S was "home grown at Concours Motors."
Prior to owning the Cayman S, Tom had owned a 996 C4S Cab that he bought in Tennessee. "I still love the look of those rear flanks," he said. Tom, a vice president and senior financial advisor for Cedar Street Advisors in Milwaukee, said he is "looking forward to social events, tech sessions and driving events and anything where the marque is shown off to the public."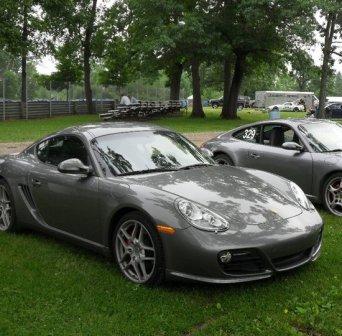 Dan Ferguson also is new and also has a 2010 Cayman S. His car features LSD, PASM, PSE, 19-inch Carrera S rims, 6MT and a clear bra. Dan said he found it through the Carmax website in Hartford, Conn., with 2,800 miles the odometer. "It had the options I was looking for so I had it shipped here in February," he said. "I took it for a test drive on snow-covered Milwaukee roads and the salesperson didn't even flinch when I turned off PSM in an empty parking lot to feel how the mid-engine car slides around."
The Cayman S is Dan's first Porsche. He has already attended the region's recent driver education events at Road America and Blackhawk and is looking forward to trying our autocross events too. An ophthalmologist (eye surgeon) for Eye Care Specialists, he's also busy with children aged 3 and 5 so "weekend time is somewhat limited," Dan noted.
John Hoenick drives a 2007 911 Carrera "S," blue with tan leather interior, sport cronos and 4,600 original miles. He saw the car while surfing the website of a dealership in Chicagoland. John arranged for Infiniti North Shore to ship the Porsche to Milwaukee to look at and "on Mother's day weekend took ownership of the '07 Porsche as well as a new G-37X Infiniti."
John notes he has "been tangentially involved with Porsches since 1966 when my buddy's Dad bought a 912 – it was like nothing else we had ever driven! More recently, we baby-sat my son's 1987 911 Carrera for six years. So the "P" car bug bit, and now we are part of the family."
John is a consultant for an architectural and engineering firm specializing in building envelope integrity. As to where we might see him? His response: "Well, I live in Wisconsin, meander to the hills of Elkhart Lake, Blackhawk Farms and even Mid-Ohio – someplace in that vicinity I could be seen."
Editor's note: All members are invited to tell their story about themselves and how they came to be an owner of a Porsche and a member of PCA. Send an email to the newsletter editor: beverly.jurkowski@sbcglobal.net
Recent events
Read a recap of some of the events recently enjoyed by region members.
Milwaukee Region member Lynn Palmer's recent business trip produced had an unexpected delight when he checked into his hotel. Read the story here.
The June 18 Spring Tour. Our region's annual spring tour lived up to its reputation as one of the best events on the annual calendar. Details and photos here.
Fox Valley Region Waterfalls tour. Several Milwaukee Region members joined the Fox Valley region for a tour of some of the U.P.'s spectacular waterfalls. Story and photos here.
Ladies Only Driving tour. Milwaukee Region member Donna Daufenbach joined women from the Fox Valley for a ladies only driving tour recently. Read Donna's report here.
A car collection for the ages
Check out the video in this link, sent by region member Mike Wiviott, for a peek at an incredible collection of U.S. muscle cars and European sports cars.
Porsche miscellaneous
Porsche unveils the GT3 Cup race livery. Details here.
Porsche celebrates 15 years of Boxster production. Details here.
Top Gear reports on the new 911. Details here.
Rennsport Reunion -- This is a cool event, coming up in October. Details here.
Classifieds. The classifieds section is one of the most widely read features of our region site. Check out what's for sale here.
Region contacts. Need to contact one of the board members or a committee chair? The list is always available on this website by clicking on the Contact Us tab on the left side of every page.
The parting shot
The editor welcomes your contributions for this semi-regular feature of the newsletter. Submit pictures you've taken of strange or interesting items related to cars, motoring, Porsches, etc. This month's submission is from Ron Pace, vice president of the board and the region's chief driving instructor. We trust Ron took the safe and inexpensive action.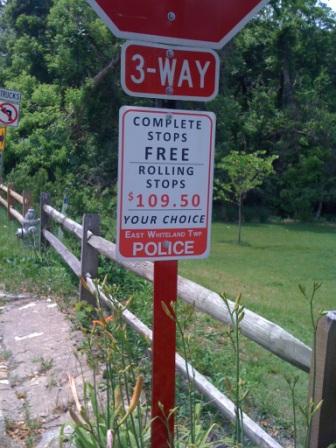 Posted on Friday, July 1, 2011 12:00 AM, updated on Saturday, July 2, 2011 1:50 PM
Return to List of Journal Articles