September 2011 Steinlifters Online
Summer is winding down but we still have many days ahead in which to enjoy our Porsches. Your region has several events coming up, which are detailed in this newsletter. Also, we're kicking off a new section of the newsletter called Tech Tips. If you're a DIY (do it yourselfer), this feature is for you. It also may be of interest to the nonDIYs among us who are interested in how things work inside their Porsche.
Check out the link to pages with photos from the Milwaukee Masterpiece -- thanks to Karl Schulz for the great pictures (one example is at the right of this column) and thanks to Lise Miley for her photos of the ALMS race at Road America.
Please join us for an upcoming event. Your board and event organizers spend a lot of time conceiving and executing events that we think are of interest. Participation is the best way to tell them that they hit the mark.
Upcoming events
Sept. 10 - Half day driving tour. Starting point is Jackson, Wis., at the McDonald's at the Hwy. 60 exit off Hwy 45. Ending point is lunch at the American Club in Kohler. Led by the legendary tour meisters, the Heppe brothers. Details here.
Sept. 17 - Cancelled -- Dinner at Timmers. Cancelled due to insufficient response.
Oct. 2 - Cars & Coffee - Lake Mills. Car people roam around looking at cars, talking about cars. Some exotics are always there along with Porsches, of course. Coffee available for purchase on the same street. Drive out. Park. Look. Talk. Gear head nirvana. Details here.
Oct. 6 - Board meeting. All members always welcome to pull up a chair. Wisconsin Club Country Club, 60th and Good Hope Rd., Milwaukee. 6:30 p.m.
Oct. 14 - Drive for Babies at Road America. A fundraiser for the March of Dimes. You should never pass up a chance to drive the world famous Road America track in our back yard. Details here.
Oct. 15 - Autumn color drive to breakfast. Great roads, colorful vistas, fine-tuned Porsches, follow the leader drive, tasty breakfast. Is there a better way to spend a Saturday morning? Al Wagner is our tour meister. Details here.
Oct. 14 - 16 - Rennsport Reunion. A unique event for total immersion in Porsches. Details here.
Oct. 20 - Casual dinner at Tony & Mia's - Delafield. A Thursday night event at one of Delafield's newest restaurants that has received good marks from reviewers. Details here.
Welcome new members
Greg Fiebig, Waukesha, 1999 911/996
Christopher Gittens and his affiliate member Jennifer Orsted, Franksville, 1988 930
Martin Gnatzig and his affiliate member Karen Gnatzig, Westfield, 2001 Boxster S
Phillip Harding, Oak Creek, 1999 986
Francesco Lancia and his affiliate member Dana Thomas, Milwaukee, 1997 Boxster
Christian Lie, Racine, 2009 911
Congratulations to these members who are observing a membership anniversary in September
Wayne Rindt, 1971
Gary Glojek, 1973
Arnold Krubsack, 1985
Daniel Wilke, 1986
Michael Mraz, Russell E. Greenham, 1987
Stephen Dudley, 1991
Kenneth Rohman, 1992
Michael Trebatoski, 1993
Stephen Hoch, 1995
Daniel Stritzel, 1996
Paul Pelski, 1997
James Montoure, Anthony Luloff, 1998
Judith Grunnah, 1999
Robert Fewel, 2002
Robert Tobias, Tom Kurgan, 2003
Steven Murphy, Jim Thomas, 2004
Wayne Moses, Ron Ashby, Brian Start, Gregory Webb, 2006
William Hotz, 2007
Phillip Weinfurt, John Marzullo, John Jacobs, Bob Kreinz, Peter Thermansen, 2008
Loreen Wooden, Joseph Bichanich, Donna Daufenbach, Mark Daufenbach, Jeff Adler, 2009
Johnny Warber, Dave Wegner, Pam Mueller, Robert Prellwitz, Ed Surek, 2010
Autocross July 3 and Aug. 21 results
Check out the standings for the July 3 and Aug. 21 autocross events hosted by your region. Details here.
Milwaukee Masterpiece - a grand showing of outstanding Porsches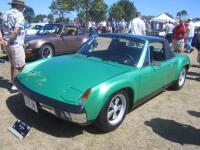 Check out a small sampling of the photos that region member Karl Schulz took at this year's Milwaukee Masterpiece. You'll find just about every model of Porsche, in a variety of colors and years.
A handful of region members were part of the show, including David Hatch, whose pristine 914-6 is shown at left.
ALMS race at Road America
Check out a few photos of the 2011 ALMS race weekend at our home track, Road America. Photo album here.
PCA Parade in Savannah
If you've never attended Parade, this report captures a bit of the flavor of what happens at Parade. Sounds like Savannah was a great venue in 2011.
Classifieds: buy, sell, wanted
Our online classifieds are free to members. Instructions on how to submit an ad can be found on the classifieds page. Check out the latest.
Tech Tips
Hey members. I want to start a regular feature in our newsletter that focuses on technical stuff. You know, the do-it-yourself repairs or upgrades that many of you do on your Porsches. If you are planning a winter project, please consider documenting your work with photos to show the major steps of the process and jot a few notes as to what you did. I don't need an album of shots. A handful will do. Don't worry about grammar or spelling. I will polish the article for you. Send photos and text to me. Beverly.jurkowski@sbcglobal.net
In the meantime, I have found a good source for tech articles. I'll be looking for more, too. The source was recommended by my fellow PCA regional newsletter editors. We've formed an online forum to exchange ideas to help each other improve our region newsletters and the subject of technical articles came up. The source that several recommended is called Pedro's Garage. Pedro is a member of PCA Gold Coast region. Many regions publish his material, which he allows regions to do, and I am going to jump on that bandwagon because his stuff is good. Check out this article on bleeding the brakes and clutch.
Porsche in the news
Check out this MotorTrend Hot Lap series video of the 2011 Cayman R. Randy Pobst is behind the wheel.
Photos of the new 911
Parting shot
Some dogs have all the fun. Watch this video of Jacque as she enjoys a ride in a Speedster.
Posted on Saturday, September 3, 2011 12:00 AM, updated on Saturday, September 24, 2011 11:39 AM
Return to List of Journal Articles