November 2011 Steinlifters Online
It's the time of the year when those who garage their cars for the winter are getting ready for this chore or are at least thinking (and dreading) that it has to be done.
While the Porsche may be in storage, our region activities will continue, although at a less brisk pace. As always we invite you to participate in the variety of events we offer.
Our holiday party on Dec. 3 is our next and final event of the year. Sharon Stewart has planned a wonderful evening with a reasonable price tag. Join us. Act fast though. Your RSVP needs to be in the mail by Nov. 3.
The photo at right captures the racing action at Rennsport IV in Laguna Seca in mid October. This issue contains a recap of this historic event.
Upcoming events
Dec. 1 - Board meeting. Pull up a chair, listen to the board's conversation, add your thoughts about the region and what we should offer members. Wisconsin Club Country Club at 60th and W. Good Hope Rd., 6:30 p.m. start. Meetings last about an hour.
Dec. 3 - Holiday party. RSVPs are due Nov. 3. Hurry. Details here including the RSVP form.
Recent events
The sun was shining on Oct. 15 when 23 Porsches roamed the northern Kettle Moraine en route to breakfast in Delafield. Read the story and see photos here.
Rennsport Renunion IV called together hundreds from the Porsche racing community for a fun weekend. Read the story, see some photos and watch a video here. The video, by the way, features Milwaukee Region friend and Porsche racing legend Brian Redman, among others.
Welcome new members
The Milwaukee Region welcomes the following who joined us in October:
Judith Casper and her family member Kim Casper, Kansasville, Wis., 2001 Boxster
John Choi, Fond du Lac, 2008 911
John Dohmen, West Bend, 2006 Carrera S
We also are happy to share these member profiles. Thanks to new members who respond to the request to share a little about themselves and their Porsche. Any member is welcome to submit her or his information for inclusion in our newsletter.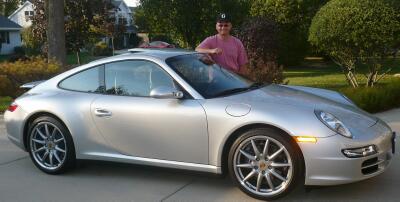 Eric and Marcia Hagmeyer found their dream Porsche while driving their daughter to her gymnastics class.
Eric Hagmeyer is the proud owner of a 2006 911 Carrera. It's silver in color, with 9,000 miles, a carbon fiber interior, red gauges and seatbelts, and 19-inch Porsche rims. Eric said that after looking for years for THE PORSCHE, he spotted this one on the way to his daughter's gymnastics practice. "When we drove by it on the lot, we both looked at each other and said 'that's the one!' The next day my wife Marcia and I test drove it, put it on hold and picked it up the next business day."
In response to the question, "is this your first Porsche," Eric gave the most creative answer heard in a while: "Aside from the Matchbox kind, this is my first Porsche," he said. Eric is a project engineer with a German company. He's not sure what events he'll participate in yet, but we hope to see him, his wife and their Porsche soon.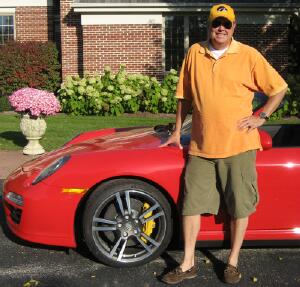 Rick Pearson found his Guards Red Porsche in Oregon.
Rick Pearson purchased his 2011 911 Carrera 4S in July. He wanted a 911 in Guards Red and "was surprised that there weren't that many out there." He located his at a dealer in Oregon. "Of course, I ended up with a car that was a lot more 'loaded' with options than I would have wanted, but I am sure enjoying all of the 'extras," he said.
He is also the original owner of a 1987 924S. "It's been -- and continues to be -- a great car and now has 86K miles on it. By the way, it's also Guards Red," Rick said. Rick retired in 2010 after a 37-year career with HR consultant Towers Watson. "So far, retirement has been a wonderful gig!"
Rick is most interested in track experiences at Road America and Blackhawk, but also may participate in other activities. We are looking forward to seeing you Rick with your Guards Red Porsche soon.
November membership anniversaries
Gregory W. Baker - 1972
John S. Grant - 1981
Rick Yanchar - 1987
James Page - 1988
Renee Messing, - 1992
Jay Moll, Craig J. Kunkel - 1997
Paul D. VanDuyne - 1998
Gregory V. Kovacs - 1999
James L. Kochan, Moises Rodriguez - 2000
Mark J. Wimmer, William R. Tisdale - 2001
Timothy J. Helz - 2004
James P. Hudson, Brad J. Dickmann, Jeffrey D. Plate, Steven J. Binkley - 2005
Terry Royals - 2006
Mike Radle, Douglas Feistamel - 2007
Barry R. Mandel - 2009
Dave R. Smerchek, Don J. Reidy, Mike P. Bolton, Brett W. Stabelfeldt - 2010
Tech tips
Bleeding the brakes and clutch. Here's a step by step instruction on how to bleed the brakes and clutch.
Are you a DIY? If so, we'd welcome your tips on what you know about Porsche maintenance. Get in touch with Steinlifters Online editor Bev Jurkowski to contribute your knowledge. Are you planning a project for this winter? If so, consider documenting some of the steps and writing an article for your region newsletter. beverly.jurkowski@sbcglobal.net
The late Steve Jobs valued Porsche design
Milwaukee Region member Al Wagner reports that he recently read Walter Issacson's biography of the late Steve Jobs (founder of Apple, the successful computer company). Al reported it was "one of those books that I have difficulty putting down. Interestingly, for Porsche-types, there is a subchapter with the heading Like a Porsche." Al shares the brief excerpt with us here.
Like a Porsche
When Steve Jobs took over control of the Macintosh project at Apple he was looking over prototype versions of the computer. One day in March 1982, Jobs informed creative services director, James Ferris, that, "We need it to have the classic look that won't go out of style, like the Volkswagen Beetle."
"No that's not right," Ferris countered. "The lines should be voluptuous, like a Ferrari."
"Not a Ferrari, that's not right either," Jobs replied, "It should be more like a Porsche!" At the time, Jobs owned a Porsche 928. When Bill Atkinson, one of Job's colleagues at Apple was at Job's house one weekend, Jobs took him outside to admire the Porsche. "Great art stretches the taste, it doesn't follow tastes," Jobs told Atkinson.
Registry for 912 and 912E owners and former owners
Are you the current or former owner of a 912 or 913E? If yes, you're invited to check out news from PCA regions, factory news, videos, and various information articles via Internet and a smartphone app. PCA now has a 912 & 912E Register page on Facebook. To access it first log in to your FB account, then view it at: http://www.facebook.com/pages/912-912E-Register-Porsche-Club-of-America/259276414106874.
We also have a 912 & 912E Register page within the PCA website, please visit at: http://912register.pca.org
Previous owners are very welcome too; many current owners are interested to learn the early history of their car from the original owner.
Classifieds
The classifieds are free to region members. Buy and sell (or rent) your Porsche-related items. View the current classifieds here.
News from Porsche
Welcome to Porsche Drive USA. The world of Porsche, exciting, captivating and full of intrigue. From epic motorsport victories in the world's most famous races, to the evolution of the iconic 911. The Porsche story continues to fascinate and this is your destination to Race through the World of Porsche.
Get to the heart of Porsche with Drive. Through this dynamic website watch videos, view pictures and read articles to explore what makes Porsche so unique.
We believe that a good story should be shared. You will find that all of the videos, images and articles found on Drive are intended to easily be shared. The chances are if you like something on Drive you will know someone else who will as well.
Simply use the number of 'sharing buttons' found across Drive.
Porsche Drive will be continually updated with that latest content, pictures, stories and videos from the world of Porsche, so make it a regular destination.
Leipzig facility to be expanded to accommodate production of the new Cajun, a smaller SUV
Read the story here about Porsche's investment in the Leipzig facility.
Porsche sales in September up
ATLANTA – October 3, 2011 – Porsche Cars North America, Inc. (PCNA), importer and distributor of Porsche sports cars, Cayenne SUVs and the Panamera four-door sports sedan line-up in the United States, today announced September 2011 sales of 2,170 vehicles, an increase of 10 percent compared to the same period last year, when it sold 1,971 vehicles.
To date in 2011, the company has sold 22,664 cars. In the same nine-month period last year, Porsche sales were 17,690; thus, with September results Porsche U.S. sales increased 28 percent year-to-date.
For the month of September 2011, Porsche's Approved Certified Pre-Owned vehicle sales were 714, compared to 619 last year. The year-to-date total is 6,597, compared to 5,645 in the previous year – a 15 percent increase.
September sales

October sales lower but year to-to-date sales up 28 percent
ATLANTA – November 1, 2011 – Porsche Cars North America, Inc. (PCNA), importer and distributor of Porsche sports cars, Cayenne SUVs and the Panamera four-door sports sedan line-up in the United States, today announced October 2011 sales of 2,270 vehicles, a decrease of 14 percent compared to the same period last year, when it sold 2,647 vehicles.
To date in 2011, sales are up 23 percent compared to the same ten-month period last year. So far this year, the company has sold 24,934 cars, which compares to 20,337 vehicles last year.
"We're very pleased with our year-to-date results," said president and CEO Detlev von Platen. "October's sales numbers are expectedly down compared to last year, due to the fact that we are in the midst of a change-over with our all-new 911 model going on sale early next year. In addition, we have very low inventories of our Boxster and Cayman models."
For the month of October 2011, Porsche's Approved Certified Pre-Owned vehicle sales were 652, compared to 565 last year. The year-to-date total is 7,241, compared to 6,210 in the previous year – a 17 percent increase.
October sales

Posted on Wednesday, November 2, 2011 12:00 AM, updated on Sunday, November 6, 2011 12:13 PM
Return to List of Journal Articles