July 2012 Steinlifters Online
There was lots of excitement in June -- the new Boxster arrived and our region had a record turnout for the all-day driving tour. There are plenty of days ahead for long drives in the Porsche. Check out the latest news about events that are yet to unfold, new members, details about members and their Porsches and more. Enjoy the summer.
Upcoming events
July 6 -7 - Millers at the Mile. State Fair Park. Courtesy announcement. Details here.
July 8 -15 - Porsche Parade, Salt Lake City. PCA's annual gathering of members from across North America.
July 12 - Board meeting. 6:30 p.m. Members always invited to pull up a chair and participate. 62nd and Good Hope, Milwaukee. Wisconsin Club Country Club.
July 14 - Driving tour with Elkhart Lake as the destination to spectate at the Road&Track Concours d'elegance on the streets of Elkhart. Dinner option. Details here. You must RSVP for the dinner by July 7.
July 17 - Porsche Night at Highland House. Courtesy announcement. Details here.
July 30 - DE classroom session II. Details here.
Aug. 2 - Board meeting. 6:30 p.m. Wisconsin Club Country Club, 62nd and Good Hope, Milwaukee
Aug. 4 - Car Show at the VA Center, Milwaukee. Free. Bring your Porsche for the veterans to enjoy. Details here.
Aug. 4 - Region Picnic. Enjoy an old fashioned picnic with fellow region members. RSVP by Aug. 1. Details here.
Aug. 5 - Cars & Coffee, Lake Mills. 2 Shores International.
Aug. 10 - Driver education at Road America. Details here. Register at http://www.motorsportreg.com/
Aug. 12 - Autocross at Miller Park. Details here.
Aug. 17 - 18 - Porscheplatz during the ALMS race at Road America. More details coming soon.
Aug. 25 - Club day at the Milwaukee Masterpiece. Details here.
Welcome new members
Jason Benish and his wife Ann, Mequon, 2002 911 Turbo
Robert Budnecki and his wife Jane, Cedarburg, 2006 Boxster
Gary Jorstad and his wife Cheryl, Burlington, 2002 Boxster
Nathan Kirschner, Milwaukee, 1973 914
Ken Lam and his wife Pamela, Brookfield, 2009 911 Turbo
Steve Schneider, Mequon, 2005 Boxster
Karl Wuesthoff and his wife Leslie, Milwaukee, 2012 Cayman
July membership anniversaries
David Hatch, Trevor Harder, 1971
Quinn Fiske, 1979
Mark P. Schneider, 1981
John Stalter, 1983
Bruce A. Tammi, 1988
Donald J. Brescia, Roger L. Aronson, 1989
Allen C. Hoeppner, 1991
Ed Creamean, David M. Tyler, 1992
Robert Bankos, 1995
Dave A. Bender, Ronald A. Marasco, 1996
Alan S. Bloom, Jay A. Heppe, Gerd F. Bauer, Wayne P. Soder, 1997
David M. Szewczykowski, 1998
Carl J. Pace, Harald Kreuz, 2000
Luis Arisso, Andrew C. Campbell, 2001
Jerry Sanfelippo, 2002
Paul J. Grabowski, 2003
Timothy F. Hunt, Tim Mccarter, 2005
Jerry J. David, 2006
James R. Westdorp, Michael Tagtow, Lynn J. Wallace, Timothy J. Shanahan, 2007
John R. Robertstad, Robert W. Hinzpeter, 2009
Robin Barkhaus, Mike Sura, David Barna, Brian Bergner, Brian L. Ellison, Darko S. Kalan, 2010
Gene Reddick, Bryan A. Rasch, David W. Simon, Rick D. Pearson, Marcia M. Moden, Rob J. Engle, Ross W. Williams, 2011
Meet our members
David Moore drives a 1979 Porsche 911 SC Targa. "My wife and I have named it Lilly," he reported. Lilly is a deep maroon -- a custom color. "She is mostly stock, although it has been lowered to European ride height, and has C2 Cup wheels. I am the fourth owner, and although the car has a venerable 241k miles on it, the engine was rebuilt at 200k," he said.
David said he grew up with Volkswagens, and "so I had a special appreciation for German cars. In high school I wrote a research paper on the evolution of the 911 models. I got to ride in a 911 SC a few months before I got my driver's license, when I was 17. Whenever I went to an auto show, most of my focus on was on the Porsches.
"Last autumn I was in my second-to-last semester of graduate school, finishing my Master's degree in Computer Science. My wife and I had been planning to get a second car after I graduated. She surprised me by suggesting we look at getting an older Porsche 911 instead of something new. She knew I had always wanted one, and an older 911 is easier to maintain yourself than most new cars," he said.
David began his search by becoming active in the large online forum PelicanParts, asking questions and looking at cars that were for sale. His goal was to "find a car that was rust-free and had a solid engine, and one that could serve as a daily driver. I didn't mind cosmetic issues, but I needed a car that wouldn't quickly rack up an expensive bill."
The Moore's eventually located Lilly in North Carolina. "After chatting with her owner, I discovered he was active on the same online forum I had been frequenting. I did some searching of the forum and discovered he had bought it in 2003 from another active member of the forum. These two, the 2nd and 3rd owners, were avid owners who had maintained the car and treated it well. Despite the high mileage I determined the car met my criteria," David said.
"I was able to get it at an excellent price, and the seller even had the Targa top rebuilt before I picked the car up. Three days after I successfully defended my Master's thesis, my wife and I flew out to North Carolina and spent a wonderful weekend driving our new car home. In the month and a half since I acquired it I've been enjoying driving every day I can, meanwhile fixing minor issues along the way," he said.
David is a software developer in Milwaukee, currently working on aircraft systems at Astronautics Corporation. He's interested in driving tours, social events "where we can hang out and talk cars, and anything that helps me learn more about maintaining my car."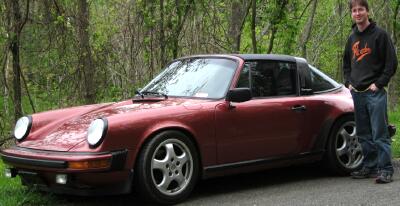 David Moore and his 1979 911SC Targa, taken on the Blue
Ridge Parkway, when they detoured into the Appalachian Mountains
on the way home from North Carolina.
Ryan Braithwaite drives a 2004 911 Turbo Coupe, Arctic Silver/Black, 6 speed. He's the third owner and the car had 27,800 miles at time of purchase in May. By early June the mileage is just under 32,700, "including a 1,500 mile drive back to Wisconsin with my fiancé, and I will be easily over 5,000 for the first month," Ryan reported enthusiastically. The car is stock with the exception of aftermarket 19-inch wheels. Options include heated power sport seats with painted sport backs, carbon center console/shifter/e-brake, and painted silver bottom side sills, front lip spoiler and front intakes, versus the standard black.
"I found the car at a dealer in West Palm Beach, Fla. I first saw the 996 Turbo at the Chicago Auto Show in 2001, and have been watching the 996 Turbo market since about 2008 in anticipation of a future purchase. I started searching in earnest in March of this year and quickly became convinced that a car with a CPO warranty was a must, despite the significant initial savings offered by an earlier, out of warranty car," Ryan said.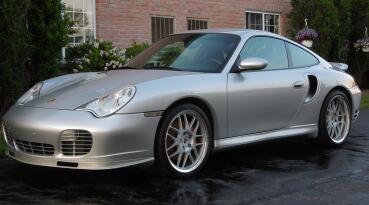 Ryan Braithwaite's 911 Turbo Coupe.
His first Porsche, he has "followed the marque since my first poster at age 6 in the early 1980s. I came close to acquiring a 914 1.8 when I was 15. Over the last 10 years, I chose to satisfy other dreams first, the 1991 Acura NSX and the 1988 BMW E28 M5. I still own both."
Ryan is a current BMW CCA and NSXCA member. He joined the Badger Bimmers in 2001 and served as a board member in 2006-2007. He is a participant in the local car show and driving scene and knows a number of PCA members, "including the former owner of my M5. I used to drive/volunteer at BMW CCA driving events at Blackhawk and Road America, but haven't been to one in a few years. I hope to do a track day or two in the fall or next year. I am likely to participate in a few of the social/driving events."
Ryan is a shareholder attorney at a Milwaukee law firm.
Glenn Schrubbe is a Milwaukee-area native who grew up in Wauwatosa and currently lives in Elm Grove. He is Certified Public Accountant and owns his own practice, with offices in Elm Grove and Milwaukee. "I'm married with 3 grown children. Also, I'm an avid woodworker, interested in the arts, enjoy good food, and, of course, I love cars," Glenn said.
He I started looking for a Boxster about four years ago, after building a 356 Speedster replica. The donor car is a 67 VW, with a 1865cc VW engine. "I struggled to make the 356 replica appear as original as possible incorporating as many original parts as I could locate. To appear more authentic, among other small things, I relocated the e-brake from between the seats to under the dash. My efforts paid off, most of those who see it believe it to be original; I've fooled the best. For the past four years it's been my summer daily driver. It's truly a fun car," he said.
Glenn said his interest in German cars particularly Porsche, dates back to hischildhood. "In 1962 my dad bought a white 1956 Speedster, shortly after purchasing it he had it repainted silver. Sadly, in late '64 the car was in an accident and remained drivable but was garaged until he sold it in 1978. That's where I lose track of the car -- I believe the car was sent to Canada for restoration but I'm not sure. Unfortunately, I have no other details on the whereabouts of his car after the sale, nor do I have the VIN number," he said. His dad was a PCA member.
"As a six year old I was not really captivated by my dad's decision to drive a sports car, let alone a Porsche. However, after few family trips to Road America with my dad, and later with my own kids, I became a believer. I thought building the Speedster would satisfy me, but sadly it didn't. The Speedster turned out to be a real show car, I can't drive Speedster anywhere without being stopped for questions or comments. The speedster is a great car, but I just wanted more….
| | |
| --- | --- |
| | |
| Glenn Schrubbe and his 356 replica. | Glenn's 2001 Boxster. |
In May 2012, he purchased a 2001 silver Boxster (986) with 49,000 miles. "It was offered for sale by International Autos in Milwaukee, a single-owner vehicle, previously owned by a Milwaukee attorney who five years ago moved downtown and ultimately decided to by an urban car, a Mini cooper. The 986 is amazingly clean and appears to have been well cared for. I am in the process of having the intermediate shaft bearings replaced as well as a few other minor issues handled.
"I've done a little research on the club, and from what I understand, I'm interested in most of what you offer, driver education, driving tours, technical info (I have a LOT of questions), and of course, social events. I'm sort of a hands-on guy and I'm looking forward to getting involved."
Glenn ends his story with this advice: Life's short, enjoy your ride.
Christopher Hall owns a 1989 944na which he purchased in July 2011 with 138,000 miles on the non-functioning odometer. Paint code LY1Z, black interior, 16-inch phone dials with hand painted centers ("painted myself-not too shabby if I say so myself)". He has added about 1,300 miles since he acquired it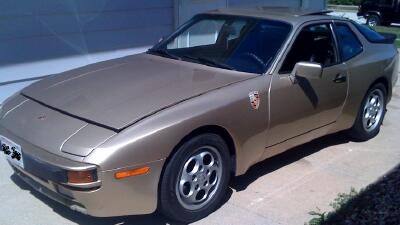 Christopher Hall's 944.
"I was looking on Craigslist when I saw the ad. It was priced at $2,500 OBO and was across the border in Lake in the Hills, Ill. I called and got a 17-year-old owner on the phone who told me his bottom dollar cash price was $2,000. In spite of his assertion, I offered him $1,800 and told him that I would pick it up as soon as I could get to his location.
"When I got there, the car was in a mirror-walled garage with lots of other toys around it (2 high-end Mercedes, 2 nice motorcycles, a 1/5 scale model helicopter, etc...). The windows were down and the moon roof was up. From my observations, I derived that there were no fluid leaks as the dad wouldn't have allowed the car to be parked in his beautiful garage if there were, The windows worked and the top worked. I then saw the driver's side-view mirror was off and there was a dent on top of the front drivers' wheel flare.
"I tossed the kid the money and asked for the title. There was no gas in the car so the dad took $50 out of what I had given him and gave it back for a fill-up. Maaco (yes, Maaco) fixed the body issues in two days with a seamless repair/paint. The car ran great, and the interior was complete and functional. It had a 6 month old clutch and timing belt, and since it's pre 1996, no emission requirements," he said.
Since the purchase, Christopher has replaced the instrument cluster, driver's mirror, crankshaft pos. sensors, ECM, fuel pump and filter, main coil, several relays, stereo and front driver's seat ($75 new on Craigslist). "It has had a full tune up and sits on a decent, although soon to be replaced, set of Yokohama tires. I love the car and use it every day weather permits me to. I intend to have the phone dials painted black when new rubber is mounted because the aluminum just doesn't look right with the metallic gold color of the car," he said.
This is his second 944 and third Porsche. His first Porsche was a 1970 911e in Guards Red. "I was 20 and it didn't last long. I then got a 1988 944na in L90E Alpine White/Black int. Too much wrong with that car to keep it due to budget. My goal is to have a 911sc in Turquoise/Tan," he concluded.
Christopher is a Sergeant with the Wisconsin Dept of Corrections (see below).
He would like to participate in events that "help me to learn more about all aspects of my car. I am obviously interested in driving events/tours, drivers ed, and tech help. As an enthusiast and owner, I would like to have the best example of my model that I can possibly have."
Tyson Schwiesow, an ophthalmologist in the Green Bay area, bought his 2006 9114S about four years ago. "I was looking for a solid car to use year round and have not been disappointed. It hauls my mountain bike in the summer and skis in the winter. I don't beat on the car, but I don't pamper it either.
"I bought this car to learn how to drive well. I've done a Skip Barber race weekend, a bit of autocross, and I'm looking forward to doing a few track days and moving on to PCA or SCCA racing," he said. He is also "looking forward to my first pull on the sequential shift in a Cup car," Tyson said.
Kinney Adams drives a 2008 Cayman S, Metallic Cobalt Blue that he purchased last September. The car has one previous owner and 28k miles on the odo.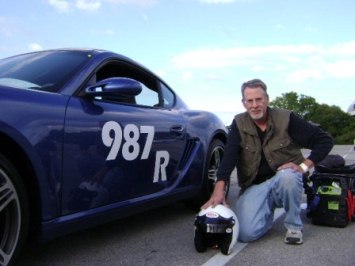 Kinney Adams and Cheetah Blue.
Kinney says ownership of his first Porsche is "a subconscious dream realized -- Inside Looking Out is a good enough working title for now." He said that in the late 80s and early 90s he was "heavily into autocross with the SCCA, driving a Honda CRX Si. During that time period I also worked F&C at Road America. Who knows how many Porsches I saw fly by the corner stations I worked, and somewhere amidst all of them I think the seed of a dream got planted, probably worded something like this. 'Ya know, if I could, I'd get a Porsche.' "
Kenney has an interesting hobby – storm chasing. He's been chasing storms since 1995. "Every Spring since then I've been roaming the Great Plains hunting down Supercell thunderstorms, and in 2002 I was hired by Tempest Tours Storm Chasing Expeditions, serving as a senior chase guide. One thing folks probably don't know about storm chasing at the pro level, is we drive thousands of miles every Spring, from Texas to North Dakota, following the weather systems. But change was in the wind the last couple of years. My back just can't take sitting in a car seat for 10, sometimes 14 hours a day, day after day. Uggg."
So last summer he started thinking about getting back into autocrossing. After scouting out an SCCA autocross event at Miller Park over the Labor Day weekend, he thinks he came down with what he labeled "Passionate Driving Fever." He said he left Miller Park and drove straight to David Hobbs Honda to see if he had any SU2000s in the used car lot. "Nope. And then, the subconscious dream awoke. Hmmm, ya know, Concours is just up the street. As I pulled into the Concours lot, there was this beautiful blue gem of industrial design and passion for driving performance. Call it love at first sight," he said.
He spent all night researching on the web. Everything confirmed that if I want a car for precision driving performance, this is the one. Tried to sleep, but someone painted the car's image on the inside of my eyelids. Next morning a series of calls, ducks lined up, and that afternoon I put down a down payment. Three days later, Cheetah Blue (yep, already had a nickname) was safely parked in the garage."
A week later he took Cheetah Blue to an autocross event. "Oh my my my, does this car perform, but geez, I think it needs more than a parking lot to stretch its legs. Kinda like owning a thoroughbred horse and just riding it around the back yard. Found out about the March of Dimes "Drive for Babies" coming up at Road America. Quickly register. And so, the stage was set for the subconscious dream to fully present itself."
During the 2nd session, "I was coming up the hill out of turn 5 when for a split second I locked eyes with the corner worker standing there just in front of the bridge. Hard to explain, but that was me at the corner station, 20 years ago, outside looking in. That's when the epiphany struck hard, no, that's not me, I'm inside, looking out, looking out, of a Porsche."
Kinney is production manager at Pevnick Desing Inc., and a senior chase guide with Tempest Tours Storm Chasing Expeditions.
Given his past driving experiences, we should expect to see him at driver education and autocross events. He reports he's running on Michelin Pilot Sport Cup+ tires and he's installed Pagid racing brakes. He's ready.
The Milwaukee Region welcomes all of these members. What's your story? We will publish the story of you and your Porsche in this column – whether you are a new member or one of several decades. Contact the editor – Beverly.jurkowski@sbcglobal.net. Bev will send you a short questionnaire (four questions) to complete and she will write your story.
Meet Rick Zinda, board member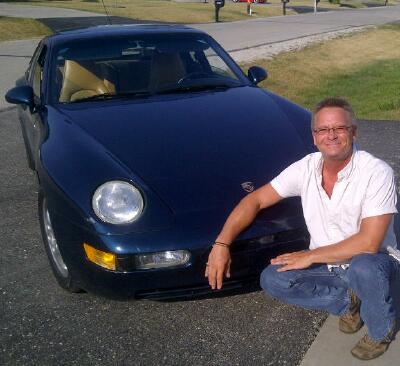 What's a young boy to do; Grandpa's a car guy, Uncle's a car guy, Dad's a car guy. I guess it just flows from one to the other and my turn was next.
Growing up in the days before cars had computers it seemed like everyone worked on their own cars, changing oil, tune ups even carb rebuilds (remember carbs?). My Dad was no different. I remember being a small boy helping Dad fix the family cars and motorcycles. When I wasn't helping I was making race tracks out of Legos and Lincoln logs on the living room floor and driving my whole family crazy with the pretend sounds of revving engines. The seed was planted and growing like a weed.
When I was 8 or so sitting with my Hotwheels spread all around the floor and watching TV, I saw a commercial that just captivated me; a Porsche cutting through a curvy mountain road like I never saw before. It was fast and sleek and handled like my Hotwheels did on Circuit De Lego. I turned to my Mom and said that's what I want when I get big. I never gave that idea up.
Some years later after Dad passed away it became my job to maintain the family cars and I did so happily. So much so, I decided that I wanted to be a mechanic when I grew up. I did become an auto tech (not sure about the growing up part though) and that just fueled my love for all things motorized.
As the years rolled by, like everyone does, I set some life goals. By 30 I would have a house to call my own, a beautiful (and smart) wife, two good kids, a dog and a Porsche, any Porsche as long as I could cut the curves like that old commercial. Almost 30 and I achieved it all but one, no Porsche. Then fate stepped in.
Driving home from work a car caught my eye, sitting alone and looking rather sad and un-loved under a tree in a parking lot. "What was that?" I made a u-turn and went back to see. Sure enough it was a Porsche, a neglected 924 sitting on four flat tires collecting dirt and sap. It was filled with construction debris from a home remodel. I went in to the business that owned the lot and asked about the car. Turns out the owner's parents owned it but no longer used it so it just sat there un-loved.
Within a week that poor car was (and still is) in my garage. It's not the fastest thing I'd driven but it took the curves like I had seen in the ad. I was not yet 30 and my goals were met. Right away I joined the PCA and started to meet all the wonderful people here and began to get involved in the club but other obligations came up and I dropped out of the club.
Once again fate stepped in and I came across a 968 -- faster and even better handling. The 968 now sits next to my 924 (um, grandfather and grandchild - that sounds familiar). Urged by my neighbor who himself now owed a Porsche, I rejoined the club and rediscovered all the fun of not just the cars but all the people here. I joined the board of directors and help when I can in events to give something back to the club. My wife Kim also helps with the social activities.
That's my story in brief but it is far from over. I hope to buy a few more Porsches and plan to enjoy the club for years to come and I would encourage everyone to attend many if not all of the events offered. Even if one doesn't seem like your kind of thing, try it, you might be surprised at what you discover.
Rick Zinda
Classifieds
Members, the classifieds are free. Use them to advertise your Porsche and related stuff.
Recent events
June 23 driving tour -- Check out some photos here.
Several members helped clean up Porsche Park at Road America so it looks terrific for the season ahead. Story here.
July 1 Cars & Coffee - Check out the photos here.
Porsche reports 911 sales up 43% in May in U.S.
Atlanta – June 1, 2012 – Porsche Cars North America, Inc. (PCNA), importer and distributor of Porsche sports cars, Cayenne SUVs and the Panamera four-door sports sedan line-up in the United States, today announced May 2012 sales of 2,852 vehicles. This compares to 2,817 vehicles last May, for an increase of one percent. For the year, Porsche has sold 13,448 cars in the U.S., which is a three percent increase over last year's sales of 12,996.
"May was another solid month, especially for the new, seventh-generation 911," said PCNA's President and CEO, Detlev von Platen. "In addition, our Panamera model line scored a 22% increase over last year. We're now looking forward to the arrival of our highly anticipated third-generation Boxster, which should help boost our sales growth once it comes to Porsche dealerships in the beginning of July."
With 878 sales of the new 911, the recently launched iconic sports car showed a 43 percent increase over May 2011.
Porsche's Approved Certified Pre-Owned vehicle sales set a record for the month of May 2012, with 871 vehicles sold compared to 750 last year – a 16 percent increase. Year-to-date, Porsche's CPO sales are up 12 percent (4,025 vs. 3,597).
About that new Boxster
Have you heard about the new Boxster? Here's the official press release and details from Porsche.
International Autos also held a debut event on June 28 in Milwaukee.
It was a searingly hot day for the gleaming black on brown car to make its debut. This did not stop a number of members from stopping by The Horny Goat Hideaway on S. First Street in Milwaukee to view the shiny new offering by Porsche.
Caught in the car is George Kowalski, Region president. Other members in attendance were Bob Shellman, who confessed to immediate infatuation; DJ and Jim Swant, Larry and Lise Miley, and Paul Stewart.
Road test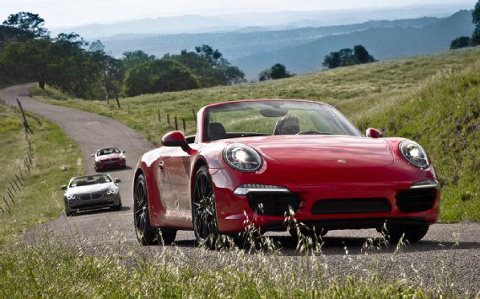 Motor Trend recently tested the new 911 Carrera S Cabriolet against the BMW 650i Convertible and the SL550...can you guess who came out on top? Maybe this quote will help... "The Porsche speaks to my inner child, the one who dreamed of owning sports cars, not cruisers, and it's got just enough practicality and civility baked in to justify it to myself over the other two."
Video corner
Thanks to Mike Wiviott for forwarding this link to Car & Driver's online site. Watch some legendary RUF-built Porsches on the track at Nurburgring. Masterful driving. Unbelieavable handling.
Video here. Sound up.
Engine rebuild video
Check out this video found by Donna Daufenbach. An interesting view of the rebuild of an engine. Not a Porsche, but still interesting to see the steps involved.
Posted on Monday, July 2, 2012 12:00 AM, updated on Monday, July 2, 2012 1:46 PM
Return to List of Journal Articles