September 2012 Steinlifters Online
For some, Fall is the best time of the year. Crisp air, brilliant sunshine and colorful foliage make driving excursions especially enjoyable.
We've had a busy summer of activities and a few more await us before we tuck the cars away. Check out what's coming up and relive some of the recent events. We also have some industry news, our listing of new members, anniversaries and more. Happy reading and motoring (but not at the same time).
Events on the calendar
Oct. 6 - Half-day driving tour. Follow-the-leader style. Details on starting point and departure time will be announced soon. Be sure to arrive with a full tank of gas. We will make rest and fuel stops along the way but it's best to start out with a full tank.4
Nov. 8 - 11 - Escape. A mini Parade hosted by PCA. Hot Springs, Ark., is the location. Details here.
Dec. 8 - Holiday party. Wind up the year with old friends or new acquaintances. We have a lovely dinner planned. Details here. Remember to RSVP by Nov. 1.
Recent events...we were busy in August
Car show at the VA Center in Milwaukee. Details here.
Region picnic at the Lisbon Town Hall park. Details here.
Driver education (DE) fun at Road America. Details here.
Autocross at Miller Park. Details here.
The ALMS race and PorschePlatz at Road America. Details here.
Masterpiece weekend at the lakefront. Details here.
Welcome new members
The Milwaukee Region welcomes the following members who joined us in August 2012:
Scott Clausing and Jeremy Clausing, family member, of Kewaskum, 1986 944
Dan Hlavachek, of Pewaukee, 2012 911S
Claudius Mahr, of Milwaukee, 2013 911S
David Stephens, of Brookfield, 1990 944S2
Thomas Wilhauk, of Kenosha, 2001 996
September Membership Anniversaries
| | |
| --- | --- |
| Wayne Rindt | 1971 |
| Gary A. Glojek | 1973 |
| Arnold Krubsack | 1985 |
| Daniel N. Wilke | 1986 |
| Russell E. Greenham | 1987 |
| Michael Mraz | 1987 |
| Stephen Dudley | 1991 |
| Kenneth J. Rohman | 1992 |
| Michael J. Trebatoski | 1993 |
| Stephen D. Hoch | 1995 |
| Daniel J. Stritzel | 1996 |
| James E. Montoure | 1998 |
| Anthony P. Lulloff | 1998 |
| Judith K. Grunnah | 1999 |
| Robert L. Fewel | 2002 |
| Robert L. Tobias | 2003 |
| Tom M. Kurgan | 2003 |
| Jim Thomas | 2004 |
| Stephen J. Murphy | 2004 |
| Gregory K. Webb | 2006 |
| Wayne L. Moses | 2006 |
| William R. Hotz | 2007 |
| Peter Thermansen | 2008 |
| Phillip T. Weinfurt | 2008 |
| John P. Jacobs | 2008 |
| John M. Marzullo | 2008 |
| Bob Kreinz | 2008 |
| Donna R. Daufenbach | 2009 |
| Loreen A. Wooden | 2009 |
| Mark Daufenbach | 2009 |
| Jeff M. Adler | 2009 |
| Ed V. Surek | 2010 |
| Pamela J. Mueller | 2010 |
| Michael P. Ross | 2010 |
| Robert E. Prellwitz | 2010 |
| Johnny A. Warber | 2010 |
| Jason W. Peters | 2011 |
| Eric J. Hagmayer | 2011 |
| Norlan Kemp | 2011 |
| Mark R. Anderson | 2011 |
| Pat Gaitens | 2011 |
Porsche Park update
Porsche Park got some serious landscaping attention this past season thanks to Pat Fowler and Donna Daufenbach. Trees have been mulched and plantings nurtured. Pat also decided to try to eradicate a large rock that had been poking through the surface of the ground near the entrance. It was high enough out of the group to do some serious damage to the underside of any unsuspecting car that drove over it. Armed with the right tools, Pat changed the rock's contour such that it now is no longer a hazard.
In May, several region members helped with the annual Spring clean up. Thanks to Don Kiepert, Jim Swant, George Kowalski and Dick Witkowski for their time. A Fall clean up date will be selected soon to prepare the landscaping for its winter slumber.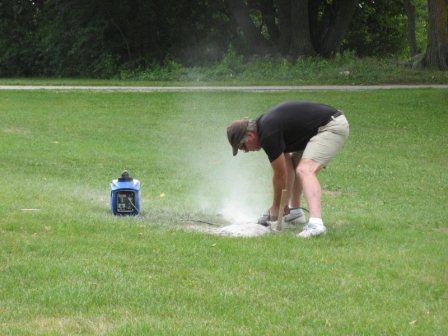 Pat Fowler turns the rock into dust.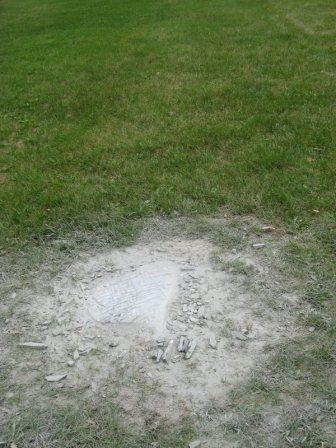 The rock as it looked after Pat attacked it.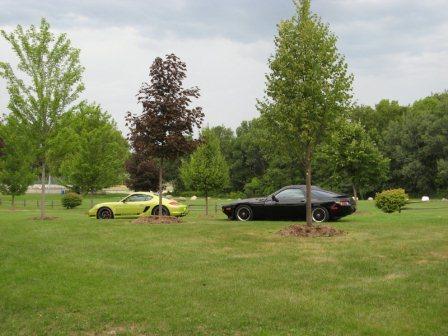 Porsche Park indeed looks like a park. When you visit Road America with your Porsche,
be sure to park in Porsche Park. You'll find it near turn one. Your Porsche will be in
good company.
20% of 20% -- The Vital Few

By George Kowalski
It's life! When people you've been able to count on to work on events or chair a committee move on you feel the loss. Recently Mike Jurkowski turned over the reins for membership to Donna Daufenbach because he decided to move on. Thankfully Donna was willing to take over, but there's more to this story.
The Milwaukee Region is a good example of the Pareto principal. You may know it as the 80-20 rule, or the law of the vital few. Our region has just over 500 members and offers a full calendar of activities covering a broad range of interests – social events, tours, autocross, high-speed driving opportunities, and more. About 100 members, more or less, participate in the Region's activities – the 20%. You can also apply the Pareto principal to the 100 that participate to gauge how many of them likely step-up and assume a leadership or worker role in the Region. The rule suggests that maybe 20 people fall into that category. That's about right.
Don't get me wrong. I believe every member is important to the Region whether they're active or not. Those who engage in Region activities get to fully enjoy the benefits available to members. The few that decide to step-up (the 20% of the 20%) represent the vital few. Mike Jurkowski was one of them. It's not that people like Mike, or Donna, have a lot of spare time on their hands; they just have the heart.
A Big Thanks to Mike (and Bev) Jurkowski
By Gary Messing (on behalf of the Board of Directors)
There are some things that each of us feels we're particularly qualified to do. I have such an opportunity since I was asked to express appreciation to Mike Jurkowski for his service to the PCA-Milwaukee Region. Most of you may know Mike as the Region's membership chairman. He recently transferred that responsibility to Donna Daufenbach. You probably also know Bev Jurkowski, Mike's wife, who's our Webmaster. It's hard to pay a tribute to Mike without including Bev. They work as a team.
Mike and Bev joined the Porsche Club over 25 years ago. There's not enough space to detail all that they've done for the Milwaukee Region. Maybe it'll suffice to say that they were deeply involved in three of the most significant events ever hosted by the Milwaukee Region – Porsche Parade in 2001, Celebrate Porsche in 2007, and the Region's 50th Anniversary Celebration in 2010.
With events big enough to require finding sponsors to fund them, Mike and I would invariably team up to pitch ideas to potential sponsors. For me, Mike was always on a very short list of people that could be counted on to step up and help when needed.
But, life moves on. There's no doubt there will be future sightings of Mike, although fewer than what we're used to. Last winter, Mike and Bev completed building a new home in Boulder Junction, Wis. – the Musky Capital of the World. Most of Mike's time is spent there and I suspect it won't be long before Bev gives-in to the call of the Northwoods. Sometimes we don't say "thank you" often enough. On behalf of the Board of Director's I'll extend a very big thank you to Mike Jurkowski. Mike, your contributions to the PCA-Milwaukee Region have made a very big difference. Thank you! And a big thanks to Bev, too.
Board member profiles: Meet Greg Kovacs
Hailing from Michigan, and raised 20 miles south of the Motor City (Detroit) in the Muscle Car era, owning a foreign car was not an option. Good ole "Detroit Iron" was the fascination of the time period. I owned a few of them in my time -- Mustang GT Convertible, Challenger R/T and a Mercury 429 CJ Cyclone. My mom's family owned Corvettes, were into drag racing and were (and still are) gearheads. Most of them worked in the automotive industry or the "Big Three" as once known in an era gone by.
I was taught to drive a "stick shift" in my uncle's 1958 Corvette. Nice car, but "Vettes" of that era did not ride or handle the greatest. But it was "cool" to be driving one. My first sports car was a 1963 XKE purchased in 1969. I still hold the title, but the car no longer exists.
I have always admired the look and the sound of a Porsche. In 1964 there was a shiny new red 356 in the neighborhood. The sound always intrigued me; the powerful throaty roar was far different than the Fords and Chevys of the day. My real passion for Porsche began in 1980. The owner of the Company where I was employed had purchased a new shiny silver 928 with a burgundy interior. I had the opportunity to drive it several times and the desire to own one grew.
The desire and mission to own one someday was fueled. I loved the color combination and my search began. I looked at and test drove several, and not a one was comparable to my first experience. It had to be the right one. In pursuit of my quest, a friend who is a Porsche collector also was searching for a 928 for me. He had a 1986 944 Turbo. He had taken it in trade for one of his 356s. This was in 1998. He asked me if I wanted to d rive it.
I drove it, I wanted it, I needed to have it. He called me later and gave me the price, knowing once I got behind the wheel and experienced the thrill that I would want it. I purchased it to enjoy until I could find the right 928 with thoughts that I would eventually sell it to purchase the "right one."
Three years later I found a 1985 928S on Christmas Eve, right color interior, but it was white. I told the gentleman that it was fantastic, it was in great shape but not really what I wanted. He said "make me an offer," so I did. He called me the day after Christmas and said it was not the best offer he received, but I was the only one that drove up in a Porsche and knew what I was looking at and asked the right questions.
He was comfortable that his "baby" would be in good hands. I could not find it in my being to part with the 944, my baby, she was way too much fun so our garage now held two Porsches. The 928 became the comfortable cruiser; the 944 for fun. These were two totally different machines. The comfort of the 928, the handling of the 944 Turbo. Both are awesome vehicles and both, to this day are daily drivers in the summer months. Myself in the 944 and my wife Diane in the 928. (She does allow me to drive it once in a while.)
A new passion began when the Cayenne was introduced. I wanted one. I needed a Porsche for the winter months. I purchased a 2004 Cayenne Turbo last year. A fantastic piece of machinery with comfort, power, handling and did I say power? So now my livery is three Porsches. They have become like children, each having their own personalities and needs. And like a child, they become part of you, and difficult to let go.
I joined PCA in 1999. The person that I purchased the 944 from encouraged me to do so. He is a member in Madison, the Central Wisconsin region. He did however recommend that I join the Milwaukee Region. I joined to learn more about the fantastic automobile that I purchased.
I am currently the vice president of our Region and enjoy being involved as a member of our Board of Directors. The saying that "it's not the cars, it's the people" is true.
Diane and I enjoy the social activities and driving tours. We hope to see and meet you at any event. We have attended two Parades -- an experience that we as Porsche owners from around the world can meet, congregate, appreciate, and admire and enjoy our passion, Porsche. We are fortunate to have met and become good friends with some fantastic people that have bonded through our "two-syllable" machine "Por-sha."
The dream lives on…perhaps a 930 Slant Nose………someday.
--Greg
Porsche in the News
Motor Trend names the Porsche 911 Carrera S its 2012 Best Driver's Car. The judges unanimously agree: Porsche takes the crown for driving excellence. Read the story here.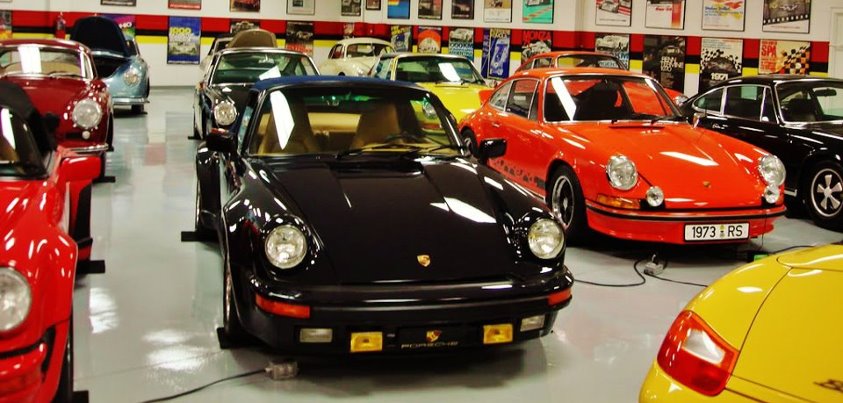 Lighter, Faster, More Agile: the New 2013 911 Carrera 4 and 911 Carrera 4S
Advanced active all-wheel-drive for more driving fun and security
Atlanta. The new Porsche 911 Carrera 4 unites the performance and efficiency of the new, seventh-generation of the 911 Carrera with the dynamic benefits of the latest version of the active all-wheel-drive system PTM (Porsche Traction Management). The typical Porsche all-wheel-drive system with focused rear bias in this latest 911 version promises maximum vehicle dynamics on a wide variety of road surfaces and in all weather conditions. The new 911 Carrera 4 models deliver traction and dynamic performance to the fourth power.
The new all-wheel-drive 911 is being launched in four versions – the 911 Carrera 4 and 911 Carrera 4S, each as Coupé and Cabriolet. They sport the same traits as the rear-wheel drive versions: their lightweight body design, suspension, engines and gearboxes are identical, the only exception being modifications related to the all-wheel-drive. This means that despite a higher level of engine and driving performance, all four models consume significantly less fuel than the previous models; total savings for individual versions are as much as 16 per cent. In addition, the new 911 Carrera 4 is up to 143 lbs. (65 kg) lighter in weight when compared to the previous generation 911 Carrera C4.
The most distinct identifying feature of the 911 with all-wheel drive is the wider rear section: compared to the two-wheel drive 911 Carrera models, the rear wheel housings each extend further outward by 22 mm for a total of 44 millimeters, and the rear tires are each ten millimeters wider. The traditional red light band that connects the two taillights on the 911 Carrera C4 has also taken on a new form.
All new models have a seven-speed manual gearbox as standard, and the Porsche Doppelkupplung (PDK) seven-speed gearbox is available as an option.
The 911 Carrera 4 Coupé with its 3.4-liter, 350 hp flat-six engine can sprint from zero to 60 mph in as little as 4.3 seconds (Cabriolet: 4.5 s) and reach a top-track speed of up to 177 mph (Cabriolet: 175 mph), depending on equipment features. Fuel consumption with PDK is EPA estimated at 20 mpg city / 28 mpg highway for the Coupé and EPA rated 20 mpg city / 27 mpg highway for the Cabriolet.
The Coupé and Cabriolet of the 911 Carrera 4 S each have a 3.8-liter rear-mounted boxer engine that produces 400 hp; this enables acceleration to 60 mph in 3.9 seconds (Cabriolet: 4.1 seconds) and a top-track speed of 185 mph (Cabriolet: 183 mph) with a suitable equipment configuration. Fuel consumption values with PDK are EPA estimated at 19 mpg city and 26 mpg highway for both the Coupé and the Cabriolet.
New: all-wheel drive indicator, Porsche Active Safe (PAS), sliding glass sunroof, extended Sport Chrono pack
In the new 911 Carrera 4, an additional menu in the instrument cluster informs the driver how the PTM all-wheel drive is currently distributing engine power. In addition, with the debut of the 911 Carrera all-wheel-drive models Porsche is making the optional Adaptive Cruise Control (ACC) available to the entire model range, which controls distance to traffic ahead and vehicle speed. When ordered with PDK, the ACC system adds the safety function Porsche Active Safe (PAS), which helps to prevent front-end collisions.
Classifieds
The classifieds are free to members. Check them regularly as they are updated as new ads are received.
Contacts
Check the Contact Us tab on this website to find the names and email addresses of your board members and committee chairs.
PCA-identifed clothing
Looking for some PCA logo-identified clothing for you or a friend. Visit the online store at www.pcawebstore.com.
Follow us on Facebook. Search: Pca Milwaukee and you'll find our page.
Posted on Monday, September 3, 2012 12:00 AM, updated on Saturday, September 22, 2012 9:19 PM
Return to List of Journal Articles