May 2013 Steinlifters Online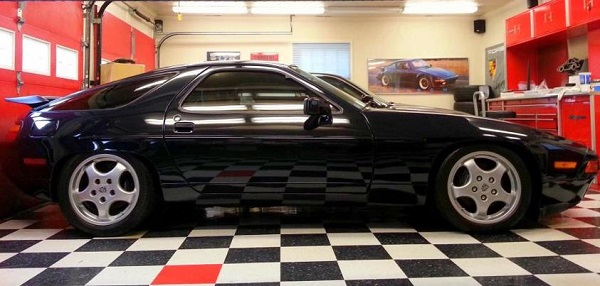 Welcome new members
Randy Brehmer and his family member Chris Brehmer of Butler, Wis., 1986 911
Walter Casten and his family member Ann Casten of Kenosha, Wis., 1987 911
Suzanne McConnell of Madison, 2007 Boxster
Recent events
Technical and practical information about drivers education was on the menu April 13 at a tech session hosted by CS Motorsports. Read the story here.
The first Cars and Coffee event of the season was held in early April. The lingering cold and salt-laden roads kept many sports and muscle cars in their garages but there were enough cars to make it interesting. Details here. This event occurs the first Sunday of the month through October in Lake Mills, Wis. Don't miss it.
International Porsche-Waukesha hosted a Cayman Reveal party to show off the new 981. Details here.
The April Coffee Travelers were an exclusive group. Details here.
Upcoming events
Mark your calendar and check the region website for updates on these and future events.
May 2 - Concours Motors, Glendale, open house. Details here.
May 4 - Spring clean up at Porsche Park, Road America. Help us get the park in shape for the upcoming season at RA. Details here. And, when you are attending an event at Road America, be sure to park your Porsche in Porsche Park. Your car will be in good company.
May 5 - Cars and Coffee, Lake Mills, Wis. Hosted by 2 Shores International.
May 18 - Coffee Travelers will meet at International Autos - Porsche, in Waukesha. The new Cayman will be on display for your close inspection. Join us for good conversation. 2230 E. Moreland Boulevard, Waukesha. Start time: 9 a.m.
May 17 - 19 - Three-day weekend driving tour to Galena, Ill. Michael Elliott is our tour leader. Details here including hotel reservation number.
May 18 - Waterfalls tour. Milwaukee Region members are invited to join Fox Valley Region members who will spend a day touring the many spectacular waterfalls in the U.P. Several Milwaukee Region members have joined in this event in the past and highly recommend it. Flip a coin -- U.P. or Illinois. Two tempting options on the same weekend. Details here about the Waterfalls tour.
May 31 - DE Instructors training and solo DE event. Details here. Registration is open now at www.motorsportreg.com. Cost is $275.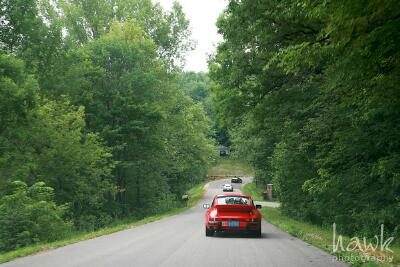 June 8 - Milwaukee Region driving tour. Details here. Brothers Jay and Lee Heppe will lead us on another great day of driving. The region's Spring tour will start in Delafield and head to the beautiful rolling hills near Spring Green, Wis.
June 8 - Ladies driving tour. Ladies, grab the keys to the Porsche -- yours or his -- and plan to join the Fox Valley region for the annual driving tour. This is an all-day event. Details here.
June 23 - 29 - PCA Parade, Traverse City, Mich. Parade is total immersion in Porsche and Porsche Club of America. You can be laid back or fully involved by entering the many competitive events including a concours d'elegance, autocross, rally, technical quizzes and more. A number of Milwaukee Region members are registered. Details here.
Parade to PARADE
For those interested in a group drive to Parade, plans are being made to meet Saturday morning, June 22, and take a scenic northern route through the U.P., across the Mackinac Bridge to Traverse City. A photo-op stop at Lambeau Field is being investigated. Additional details will be forthcoming as the date approaches.
July 6 - Region rallye. More details coming from Pat Fowler.
July 14 - Autocross at the Wisconsin State Fair Park parking lot. More information coming soon.
July 20 - Road&Track concours d'elegance in Elkhart Lake, Wis. Join us for a group drive to Elkhart Lake and an optional dinner at a great restaurant. RSVP required if you plan to join the group for dinner. Details here.
Aug. 3 - Picnic. Details coming soon.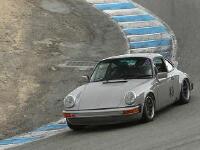 Aug. 16 - Driver education at Road America. Registration is now open at www.motorsportreg.com. This will be an outstanding day at Road America. Novices can learn how to handle their car on the track with the help of a driving instructor while intermediate and experienced drivers can continue to hone their skills as they navigate one of the best road courses in North America. For more information about the region's DE activities, visit the DE events page.
Aug. 24 - Club Saturday At The M, a car show on Milwaukee's lakefront. Details here.
Aug. 25 - Geneva Concours d'elegance. Details here.
A message from region membership chair Donna Daufenbach.
May membership anniversaries
| | |
| --- | --- |
| Raymond H. Van Zelst | 1983 |
| Randy Hallenbeck | 1986 |
| Ronald V. Kasper | 1991 |
| Jeffrey R. Thomson | 1993 |
| August J. Jurishica | 1993 |
| Thomas Weber | 1993 |
| Tom Harwood | 1996 |
| James W. Armbruster | 1996 |
| Todd D. Fogel | 1996 |
| Paul W. Loewenstein | 1997 |
| Michael J. Schmalz | 2000 |
| Jeffrey R. Kuklinski | 2000 |
| John R. Hoenick | 2000 |
| Allyn J. Slang | 2001 |
| Michael C. Schmitz | 2001 |
| Dan Manning | 2002 |
| James Meach | 2002 |
| John H. Dohrwardt | 2003 |
| Anthony Enea | 2003 |
| Dennis Harshaw | 2004 |
| Richard Schloegel | 2004 |
| Adam Stone | 2004 |
| Raimund Immig | 2005 |
| Bob Waterman | 2005 |
| Dwyn von Bereghy | 2006 |
| Matthew T. Jensen | 2006 |
| Paul A. Gruber | 2006 |
| James C. Wade | 2007 |
| Richard W. Strelick | 2007 |
| George S. Soderberg | 2007 |
| James S. Berkes | 2007 |
| Tim J. Cahill | 2007 |
| Philip A. Campeau | 2007 |
| James S. Young | 2008 |
| Jim A. Schustedt | 2008 |
| Brian P. Kearns | 2009 |
| John Hijjawi | 2010 |
| Bill M. Sturm | 2011 |
| Dan K. Ferguson | 2011 |
| Tom W. Warsop | 2011 |
| Rob J. Tschurtz | 2011 |
| Tom J. Duffey | 2011 |
| Glenn A. Schrubbe | 2012 |
| Awais H. Siddique | 2012 |
| Steve K. Bartels | 2012 |
| Kinney M. Adams | 2012 |
| Craig S. Husar | 2012 |
| Jeff J. Bezzo | 2012 |
| Ryan Braithwaite | 2012 |
| Brad Boyles | 2012 |
| Chris A. Hall | 2012 |
| David J. Moore | 2012 |
| Tyson Schwiesow | 2012 |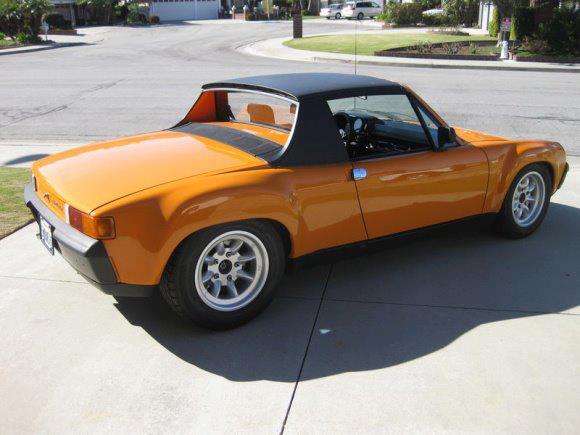 Porsche in the news....
Porsche AG reports good news for the first quarter
In the first three months, Porsche delivered 37,009 vehicles to customers the world over – an increase of 21.1 percent compared to the same period of the prior year. In March, the sports car manufacturer achieved over 14,000 deliveries for the first time in its company history.
"The success of the first quarter encourages us to implement our Strategy 2018 systematically," said Bernhard Maier, member of the Executive Board Sales and Marketing of Dr. Ing. h.c. F. Porsche AG. "Our responses to the uncertainties on the market are products that induce great enthusiasm in customers, such as the new Panamera as well as a highly motivated work force."
Porsche registered a heightened customer interest in the rear-engine and mid-engine models on the Chinese market: one third more Boxster, Cayman and 911 vehicles were delivered in the first quarter of 2013. All in all, Porsche sold 8,844 cars in China during this period – an increase by one fourth in comparison to the first quarter of 2012. At the end of the month, the new generation of the Panamera – with which Porsche launches the first plug-in hybrid worldwide in the luxury class – will have its world premiere at the Auto China in Shanghai, which opens on April 21, 2013.
The demand for the 911 continues unabated: from January through March, Porsche delivered 7,230 models of the sports car icon – an increase of 18.6 percent compared to the first three months of the previous year. The Cayenne also continued to expand its market position: Around 20,000 vehicles of the sporty SUV have been handed over to customers so far this year.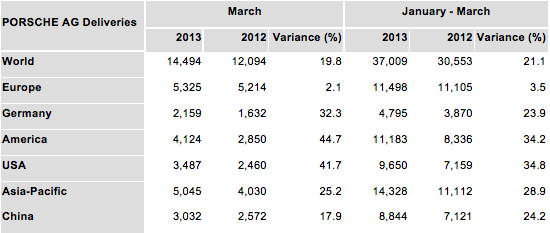 More news...An interesting story of a 917 rarely seen...thanks to Ron Pace for the link.
And Al Wagner provided the link to this video about Porsche design. Watch it here.
Porsche's YouTube channel. Bookmark it here.
Hurley Haywood tells the story of his win in 1973 at Sebring in a Carrera RS. Listen to the master.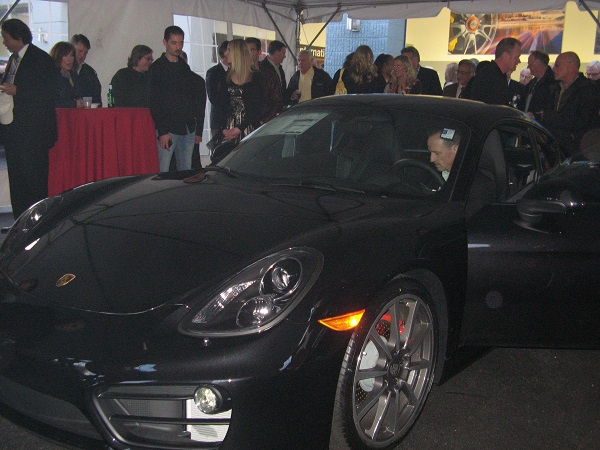 And Rick Zinda found this article about a new driver for the Porsche racing team.
911 vs. Jaguar....check out this video.
Marc Abernathy was at the previously reported winter autocross, too. Here's his video.
Classifieds
Check out the latest classifieds here. Classifieds are updated regularly whenever new ads are received.
Region contacts
You can find the names and contact information for region officers, directors and committee chairs online here. Need to find another member? Look at the Resources tab and select the Members Only link on the page. If you do not know the password to get into this section, please send an email to the webmaster: beverly.jurkowski@sbcglobal.net requesting the log in. By the way, this is not the log in you use to access the national website.
The editor invites members to send photos of their cars for publication -- with attribution or anonymous -- in the Milwaukee Region's newsletter. Recent calls for photos have resulted in no response. Send jpgs to beverly.jurkowski@sbcglobal.net
Posted on Wednesday, May 1, 2013 12:00 AM, updated on Friday, May 3, 2013 11:43 AM
Return to List of Journal Articles