February 2014 Steinlifters Online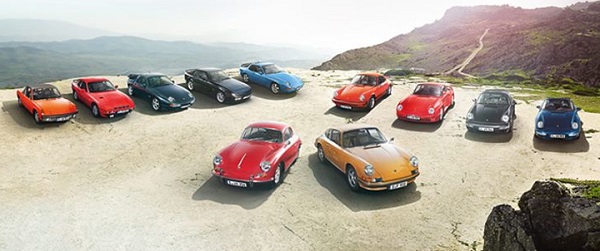 Upcoming events
Feb. 6 - Board meeting. Always the first Thursday of the month unless noted otherwise. Members are always invited to pull up a chair at the meetings. 6:30 p.m. at the Milwaukee Yacht Club, N. Lincoln Memorial Drive, just north of downtown Milwaukee.
Feb. 15 -- Coffee Travelers. Quarry Coffee in Lannon (Hwy 74) Map: http://goo.gl/maps/ul5g4
Feb. 15 -- Social committee meeting. Immediately after Coffee Travelers at Quarry Coffee in Lannon. Join us. Contribute your ideas about future events.
Feb. 22 -- Turbo spaghetti. Get out of the house in late winter for a fun social night. Bring that secret family recipe for sauce and you could go home the winner of one of several awards. Or participate without the sauce and just have fun. Details here.
March 12 -- Orientation session for gimmick rallye. In 2014, our region schedule again will include one or more gimmick rallyes, thanks to region member Bob Budecki. If you've never participated in a gimmick rallye, you can read more here and also plan to attend an orientation session on March 12 or April 24. Details here about the March 12 orientation session.
April 12 -- Tech session with Pete DeVries at Kelly Moss Motorsports in Madison. Stay tuned for more details.
April 24 -- Rallye school -- repeat of the March 12 rallye school and information session. Thursday, April 24, 2014, at 7 p.m. at Westmoor Country Club, 400 South Moorland Rd., Brookfield. Learn what a gimmick rallye is so you'll be ready for our region rallye on May 31.
May 16 - 18 -- Great River Road driving tour. Join us for a driving tour of western Wisconsin along the Great River Road. Al and Ellyn Wagner will be our tour guides. Details here.
May 16 - 18 -- Alternatively, if you prefer to drive in the beauty of northern Wisconsin, you can join the Fox Valley Region members for their spring tour. Details here.
May 31 -- Gimmick rallye. More information coming soon. Will start and end in Cedarburg. What's a gimmick rallye? Here's a description.
Aug. 15 -- Driver education (DE) at Road America. Register here. And for more information about the region's DE program and requirements, forms, etc., visit the DE Events page here.
Aug. 23 -- Club Saturday At The M....Save this date and join other car clubs for this fun display at Veterans Park on Milwaukee's lakefront. Show your Porsche or just enjoy the event as a spectator. The public is invited.
Aug. 24 -- The Milwaukee Masterpiece...one of the country's finest concours d'elegance competitions will take place in Milwaukee on Sunday, Aug. 24. The Milwaukee Masterpiece will celebrates its 10th year of presenting automotive art at its finest. Make plans to see 250 stunning vehicles that will be selected to compete for top awards in this outstanding concours d'elegance. This is open to the public. Bring your family and friends for a feast of rare, classic vehicles.
Oct. 11 -- Fall Gimmick Rallye. More details to be posted in the future.
Welcome new members
Welcome to these members who joined PCA and the Milwaukee region in January 2014:

Jeff Batt, Germantown, 2007 911 S

Thomas DeMarsh and family member Kimberly De Marsh, Milwaukee, 2002 911

Matt Gruber, New Berlin, 2005 Cayenne

Anders Hjertstebt, Milwaukee, associate member

We also welcome Daniel Holden and Lisa Holden, Cudahy, who transferred from the Santa Barbara Region with their 2000 911.
February membership anniversaries

Tom M. Golner 1982
Arthur L. Cunningham 1989
Edward E. Lisowski 1993
Fritz Seidel 1994
Jack Hoffman 1994
Randy Stenson 1995
Don Berchem 1996
John A. Ricci 1998
Mike Wiviott 1998
Sean Sean Dicks 1999
Kurt W. Krueger 1999
Brian Faust 2000
Robert J. Flemming 2000
Grant A. Gallinger 2001
Mark J. Wimmer 2002
Jeff Serra 2002
Patrick Patrick Cibik 2003
William Alverson 2005
Joseph J. Komanecki 2006
Jack Carini 2008
Glen W. Ringwall 2008
William O. Casto 2008
Ginghus C. Bresser 2010
Jay J. Philipp 2010
George Pesic 2010
Mark A. Holzwart 2010
James H. Kuehn 2010
Ray W. Knight 2010
Tyler M. Vassar 2011
Gregg C. Achtenhagen 2011
James F. Adelsen 2011
Nick J. Curran 2011
Bob J. Woodruff 2012
Jeff S. Sroka 2012
Dick J. Witkowski 2012
Paul Dornan 2012
Tunch T. Turna 2013
Jamie T. Hammond 2013
Greg R. Junek 2013
Drew Roberts 2013
New member profiles

Craig Schedler bought his first Porsche, a 2007 911 Carrera S, silver with 30,000 miles, in December and joined the region shortly thereafter. "This is my first Porsche although I have also owned a Corvette and a Miata. I haven't really had much opportunity to drive the 911 yet thanks to winter but so far I love it," he said. A director at Northwestern Mutual, he said he is "looking forward to taking my car to track days trying my hand at autocross."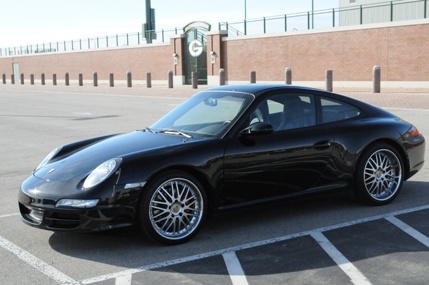 Henry Lewis II reports, "My Porsche is the realization of a lifelong goal and is my first Porsche. I set my sights on it a little over six years ago and finally it became reality last November. I had been searching on the Internet and skulking thru dealer lots for more years than I can count when I found this one in Springfield, Mo., through a computer search. It is a 2006 C4S with 7,000 miles on it. I believe that it has never even been driven in the rain as its under carriage, suspension and engine are spotless. It has a 'new car' smell as well. It is fitted with sport shifter, sport chrono package, nav, Bose and heated seats. It has great wheels as you'll see from the photo. It has a Tubi-style exhaust system and sounds killer!"

Previous and current sports cars in the Lewis garage have included BMWs that he bought new: A 1987 325is, a '95 M-3 and a 2001 330i "that is serving winter duty while the C4S is snug and dry under a cover in my warehouse."

"Though a member of BMWCCA for 20 years, I never attended an event. However I would certainly love to learn more about my C4S and become an improved driver with skills worthy of my beautiful machine," he said. Henry is an electro-acoustical engineer and systems programmer with four grown-up Eagle Scout sons. "My wife and I own a business in Waukesha -- Lewis Sound & Video Professionals -- that is highly respected in its field," he said.

"No question, Porsche is the way to go," says Michael Ruhland, the second owner of a 2003 Carrera 4S, which he bought in Chicago in 2005. The car, silver, has the Sport exhaust, all leather, Turbo wheels, and all the standard items, he said. "It now has 65K on it. I do all the work myself, from the IMS seal replacement, to the standard items. I like working on cars," he said. "It is my first Porsche and I was always into Mercedes and BMW. I am German – so I have to buy the German Machines," he explained.

"My brother, who lives in Germany, has been a Porsche fan for many years, and had lots of them. He convinced me to try Porsche, and I must say, top quality, and top quality build. Any which way you wrench on it, no surprises. Compared to the new Mercedes, my wife's GL 450, toooooooo many little problems," he noted.

Michael is a manager at a German company that supplies the beer and bottling industries.
Matt Engerman's wife Laura bought him a PCA membership as a Christmas. "We learned about PCA from our neighbors who are Porsche owners when the 911 came home this summer," he said.

Matt, vice president of sales for Nunn Bush Shoe Company, drives a 1999 911 Carrera that's silver and has low miles. "I was searching nationally and found the car in Green Bay," he said. This is his first Porsche and he's interested in road rallyes and learning what PCA and the region has to offer. Welcome Matt and Laura.
New social chair slides into driver seat
After serving as the Social Committee chair for several years, Kim Zinda has stepped down and passed the reins to Michael Elliott. During her tenure, Kim and the committee have inserted several new, fun events on the region calendar including the picnic in August, the fish fry in early Spring, the social gathering to watch the Rolex 24 Hours at Daytona and more. "Kim and the committee did a great job during her time as the leader of one of our favorite committees," said George Kowalski, region president. Michael is well equipped to take the helm as he has led several driving tours including the 2013 weekend tour to Galena, Ill. Thanks to Kim and Michael for their willingness to contribute their time to the region.
Recent events
The holiday party, delayed until mid-January, was a terrific evening. Thanks to Lise Miley and the Social Committee for an outstanding event. Every attendee went home with a fabulous door prize. Check out pictures of attendees here.
January Coffee Travelers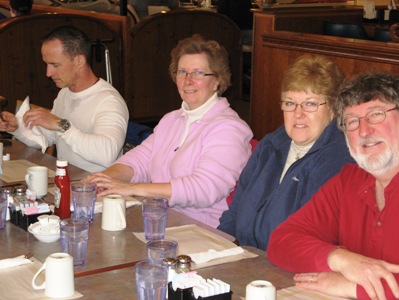 Coffee Travelers in January included, left to right,
George Kowalski, Donna Daufenbach, Lynn Elliott
and Michael Elliott.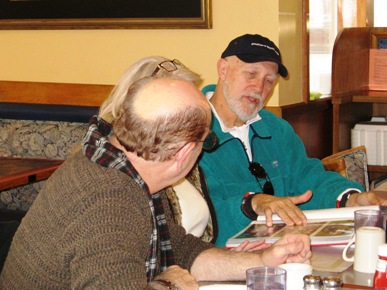 At the January Coffee get together, David
Pickens, left, looked at a photo album of the
2013 Porsche Parade along with Reva Stolpe
(partially hidden) and Randy Stolpe.
The turnout for the January Coffee Travelers included David Pickens, George Kowalski, Wayne Moses, Reva and Randy Slolpe, Donna Daufenbach and Michael and Lynn Elliott. Discussion topics included the races coming up in which Porsche teams will compete: Rolex 24 at Daytona and Sebring, architecture - spurred by the sighting of Milwaukee's Calatrava in the new Targa video clip that the group watched on Donna's phone, the new Northwestern Mutual building under construction downtown and the ongoing teardown of older structures.
But that's not all. The group also covered taxes, the idea of a Winter autocross at Road America, Porsches, of course, garage lifts and storing vs driving Porsches in the winter.
Watching the Rolex 24
For the 52nd running of the Rolex 24 at Daytona race and the 1st United Sports Car Championship race sixteen members of the Milwaukee Region gathered in the balcony at the Delafield Brewhaus. We watched and cheered as the race began. Discussion revolved around the changes the merger has brought. The new Porsche 911RSR and GT America were a favorite topic. Favorite drivers were chosen and their merits debated. Parade 2014 in Monterey was also discussed as was the wait for driving season to return.

Thank you to Michael Elliott for scoping out venues and coordinating the event. Thanks also to those attending - Michael and Lynn Elliott, Lise and Larry Miley, Carl and Carrol Jensen, Doug Schellinger, Todd and Bob Flemming, Tim Cahill, Michael Neill, Wayne Moses, Nasaya Nokomoto, Max and Rhonda Moser, Tom Golner, Gregory Kostka and Donna Daufenbach. We had a very enjoyable afternoon and look forward to next year. Pictures below by Donna Daufenbach.

Sunday brought an exciting fight to the finish in GTLM with the #911 RSR driven by Patrick Pilet holding off a late surge by Joey Hand in the #55 BMW Z4 who finished 2.838 seconds later. Total pit time for the Porsche 32.03 and for the BMW 33.05. In GTD it was also a hard fought ending with four cars finishing on the same lap. The battle between the two leaders ended with a controversial time penalty for the winning Ferrari 458. The #58 Porsche 911 GT America driven by Jan Heylen finished in 3rd only 1.452 behind the class winner and 0.159 behind the Flying Lizards #45 Audi R8 piloted by Markus Winkelhock.
| | |
| --- | --- |
| | |
Classifieds
Think our classifieds don't work? Region member Randy Stolpe was contacted by a buyer from Toronto who was interested in some wheels that he had for sale. Members can use classifieds for free to advertise Porsche-related items for sale, wanted or swap. Read the latest here.
Links
Concerned about ethanol? Learn more about a movement to change U.S. policy on fuel. Thanks to region member Don Berchem for the link.
The Targa is back. Wow. Check out a video here, shot against one of Milwaukee's most well known backgrounds.
A three-day car show in Minnesota like no other. Check out this video. Thanks to Ron Pace for the find.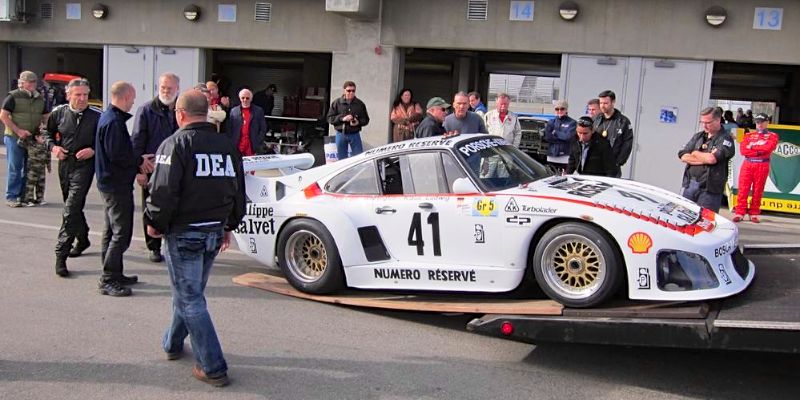 Region members Paul Roller and Mike Wiviott found this story. What would you have done if DEA agents confiscated your 935, a special Porsche race car that had a history of wins? Read more here.
Parting shot
Silver shines on these early Porsches.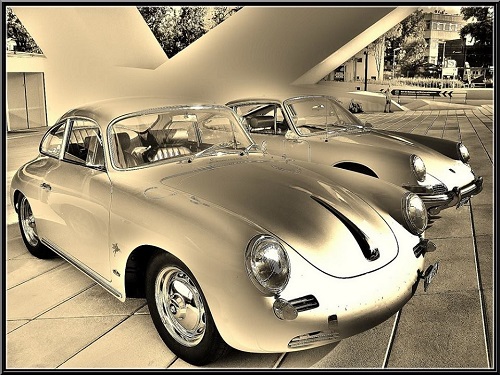 Posted on Sunday, February 2, 2014 12:00 AM, updated on Thursday, August 9, 2018 2:31 PM
Return to List of Journal Articles