November 2015 Steinlifters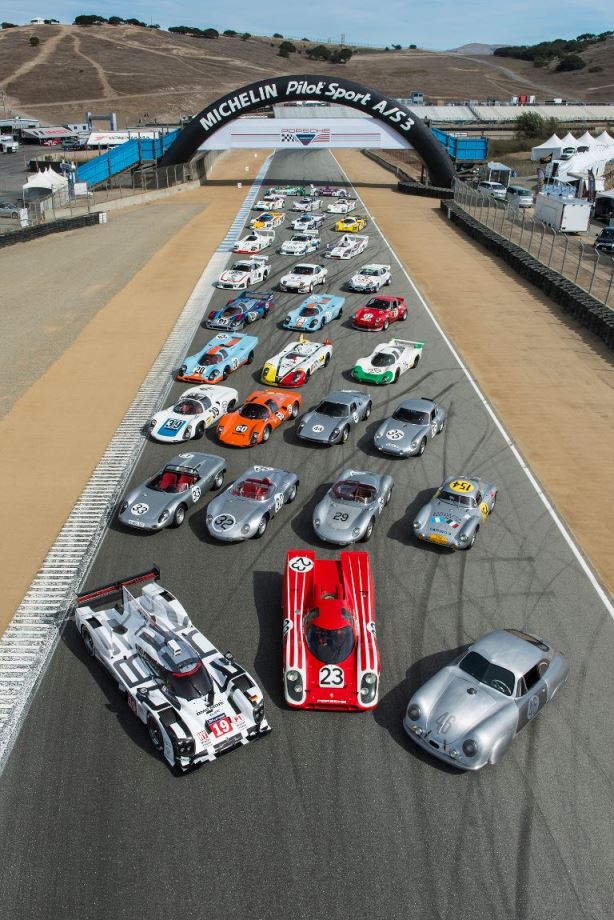 Porsche Rennsport Reunion V provided a spectacular conclusion to Mazda Raceway Laguna Seca's 2015 major events calendar (photo credit: The Corkscrew)

A three-day crowd of more than 55,000 witnessed the largest gathering in the world of Porsche race cars, with 321 historic entries taking to the track to rekindle memories of yesteryear as well as fan the flames of excitement for the famous marque's current lineup of U.S. and international competition, including the IMSA Porsche GT3 Cup USA. In addition to the nonstop on-track activity, nearly 1,500 Porsches were on display, including more than a dozen cars direct from the Porsche Museum in Stuttgart, Germany, 64 other historically significant cars in the Chopard Heritage Display, and more than 1,400 more parked in the 20 model-specific corrals throughout the facility.

Finally, there was the list of legendary race car drivers on hand who earned Porsche its unparalleled success over the past seven decades: Jacky Ickx, Vic Elford, Hans Stuck, Hurley Haywood, Patrick Long, Jörg Bergmeister, Wolf Henzler, Mark Webber, Nick Tandy and Earl Bamber to name just a few.

There was something for every motorsports enthusiast to appreciate, whether it was a 356, 911, 908, 917, 935, 962, or 919.

Content source: The Corkscrew, newsletter of Mazsa Raceway Laguna Seca. Thanks to Paul Roller for the info.
Clips from many races (old documentary and runs 34 mintes): http://blackflag.jalopnik.com/tons-of-great-clips-from-so-many-races-in-this-1978-doc-1738556002. Thanks to Mike Wiviott for the link.
$300,000 restoration of a 356: http://finance.yahoo.com/video/one-shop-perfects-400-000-113654087.html
Posted on Sunday, November 1, 2015 12:00 AM, updated on Monday, November 2, 2015 12:26 PM
Return to List of Journal Articles