Take a look at the vehicles and Porsche-related items being offered by your fellow members.
FOR SALE: Wheels/tires from 2022 Cayman S $5k
Selling takeoff wheels and tires from 2022 Cayman s,19x9 fronts,19x10 rears,hankook 235/40/19 and 265/40/19 tires,complete with center caps and factory tpms sensors as removed from new Cayman S.Located in Pewaukee. $5,000.
262 444-1459
FOR SALE: Bilstein jack
Nicely restored - original - Bilstein jack for 356 / 912 / 911 ('66-'71?)
Sierra Madre offers a reproduction for $700+
Free shipping in continental US.
$350
Contact Karl: kschulz22@gmail.com
734-904-7972
FOR SALE: Cibie fog lights
Cibie IODE 35 fog lights, used, very nice condition, includes relay and fuse. $175
Free shipping in continental US.

KSchulz2@Gmail.com
734-904-7972
Porsche design watch
FOR SALE: Coverking cover for 968 coupe
Coverking storage cover for 968 coupe. Good shape. 1 small rip. Drawstring on cover bag torn.
$45
414-418-0402 <carreras@wi.rr.com>
FOR SALE: 2017 991.2 Targa, manual, PTS Viper Green $140k
2017 991.2 Targa. Manual. 20,325 miles.

PTS Viper Green, LTS black interior with silver thread. 18-way seats. GT3 touring shift boot, with silver thread. Tunnel covers are now also leather with silver thread. Leather steering column. Silver thread throughout back seat leather. X51 powerkit, factory install. This is same as GTS turbos.

In service date of 7/10/17, CPO through 7/10/23

Currently has the stock sport wheels installed.

Has several modifications that can be removed if so desired. Numeric Shifter, Cobb, Soul Sport Cats, Kline Headers that were Swaincoat, Shift Knob, GT3rs side skirts, AWS wind diffuser. ALP front lazer installed. Wired for radar detector, has blendmount for Uniden R7. Have all factory parts. Can be easily reverted. Price includes all stock and all aftermarket parts. Some people don't like modifications. I can remove aftermarket parts, if so desired. Sport wheels included are in the last few photos. Does not come with the Fuch style wheels.

2nd owner, no snow or salt.

Prod Month: 2017-06-08. VIN: WP0BB2A91HS137119.
Price: $140,000.
Exterior: Exterior Paint to Sample Non-Metallic.
Contact ksdaoski27@gmail.com
https://photos.app.goo.gl/CHAYeQcqrXFFJTfY6
FOR SALE: 2001 911 Carrera 2 Cabriolet
Black / black 53,500 miles, 6-speed manual transmission, 18-inch wheels (all wheels re-coated in 2019: no curb rash), perfect leather interior. tuned mufflers, carbon fiber interior trim, Aerokit (flared) rocker panels, Multi-CD changer, new blue tooth radio (original radio is also included), garage kept and not driven in rain or snow, clean Car Fax, I am the second owner (owned since 2006), tenderly driven: no racing or speed shifting.
Repairs in chronological order: New heavy duty replacement ignition switch October 2008, Four-wheel alignment at 43,386 miles, New Front tires at 42,406 miles (April 2014), September 2015, new coolant expansion tank at 44,428 miles, October 2017, new water pump at 47,840 miles, new clutch kit, new pressure plate, new flywheel, new rear main seal, and new IMS bearing September 2019 at 50,619 miles, Wheels re-coated September 2019: no wheel rash, October 2020 New Bluetooth radio (original radio still available and included), June 2021 new engine mounts; new intake manifold sleeves, Two new rear tires at 53,022 miles, Regular oil changes.
Located in Sleepy Hollow, Ill.
Price: $33,000 OBO
Call Peter at 847-274-5557. Contact seller for more photos.
New region webstore for wearables
The region's webstore is now live. Order online and have your items shipped directly to you.
FOR SALE: Panamera 20-in. snow tires
- less than 200 miles since new
- Michelin Pilot Alpin PA4 N-Spec (Porsche original equipment)
- New = $1568
- Will sell all (4) @ $800
Located in Grafton. Contact Louie: 414-526-4170
FOR SALE: 1987 911 Carrera Cabriolet
93k miles. Black exterior. Tan interior. Includes tonneau cover and convertible top cover. Asking $65,000 or best offer.
wtjaries@aol.com
\
Order your Region name badge
Order your region name badge.
https://www.porschepark.org/files/cms/0/136-1617493463.pdf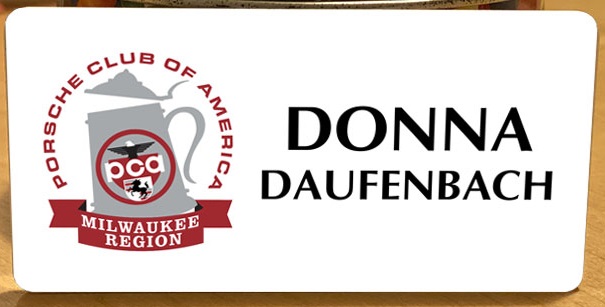 Ball caps with region logo
Two styles, multiple colors.
https://www.pcawebstore.org/item/new-era-hex-mesh-cap-869
https://www.pcawebstore.org/item/port-authority-vintage-washed-contrast-stitch-cap-623

FOR SALE: Car cover for 991 or 991S price reduced
Genuine Porsche indoor car cover for 991 or 991.2, Targa 4/4S (2012-2019) or C2/C4 with Sport Design package (2017+).
Perfect-fit indoor cover made from breathable, anti-static material. Has full-color Porsche Crest and logo.
Part number 991.044.000.40.
Cover is brand new, never used, never taken out of packaging. Asking $125. Please contact Robert Finlayson at rkfinlayson@gmail.com.
Beware of scammers
Your ad on this page is accessible to anyone on the Internet. The Milwaukee region is not responsible for any interaction between sellers and buyers. Beware of scammers. Note, if you are selling an item, ask that the buyer use an electronic payment system like Zelle or Venmo to ensure you receive the funds. Waiting for a check to clear doesn't guarantee you will have the money as the buyer can quickly issue a stop payment. Member experience verifies this.
BUY, SELL OR TRADE ANY PORSCHE-RELATED ITEM
PCA members can advertise for free to buy, sell or trade any Porsche-related item. The ad will run for three months, or as long as needed. Read how to submit your ad,
Non-members can use the classifieds for a fee of $30 for three months. Non-members should contact the webmaster for the process to submit payment. Send the text of your ad along with one or two .jpgs to webmaster@porschepark.org.
Milwaukee Region has a Facebook page
Forms
Related Journal Articles