Take a look at the vehicles and Porsche-related items being offered by your fellow members.
FOR SALE: 1988 911 Cabriolet
Gran Prix white, linen interior, Blue top (replaced 2011) and boot. 130000 miles. 20 years owned, Perfect mechanical and physical condition, never seen snow or salt, zero rust. New front brake pads and 4 tires in May 2022, less than 3000 miles on them. Entire AC system has been replaced and blows solidly cold. No oil leaks. Drove it to the Parade in Poconos in June 22, ran flawlessly and comfortably. Includes fitted car cover and Tonneau cover, screen wind blocker, and set of white Lloyds floor mats. One would be hard pressed to find a nicer and more perfect 1988 911. $75,000, condition 2. james@delbalso.com, 262-853-9395
Many more photos here:https://photos.app.goo.gl/obFqEZ4dVhd2TxJ99
FOR SALE: 2009 Cayman S--price reduced
2009 987.2 Cayman S with PDK, PASM, Power Seat Package, Porsche Crest in headrests, and 3-spoke multifunction steering wheel for PDK. MSRP $73,600.
Many performance upgrades to give this Cayman S near 911 GT3 performance. TPC Turbo kit for ~450 hp and loads of low-end torque. Bilstein B16 Damptronic coil-over PASM-compatible shocks with DSM wide-band PASM controller. OEM GT3 front suspension. OEM 911 Turbo brakes with red calipers. 19" OZ Ultralegerra HLT wheels shod with Michelin Pilot Super Sport tires. Tarett adjustable front and rear anti-roll bars. Bilt Racing transmission oil cooler. GT3 front bumper cover and European rear bumper cover with GT4 fixed rear wing. Superbly entertaining car for the hard-core enthusiast. Looks great and drives better. Comes with separate Pagid brake pads for track use.
Ruby Red Metallic over Blackstone Grey.
$42,000. Contact: Bob at (630) 816-5464. bklarsen88@msn.com
More photos available at pca.org.
Transport your Porsche to Parade?
Region member Jim Best is interested in finding other region members who would like to hire an enclosed transporter to take their Porsches to Parade this year in California.
If you are interested contact Jim at jimbest1212@gmail.com
FOR SALE: Collection of vintage Porsche magazines and marketing materials
A rare collection for the serious Porsche enthusiast.
19 model brochures, "The 911 Guide" by Sloniger, 81 issues of Porsche and Excellence magazine from to 1987 to 2004, 17 issues of Christophorus magazine from 1970 to 1987, including the 1970 Motorsport Yearbook. Email
danschre@gmail.com
for a complete list. $500 for all. Sold only as a complete collection.
FOR SALE: Wheels/tires from 2022 Cayman S price reduced
Selling takeoff wheels and tires from 2022 Cayman s,19x9 fronts,19x10 rears,hankook 235/40/19 and 265/40/19 tires,complete with center caps and factory tpms sensors as removed from new Cayman S.Located in Pewaukee. $4,000.
262 444-1459
Porsche design watch
FOR SALE: Coverking cover for 964 911 coupe
Coverking storage cover for 964 (911) coupe. Good shape. 1 small rip. Drawstring on cover bag torn.
$45
414-418-0402 <carreras@wi.rr.com>
New region webstore for wearables
The region's webstore is now live. Order online and have your items shipped directly to you.
Order your Region name badge
Order your region name badge.
https://www.porschepark.org/files/cms/0/136-1617493463.pdf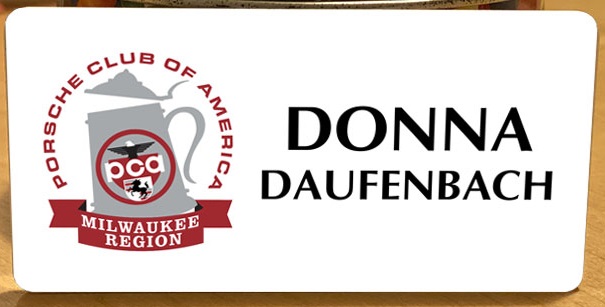 Ball caps with region logo
Two styles, multiple colors.
https://www.pcawebstore.org/item/new-era-hex-mesh-cap-869
https://www.pcawebstore.org/item/port-authority-vintage-washed-contrast-stitch-cap-623

Beware of scammers
Your ad on this page is accessible to anyone on the Internet. The Milwaukee region is not responsible for any interaction between sellers and buyers. Beware of scammers. Note, if you are selling an item, ask that the buyer use an electronic payment system like Zelle or Venmo to ensure you receive the funds. Waiting for a check to clear doesn't guarantee you will have the money as the buyer can quickly issue a stop payment. Member experience verifies this.
BUY, SELL OR TRADE ANY PORSCHE-RELATED ITEM
PCA members can advertise for free to buy, sell or trade any Porsche-related item. The ad will run for three months, or as long as needed. Read how to submit your ad,
Non-members can use the classifieds for a fee of $30 for three months. Non-members should contact the webmaster for the process to submit payment. Send the text of your ad along with one or two .jpgs to webmaster@porschepark.org.
Milwaukee Region has a Facebook page
Forms
Related Journal Articles