2020 Holiday party kicked off a year of celebrations
The region's Cheers to 60 Years celebration was launched in grand style on Jan. 4 at the elegant Wisconsin Club in Milwaukee where nearly 140 members and their guests assembled for the annual holiday party.
Over cocktails and hors d'oeuvres, attendees mingled before the sit-down dinner was served.
As we were seated, Region President Alan Wagner welcomed guests and explained that the event was the first of a couple dozen events that are planned for the year to observe and celebrate the region's 60th year as a standalone region. Al said that all of the events (known at press time) were included in a calendar that was handed out at the party.
Al noted that members will receive points for every event they attend this year. To qualify for prizes, members must bring the region Passport, which was handed out at the event, to each subsequent event they attend. At the closing event in October, the members with the most points will win prizes. Al also noted that at select events throughout the year, random drawings will be held for those in attendance and prizes will be awarded.
If you didn't attend the holiday party, you can receive a Passport at the first event you attend. Event organizers for all events will have Passports on hand.
Al recognized Hal Zimdars, one of the region's founding members, who was in attendance.
Following a wonderful dinner that included salad, one of three entrees and dessert, Al returned to the lectern to conduct a few more items of business.
He recognized and thanked the outgoing board members—Donna Daufenbach, Jeff Chang and Tim White – and also thanked the newly elected board members – Dan Johansen, Gene Guszkowski and Tony Quebbemann. Each of the former and current board members received a large Porsche calendar as a thank-you gift.
Al called on Tim White to present a special award. Bev Jurkowski, long-time region newsletter editor and webmaster, was honored for her extensive service to the region. Tim recalled his first meeting with Bev where he learned of her history with the Porsche-factory-sponsored Lowenbrau 962 race team. She was the brand public relations for the Lowenbrau brand when Miller Brewing Company imported and brewed the beer under license. He presented Bev with a framed print of that car in recognition of her passion for the Porsche brand and the region.
Door prizes were also drawn and the lucky winners of Kwik Trip gas cards and PCA Webstore merchandise included Matt Zuba, Gregg Eisenhardt and Jon Knopp.
Region Charitable Outreach Chair Roger Franzel also announced that a silent auction was taking place that night for bids for a special dinner that would be prepared and served by three region couples – Patty and Roger Franzel, Ellyn and Al Wagner and Julie and Tony Quebbemann, who will host the event at their home.
The winning bidders were Jack and Karen Stephensen (Zone 13 Rep), Bill and Jo Ann Frazier, Mark and Suzy Strothmann, and Kyle and Krista Mahan. The auction raised $700 for Hunger Task Force, the region's designated charity.
PCA Zone 13 rep Jack Stephensen and his wife Karen attended the event as well. On behalf of PCA, Jack presented to Alan Wagner a large banner that declares the region's 60th milestone, along with two 48-in. banners and a book that compiles highlights of the region's history.
One other highlight of the evening included the presentation of an elegant beer stein mounted on a base that contains plaques with the names of all of the region presidents since the founding of the region in 1960. That traveling trophy, crafted by Roger Franzel, will be presented to each new president. Tony Quebbemann presented the trophy to Al Wagner at the party.
At the conclusion of the business of the day, members and guests danced to the tunes of the Doo-Wop Daddies, who played the hits of the '50s, '60s and '70s.
Special thanks to the Social committee for planning and executing this special night. Kudos to Patty and Patrick Murphy and Kim Zinda.
Photos by Tom Ingrassia. For more photos, visit: https://pcamilwaukee.shutterfly.com/pictures/10833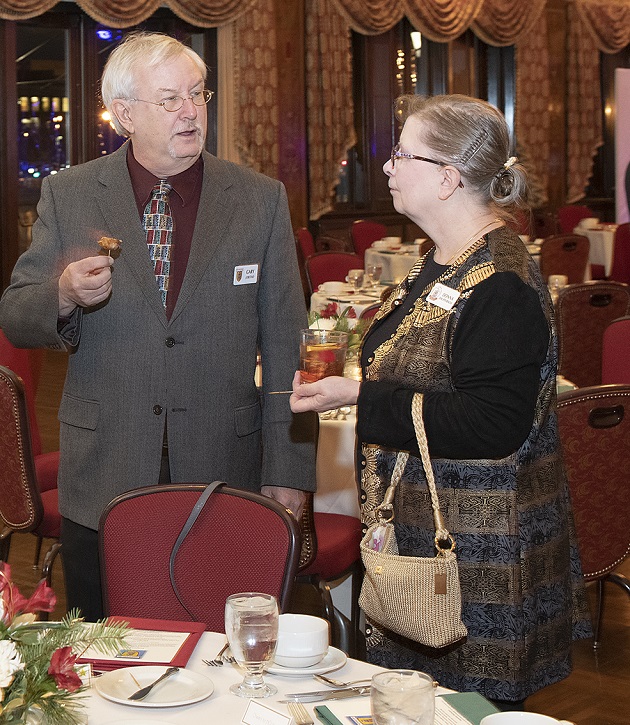 Region members Gary Jorstad and Donna Daufenbach re-connect at the party.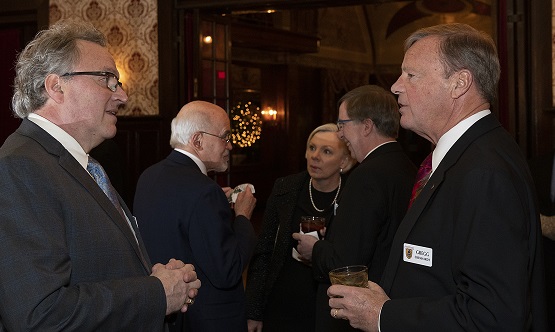 Past presidents Tony Quebbemann, left, and Gregg Eisenhardt visit during the social hour.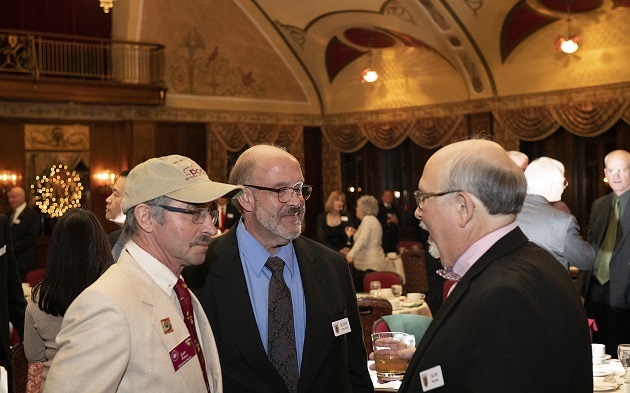 Gary Princl, left, Scott Clausing, center, and Alan Bloom share stories during the event.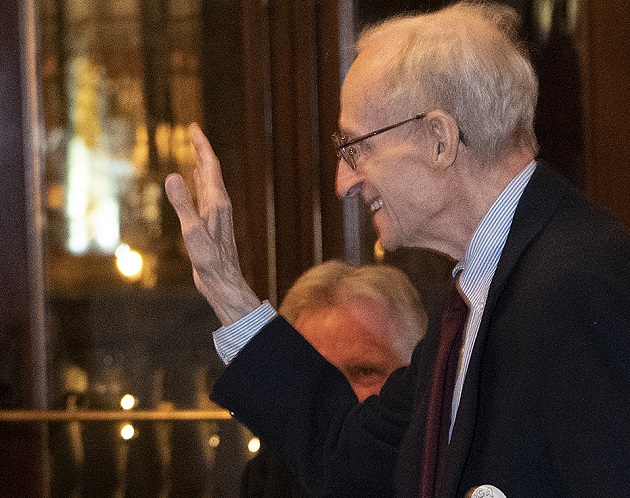 Hal Zimdars, one of the founding members of the region, acknowledges the crowd when he was introduced.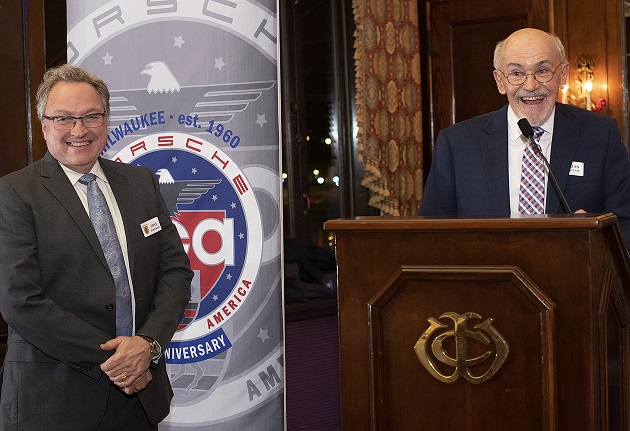 Past president Tony Quebbemann, left, and 2020 region president Alan Wagner. The large vertical banner behind Tony was presented to the region by PCA Zone 13 rep Jack Stephensen.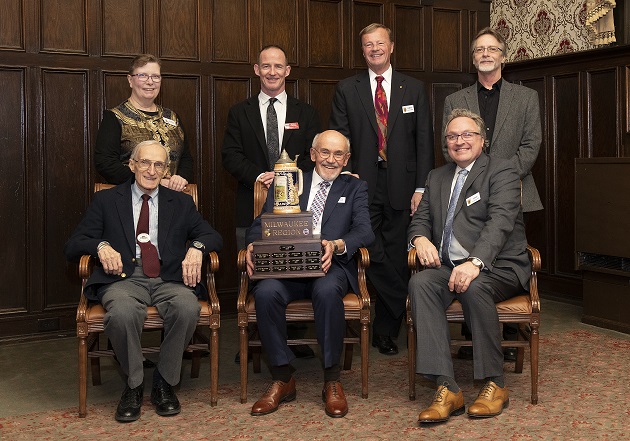 Region royalty -- Former region presidents in attendance. Top row, left to right: Donna Daufenbach,George Kowalski, Gregg Eisenhardt and Rick Zinda; bottom row, Hal Zimdars, founding member, left, Al Wagner and Tony Quebbemann.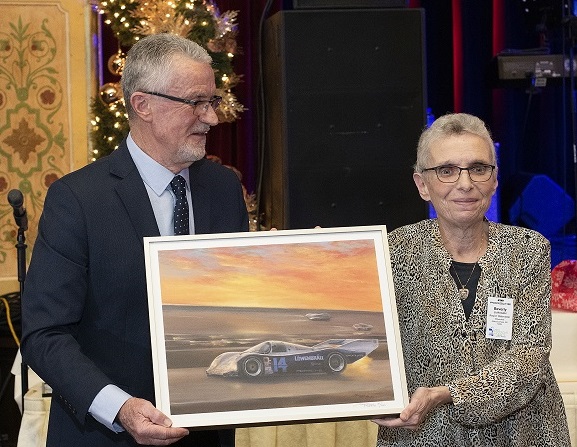 Tim White, left, region board member 2018-2019, presented a special award to Bev Jurkowski, long-time region newsletter editor and webmaster.
Posted on Thursday, January 9, 2020 7:39 AM, updated on Thursday, January 9, 2020 8:34 AM
Return to List of Journal Articles