35-year member reflects on PCA over the years
A blast from the past
Randy Hallenbeck is observing 35 years as a PCA member in May. Here are his views of PCA.
"Milwaukee Region then, and now...wow, what changes. I joined in 1986 with a Grand Prix White 1980 911SC Coupe with an interesting history behind it...but that's another story for another day.
"Back in the '80s/'90s, club meetings were held at the Bavarian Inn, Glendale. Club members always gathered after monthly meetings for a couple of barley-pops and fraternal socializing (it's not just the cars, it's the people). Most P cars were still air cooled. Many members did actually use their Porsche to 'race on Sunday, work on Monday.' Probably half the membership did some or much of their own Porsche maintenance. As time marched on, membership enjoyed a steady, sustained increase and there seemed to be a never-ending turnstile of talented, energetic members volunteering to chair events. Ensuring a diverse cornucopia of events meant something for everyone. Membership, the treasury and club participation flourished due to an over-achieving core group who acted as a magnet to partly inactive members.
"Fast forward to today. Porsches are blistering fast, agile and more dependable than ever. National and regional membership, treasuries and activities have increased,.yet it still all boils down to the cars and the people. The marque never ceases to impress. Technological advancement has been endless, but it came with a price: the cars have doubled in weight, h.p. and cost from the '80s. Some enthusiast drivers feel less connected. Hark back to 1995, which marked a new era when 993 suspension evolved to a point whereby the car was able to hide and cover many driver errors. Alas, death of the widow-maker, pendulum-reared cars of the past, Driver aids are as abundant as oxygen today. Traditional manual transmissions are struggling to remain relevant against faster lap-time PDK. There's no denying that each generation Porsche is safer, faster and easier to drive fast. But driver-required inputs are less and less, almost as if the car has usurped the 'control' historically afforded the driver. By definition, this is moving us closer to self-driving..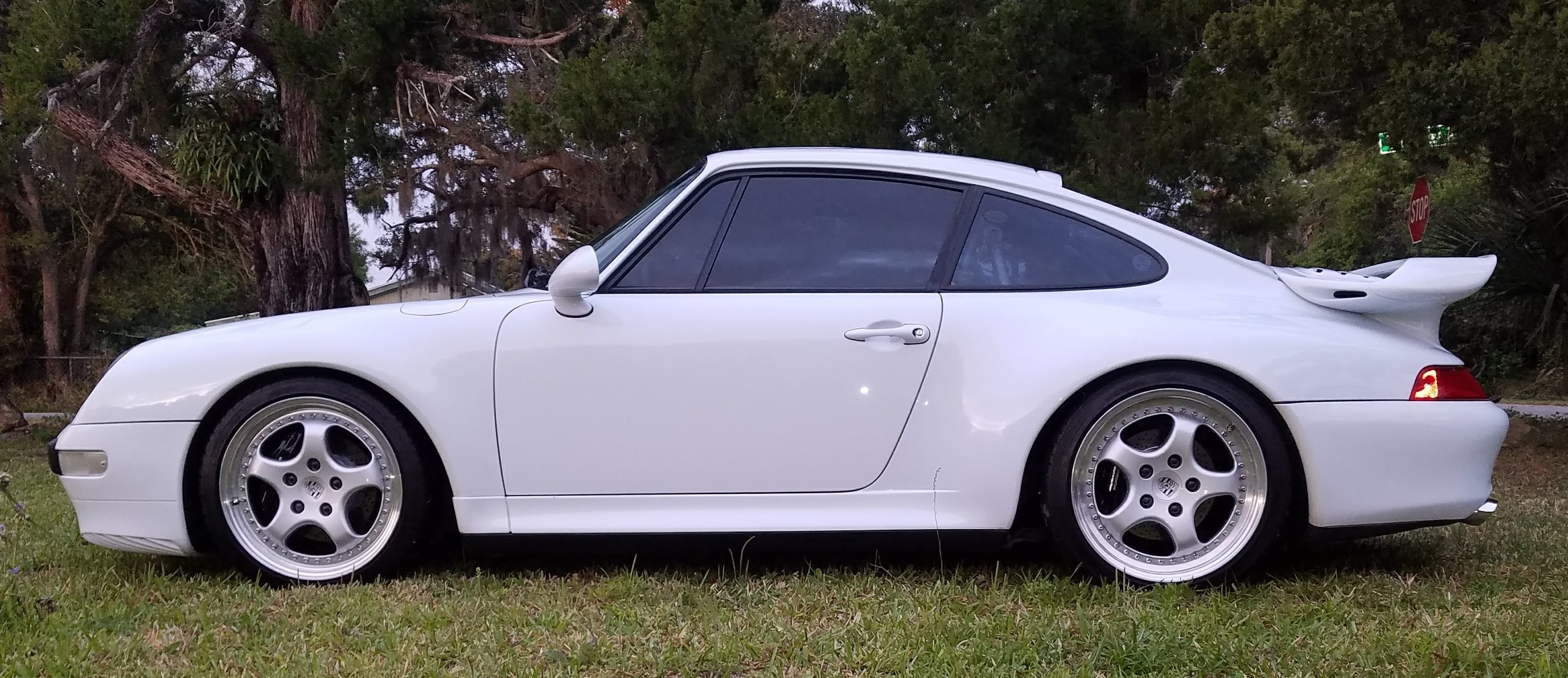 "Porsche's new synthetic fuel appears to offer genuine hope for those who love internal combustion engines (ICE), perhaps ensuring their existence for years to come. I would love for it to be successful. And the Ecars evolution is Porsche-fast, unarguably pointing to where the brand's future success lies.
"Yet somehow I can't help but think that today's I.C.E. cars (compared to '70s-'80s cars) have served to disconnect the driver from the car. The feeling of being one with the car is vanishing. Back in about 2000 the region hired pro driver Randy Pobst to serve as an in-car Blackhawk Farms DE instructor, both as driver and passenger in about 20 members' cars (vintage late '60s –'90s Porsches). At the end of the day, I asked Randy which car he enjoyed the most. Not a 911 turbo, 944 turbo, Boxster S, 930 or modified 914. Paraphrasing Randy, "hands down, the early '70s stock 911 owned by Jim Wilke. That satisfying, yet intangible, connection you feel with the car is wonderful. Somehow the combination of lightweight, responsive, and nimble are the magic formula for fun, spirited driving."
"For many PCAers of decades past, working on your own car served to strengthen the bond between car and owner. It also served to create strong bonds between members, who helped each other on projects. Today there aren't a lot of things your average owner can service themselves....perhaps that's a good thing, as many of today's cars have much longer service levels. Then compound the fact that far fewer qualified technicians exist who are capable of servicing the older cars.
"But perhaps the largest unknown quantity impacting the brand's future is technology. As self-driving car technology advances, I can't help but think that in the very near future self-driving cars will be considered much safer bets for auto insurers than humans driving (with a cell phone in one hand, a cappuccino in the other, while reading a newspaper on their lap). If so, insurance actuaries will be left with no choice but to instigate gigantic premiums for anybody insisting on driving themself. I hope I'm wrong, The loss of driving freedom would be a major paradigm shift to the 120-year-old American auto-driving way of life.
"One thing's for sure: Joining PCA Milwaukee Region and getting involved has provided me with some of the best, most-enduring memories of my life. You see, it really isn't just the cars...it's the people. Oh, and save the stick shifts."
Way back when I was PCA Milw Reg Pres I became friends with Michiana Region Pres Ken Geljack. Since the 1980s we've remained close friends. In fact, Ken is building a winter house in Florida just three lots down from me. We attend the Amelia Island Werks event annually and went to Porsche AG in 2018 and picked up Ken's 911GT3 touring from the factory. We put 1,500 miles on it driving to Paris, Black Forest and Nurburgring. Left to right: Randy Hallenbeck, my lady Malinda and, friend and long-time Michiana member Ken Geljack.
Posted on Thursday, April 29, 2021 9:50 AM, updated on Thursday, April 29, 2021 10:09 AM
Return to List of Journal Articles