What the PCA has meant to us
By Tim Rehbein and Judy Weltsch
Editor's note: Tim and Judy are frequent participants in Milwaukee region events, particularly the driving tours.
In 1977, I bought a new Porsche 924. I was looking forward to acknowledging other Porsches on the road and perhaps even joining the PCA. I was disillusioned to find that my friendly waves were not only ignored, but sometimes returned with crude hand gestures.
So I abandoned thoughts of joining the PCA, whose members I assumed to be rude and a bit too snobby for me. Fast forward to 2014, Judy noticed an article in the paper highlighting a PCA concours in Long Grove, Ill, a short drive for us. Judy wanted to go, but I was very apprehensive based on past experiences. We decided to go, figuring we could simply leave if disappointed.
Thinking I would park in a public lot, we drove by the concours entrance to check it out, when someone ran out and directed us to pull in and told us where to park. We thought this is starting to look completely different than expected. I just shut off the ignition when someone came running up to the car asking all sorts of questions about the 924 and asking if he could look at the interior and then the engine.
As opposed to being treated like a Porsche reject, here was someone who was putting the car on a pedestal. This is how we met Pat Yanahan, one of the leading concours experts in the country. We started changing our minds about the PCA and decided to attend some functions to further test the waters.
We met a lot of very friendly, down to earth people, completely different from the snobs I expected them to be. We joined the club and went to one each of all the various activities, deciding we enjoyed concours, social activities, tech sessions, driving tours and TSD rallyes the best.
We brought the 924 on a tour to Galena, where the car was welcomed as the oldest car there -- and also the slowest. Porsches were passing us left and right on those twisty turning roads and we found ourselves being the last car to arrive at each destination; even the sweep car passed us.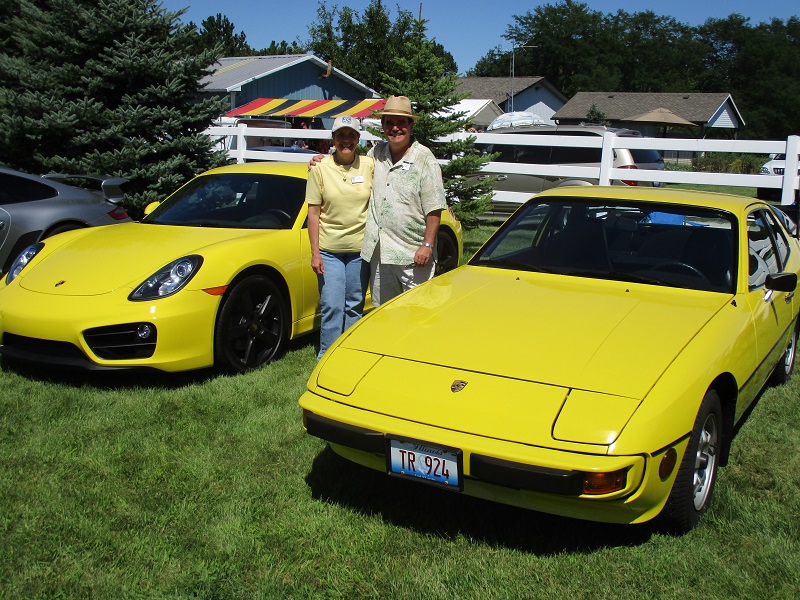 We decided that taking a 40-year-old car on any more trips was not a good idea. With input from various new PCA friends we decided to buy a 2016 Cayman, in Racing Yellow,, the same color as the 924, which I naturally also kept. When much newer, the 924 visited most states in the union and three provinces of Canada, much of it hauling all of our camping stuff in its roomy hatchback.
Not to be outdone by the 924, the Cayman has been stretching its legs from the beginning: a 1,200 mile trip to Minnesota and the UP of Michigan, a 2,200 mile driving tour to North Carolina, then a 2,500 mile trip to attend the Canadian Grand Prix and tour Quebec, with many shorter driving tours and various events in between.
Our purchase of the Cayman really kick started our involvement in the club, allowing us to do many things we either couldn't or didn't feel comfortable doing in the 924. For example, we attended the 2018 Porsche Parade at Lake of the Ozarks and came in fourth in our class in the national concours.
The Cayman has helped us to meet new friends within the club and bolster existing relationships. It's not just the social aspect that the relationships provide' we have always been amazed at the amount of knowledge that many of the members have and how willing they are to share it and even get involved in working on the cars.
With help from Pat Yanahan and Michael Grove of the Chicago Region, I put a lot of work into getting the 924 into concours shape. At first I was always last place in my class, but eventually worked myself up to middle of the class. So the 924 is now relegated to shows and closer activities.
We are now very active in the Chicago and Milwaukee regions and have made very good friends in each. But these friendships do not usually form by themselves, you have to get involved in different activities, introduce yourselves to as many people as possible and work at forming friendships and relationships. In a few years, we have totally changed our minds about the club and now call many of its members our closest friends, whom we see not only at PCA events but socially also.
Our only regret is that we didn't join the club a long time ago.
Photo caption: Above top, Tim and Judy participated in a waterfalls tour in 2017 with the Central Wisconsin region. Center: The Racing Yellow Porsches. Below: The Cayman is parked on the streets of Quebec during the Milwaukee region's tour in 2018.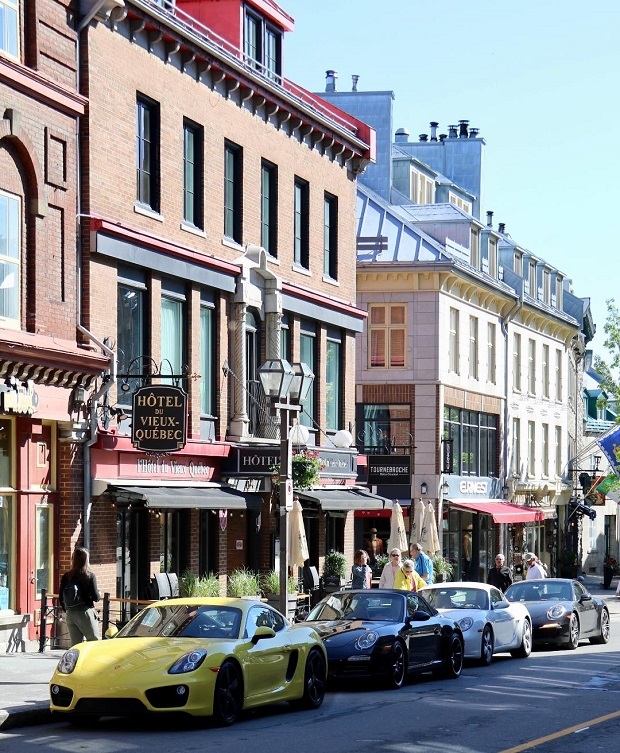 Posted on Thursday, April 29, 2021 10:03 AM, updated on Thursday, April 29, 2021 5:50 PM
Return to List of Journal Articles