Registration is closed for Porsches at the Corners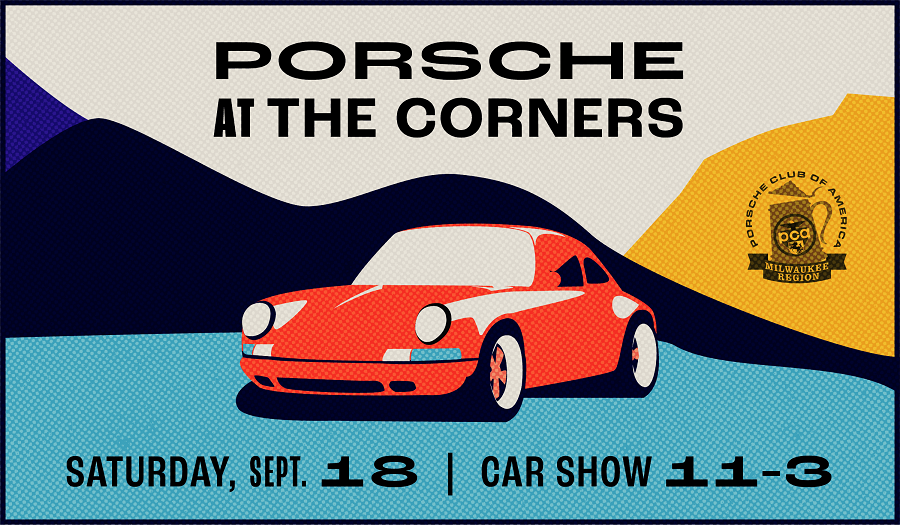 Join us Sept. 18 for PORSCHES AT THE CORNERS, a Cool Cars in Cool Places event where we will surround the Market Square with Porsches. Town Centers were built just for events like this. Have some coffee, enjoy some great food, do a little shopping or just hang out and tell great stories about our cars to casual admirers.
The Corners is excited to host this public car show but ask that the cars be in place by 11 a.m. and stay until 3 p.m. to maximize the value of this event for their visitors. Please arrive before 10:30 a.m. to allow time to register and park and bring a chair so you can relax for a few hours.
All visitors will have the opportunity to vote for their favorite Porsche and select three People's Choice Award winners. This will be a friendly competition, so leave those extra Q-tips at home.
Location: 20111 W Bluemound Rd, Brookfield.
This car show is open to the public so we are asking members to arrive no later than 10:30 a.m. to register and park. We are also asking members to stay until 3 p.m.
There will be People's Choice voting and prizes will be awarded. This is a friendly competition. No judging. No extra Q-tips are needed to prepare your car for the show.
We're planning have the roads closed off for us to park and mingle, Porsche clips running on the big-screen, and lunch: Hot buffet-style picnic catered from Sendiks to include BBQ Pork, BBQ Chicken, Kaiser rolls, Roasted Red Potatoes, Sundried Tortellini Pasta Salad and Wicked Brownies.
Our hosts are region members Philippe and Malory Guyony who own the French pastry shoppe "Le Macaron" in the shopping center.
Registration closed Sept. 10. Sorry, we can no longer accept new registrations.
Questions? Contact Rena at: rena.somersan@newportgroup.com
Posted on Saturday, September 11, 2021 12:00 AM, updated on Sunday, September 12, 2021 9:46 AM
Return to List of Journal Articles