New track at Porsche Experience Center in Atlanta
By Bradley Brownell, Flat-Sixes.com
Dec. 23, 2021 -- Atlanta — okay technically Hapeville — is getting a new track. Porsche recently broke ground on a massive expansion to its Experience Center in Georgia. The existing track and skid pad and off-road route and whatnot will stay in place, but the track will be expanded much further, to allow more people to experience the limits of a Porsche in safe and fun ways! This will effectively double the length of track on site, adding new features and corners inspired by some of the best racetracks in the world.
Not only will the expansion add miles of new track for customers to use, but the new 33-acre expansion will add a new Porsche Classic Factory Restoration facility, and a new parking deck to make up for the added capacity. The recently opened Porsche Service Center South Atlanta is already built and operational on the grounds of this new expansion. It's cool that you'll be able to take your vintage Porsche in for restoration work at the new facility. And while you're there you could test a new one out on track.
"The physical connection a driver enjoys with our sports cars is core to the Porsche brand, which is why we're expanding this option even as we and our dealers invest in new digital touchpoints for customers. The two worlds – digital and real – complement each other," said Kjell Gruner, president and CEO of PCNA. "Whether a Porsche owner or not, the Experience Centers in Atlanta and Los Angeles serve as destinations where anyone can experience the thrill of a Porsche sports car and learn more about the brand. The Atlanta center has already hosted more than 6,000 visitors a month in normal times, and we hope the track expansion excites many more to come engage with Porsche."
So what does the new track include? Elements of the 1.3-mile expansion include a Laguna Seca corkscrew-esque expansion, a Nurburgring-Nordschleife style Karussel, and a section inspired by the Tail of the Dragon in the Smoky Mountains. You'll get a pretty good idea of what your new Porsche is capable of by doing a few laps around this course. I can already tell you that without even having seen it. There's also a new low-friction wet circle, a simulated ice hill to demonstrate traction control, and a large 135×555-foot patch of asphalt for handling showcases.
The two tracks will operate independently on most days, but it's possible to link the two for an impressive 2.9-mile full course for special events. Porsche expects the track to be finished and operational by the first quarter of 2023. PEC ATL has been open since 2015 and serves as the brand's North American headquarters.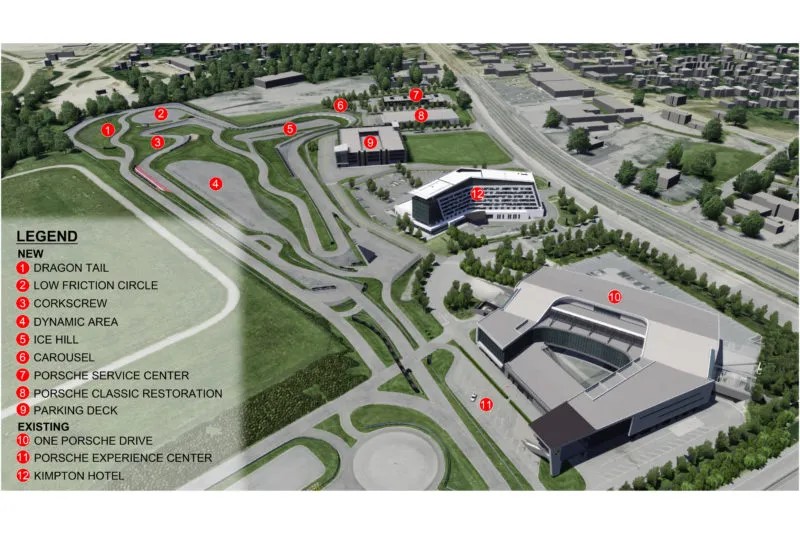 Posted on Thursday, December 30, 2021 9:55 AM
Return to List of Journal Articles