Why is our region Web site named Porsche Park?
Why is our region Web site named Porschepark.org? Is Steinlifters the name of our region? Thanks for asking. Let me attempt to clarify what all of these names mean.
First, the Web site. After Al Gore invented the Internet, the Milwaukee Region got on board and had a site designed by a local advertising agency, compliments of a member who worked there at the time. This was also the time when html was more foreign than any foreign language so Web site development and maintenance was a highly skilled task. We relied on this agency's expertise.
Later, when the agency no longer had a member on staff and site updating and maintenance was in peril, region member Fred Schwierske took over as webmaster, inheriting the Web site as it was originally configured, Fred did a heck of a job keeping the site's information updated. The site underwent its current re-design in 2006 under the region's third webmaster.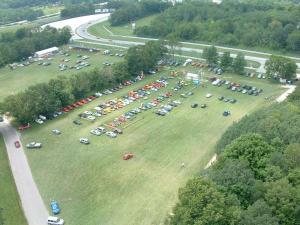 The site was named after the special parking corral at Road America for Porsches. Whenever anyone driving a Porsche visits Road America as a spectator, they are welcome to park with other Porsches in the Porsche Park corral. They need not be a member of PCA. However, the Milwaukee Region has taken the lead on updating and maintaining Porsche Park so that it is a pleasing place to gather at Road America. That name was a fitting and original name for our region's Web site. Throughout PCA, regions use various naming conventions for their sites. Some are generic; others are more colorful like ours.

Steinlifters. Steinlifters is the name of the region's newsletter, which is now online. It was available in print format since the 1960s. Contrary to popular belief, it is not the name of the region. Our region name is simply Milwaukee Region.
Milwaukee Region. This is the name of our region which has members from a very wide circle around Milwaukee. We have members from as far away as Iowa, northern Wisconsin (Niagara), central Wisconsin (Madison) and northeast Wisconsin (Manitowoc). The majority of members are in the six county area of Waukesha, Milwaukee, Racine, Kenosha, Ozaukee and Washington.
Posted on Saturday, January 24, 2009 11:31 AM, updated on Monday, February 2, 2009 2:48 PM
Return to List of Journal Articles