Factory delivery part II
This is the continuation of Mike Wiviott's factory delivery experience. The story begins in the July 2023 Steinlifters.
Sometime around the holiday season I started working with Joey Bolton-Rogers trying to see if we could find a mutually acceptable day to get a delivery of the newly built GT4. This is not an easy process as there are only so many delivery slots at the facility. Limiting factors such as other events at the Porsche Experience Center in Leipzig play into this along with the actual number of delivery garages on the premises. I believe that there were six or possibly seven delivery bays. A delivery to Stuttgart was also an option but not as nice of one compared to Leipzig. They are basically individual garages where your car is set up and final prep work is completed along with an area to sit and chat with your delivery consultant. More on this later.
Rob and I kept in touch and the holidays came and went.
In January emails began to fly a little more frequently as questions came up and other dates were proposed and nixed. Who really wants to take delivery of a new GT car in February in Germany where they do actually get snow? I also started to receive a lot of emails, calls and texts from friends and family offering to go with me. Amazing how that happens. Several of them were even from people that did not know how to drive manual. Having traveled overseas many times, I have a solid group of travel companions. Emails and consulting with others (friends, family, coworkers and even my boss) continued for a few more weeks. Finally, I at least had an official date. April 13, 2023, at 8:30 a.m. at the Porsche Factory in Leipzig.
Now back to one of my major character flaws: procrastination. It was time to actually sit down and start looking at flights and what I wanted to do. I had a Passport, TSA Global Entry and a credit card. I was off and running. Joey provided some important documentation about Insurance, a delivery travel guide (a useful document for ideas – but their suggested programs are a little costly) and even a flight discount program for Delta Airlines. I look at overseas travel as a necessary evil and I do not need to fly first class or business class. I will spare you the main details of getting from point a to point b. But a few lessons were learned. Expedia is not a bad site to work with, but common sense is a good thing to have. Also, as nice as the ad and the website spun it, trying to fly Virgin Atlantic in the U.S. is not worth the effort. Additionally, despite knowing that the lowest cost flights to Europe are booked on Wednesdays you still should now wait too long. If it is a good deal take it. If you can go early, flying from Chicago to Paris as your anchor round trip is a good deal. If you are planning more time after the delivery, then I strongly encourage you fly directly on the way out to Frankfurt and save the Paris leg for the way back. If anyone is really interested in the fine details of the travel please reach out to me. I will share that on my fourth flight in 17 hours from Frankfurt to Leipzig, the FAA would never have allowed what went on. Ever. A connecting flight was delayed and 15 of us were going to miss the flight as it had already left the terminal when we arrived. They asked that all 15 of us disembark the plane before anyone else did. It actually worked out that we could do that, and they then loaded us into a Mercedes sprinter van. That van literally drove us out on the tarmac to where the plane was being held. They had a portable stairway for us, and we loaded while the jets were still spinning right there on the tarmac. We were airborne in less than 5 minutes but without our luggage (it caught up to me at the hotel later in the evening).
My last piece of advice is to fly back through Paris if you have the option. The primary reasons are pretty good. You can easily get from just about anywhere in Europe via train (I really wanted to take the high-speed train, but it did not work for the timing) or puddle-hopper flights pretty reasonably ($100 to $150). You also can stay at hotels by de Gaulle Airport. You would be able to take the train into Paris for about $20 round trip and save a fortune on hotels. And finally, there are direct flights leaving from Paris to Chicago that have great travel times. I took a 1 p.m. flight home and landed in Chicago at 3 p.m. It allowed me to finally get a full night's sleep and take my time getting ready to return home.
There was also the return of one of my major points of procrastination. It was now time to pay the piper. So, while all of this was going on I was also working on the financial aspects of this life-altering endeavor. I will skip the details but know this: Porsche likes to get paid. They have some rules and time frames that have to be met ahead of any delivery and even more when it is European delivery. I would like to call out a special thank you to Lora Willms at Rate.com. She was extremely helpful as always in helping me get all my ducks in a row. Her services are spectacular, and I have used her through several refis and home equity events. Let's just say she made it possible for me to write a large personal check to Porsche Milwaukee North to keep this whole thing moving forward. If anyone ever needs her just let me know and I will make sure to do an introduction.
Now on to the remainder of the delivery process. I said earlier that I did not believe ATL was worth the $800 cost. This may have been harsh. I selected the Leipzig experience for $0. With a GT4RS, there was a $1,000 to $1,500 cost or more. Not that I cannot say officially if this is because of some other factors or not but I was in for the $0 cost option. I did confirm in my paperwork in the fine details that if you had to cancel there could be some pretty hefty cancellation fees.
The $0 cost option in April of this year included the following base options not including the cost of getting to Leipzig. Getting from the airport to the hotel was my next hurdle. Up front I do not speak German. My friends at Apple were quite helpful in navigating the train to get from the airport to the city and I met some really nice people as I was trying to buy tickets. Uber is also a viable alternative. Porsche provided a night at the Steigenberger Icon Grandhotel Handelshof. Additional nights could be booked at a competitive rate. I can safely say this was a beautiful high-end hotel with spacious rooms and lots of amenities centrally located in old town Leipzig. I was able to spend the remainder of the day touring the city and enjoying the sights, sounds, foods and libations. This was a first-class operation and a good start to a once-in-a-lifetime trip with opportunities and experiences.
Porsche arranged breakfast if I wanted as well as securing and paying for a ride from the hotel out to the Porsche Experience Center in Leipzig, conveniently located by the same airport I arrived at the day prior. Sidenote here: I was a little surprised that while I was waiting outside of the hotel for my ride the valet/doorman assured me that the black Ferrari 812 superfast was not my ride. He also assured me that the brand new 911 Targa in chalk with a red leather interior was not my ride either. A Mercedes 300 taxi arrived and took me away. Many photos of Leipzig as well as these two cars will be posted at some point. I have several thousand photos to work with and the club is starting to work with Flickr.
An entertaining taxi ride started the day, and I was able to see some of the other parts of Leipzig that I did not see as I did not have a car. Leipzig is in the Saxony region, and it is a very important economic region. It is the eighth largest city in Germany and the second most populous city in the former East Germany. It has been around since the time of the Holy Roman empire so I soaked in the sights. The area has a very rich and sadly sometimes very dark history given its location. I do know that J.S. Bach and Felix Mendelssohn lived there at points in time.
The drive is about 25 minutes and as you draw close to the factory center you start to see signs of Porsche taking over the area. There is a lot of space here including a PEC, track, offroad track, farmland and a factory. There is even a dealer in the area for service should something break. It is an industrial complex with a party area.
From the first sign you see, you are in for an experience like no other. As you come through the gates you start to take in the first sight: the main building. As a fan of architecture (and Lego) this is impressive. They say the main building is shaped like a solitaire diamond. It is multifaceted with four (technically five) stories tall. The ground floor, level zero, is where you check in. It also houses some of the offices, a decently sized Porsche store, several lounges, a meeting room for staging for tours as well as taking in the first step of the facility. Also located on this floor are the garages for driving experience as well as the delivery center. Walking up to and into the facility you are greeted by some delivered cars, race cars and special cars. In my case I spent several minutes with one of the newer Porsche 935s and a cup car. Looking around as I registered and received my credentials, I took note of the amazing amount of detail in the facility and its first-class appearance. The staff was fantastic, and the facilities were special. Central to all of this is that guests are number one. Also, the central part of the building is a car-sized elevator that can move vehicles up to the other floors as needed. Level 1, Carrera Café, so named by the car, is centrally located in the middle. During my visit a yellow 2.7RS was there; not a cheap date. As a delivery guest my wrist band provided me with all amenities such as snacks and beverages. I opted for a fresh cookie and a small juice as I had a long day ahead and I am not usually a breakfast person (the hotel had a serious spread that I passed on). There is also a 360-degree terrace that allows you to look around. It overlooks the main track, the offroad track in the distance (along with the horses for sure (and maybe some cattle) and the apiaries as they harvest honey and bees wax for sale). At this point I was introduced to my delivery consultant. We chatted for a little while about my experience to this point and a little bit about the car I was going to be taking delivery of. A little while was just that because it was track time. I was given the option to spend my time on the main track or split off some of it to the off-road section. Pretty sure everyone knows the answer. After all, I was taking delivery of a GT4.
Let's start with the track itself which even the website says it is impossible to describe. But I am going to do my best. A maximum 3.7-km track that is dedicated to one thing: the thrill of driving! The main Dynamic circuit was to be my course of the day. They do have the ability to adjust and add or subtract pieces and as they see fit and based on what may be going on using other sections that can be independent. There are 10 possible sections to work with.
Parts of the track are 6.5m-wide and there are sections that can be watered down. Now for the good and the bad news depending on your viewpoints. It is an FIS-certified circuit designed by Herman Tilke. The track is a mix of homage from other tracks including the Suzuka S (Sazuka, Japan) and the Parabolica (Monza). More on this one later. There is also an accurate copy of the Karussell (Carousel), the famous banked curve from the Nordschleife (North Loop of the Nurburgring). Sadly, that was not going to be an option for my time on track. Other famous curves are the corkscrew (Laguna Seca, California), the Bus Stop (Monaco – more on that later), Lesmos', Sunset Bend, Victoria Turn and the Loews Hairpin (more on that later). I was to be contained in controlled environment of the dynamic straight, Parabolica, Mobil 1 S, the Bus Stop and Curve di Lesmo.
The facility is also like other PECs in that there are paid entrants on track as well as "racing taxi" experiences. My delivery consultant was also a racer who was well known in some European communities. He was not looking to make a lifetime career of it but he was confident and well versed in the course and how to drive it. He had been there for many of its 20 years. We would be doing lead follow. He would be in a relatively new but still unbroken in GT3 at about 70% of its capabilities and me in a 2023 GT4 with a PDK. Basically, for the purposes of the day, an automatic. With all the dynamic safety on and without some of the advanced features on until round 2. We were off and running with his radio communications coming through the stereo in the car. Round 1 was about 15 laps and I have to say I was quite hesitant as I needed a few laps to get comfortable with the PDK as well as going all the way up to the 8k redline. Parabolica is a far cry from the Carrousel at Road America, especially in someone else's $125k plus car. Also, the Bus Stop takes a little getting used to for the same reason. The GT3 was incredibly potent to chase and satisfying to stay up with when I got it right. Round 1 done and now time to come in and chat for a while in the first floor lounge. A bottle of water later and back at it again for 15 to 20 more laps.
Sadly, as I started to get comfortable time was up for this part of the experience. Plus, they have scheduled other testing on the track. A fantastic experience. I should note that I do not feel that I missed out on anything by not taking the offroad experience, especially since I do not own an SUV, but is did look at it from the observation deck later in the day and it is quite a lot for 6km. There is a 100m long water ditch and an extreme ramp that goes to 80 degrees of incline. I will digress with a comparison: Monza has banking to 80 degrees at its steepest point on the old track in a 320-degree radius. More on Monza later (I promise). The offroad track has 15 total modules (Gravel, Sand, Log course simulation, Steep ascent, Wading trough, Rocky climb, woodland section, slanting section, Ramp crossing, Bunker crossing, Field track, Hilly section with tank bridge, muddy track, corduroy road (Obstacles) and the aforementioned Water Ditch). Anyone taking delivery of an SUV should take advantage of it. I have been talking to someone who is going to get delivery of one of the new offroad 911s in the fall and I will be suggesting this (just not in his nice new collector's item). These courses are competitively priced with other PEC centers. My special experience so far was worth a percentage of the one-day experience (1250 euro with a 718 GT4 rental since I could not use my own for an additional 1000 euro). Based on this, the $800 ATL experience may no longer be harsh. But remember I am so far into this for $0 and a check mark on the order sheet.
After my track time I was able to walk the facility and soak in other parts of the building. And of course, get another cookie and some water. Must stay hydrated. I hit up level 2 which has the forum, a large conference center, the board room, and the club room. These facilities can be rented and used for private events. All are spectacular and the board room has a killer view of the surrounding area. I also spent a little time in the simulators located on the first floor. Personal note: Scott (in ATL) and I did them about 18 months ago and I am sure he has been back several times since. In ATL you book time in 30-minute increments and can compete against others in a special room with a central control to guide you. From that experience I can tell you I cannot drive a 917/30 or a 935 Moby Dick on Road America. The fact that these cars were ever raced there in anger is amazing in itself. Even with over 1000-plus laps as a driver and an instructor there, I struggled to stay on track in a GT4 ClubSport. I hope they update the simulators to have the new surface accounted for. In Leipzig there was no cost for simulator time.
Next up it was time for me to meet some of the others who had been out having various experiences and swap stories and have some fun. Met a father and son from California who were taking delivery of a chalk GT3 Touring with the very similar red interior that I had seen outside the hotel earlier that day. We would be together for the better part of the day.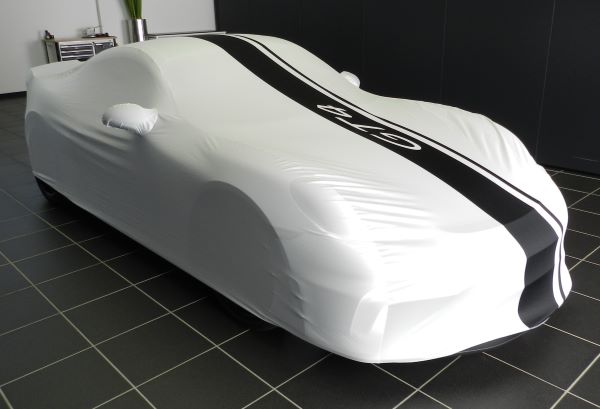 After a little more discussion, it was time for the Main Event. We were led to the staging room off the first floor for some final details about what was going to happen next. Each of us was lead down the hallway past some of the existing garages with covered cars in them. Each had a unique silhouette, and the SUVs were quite obvious. The 911 was also obvious. Less obvious was a new 718 Spyder and then my GT4. It was a little more obvious given the fact that it was covered in a factory-issued indoor cover that had GT4 written on it from the roofline down the front window and over the hood. It was time for the grand unveilings. I started to hear clapping and cheering from the other bays. While I was on my own, my delivery agent documented this part. In my mind I was unwrapping a piece of rolling art. My piece of rolling art. We took pictures and shared some of the basic history of the GT4.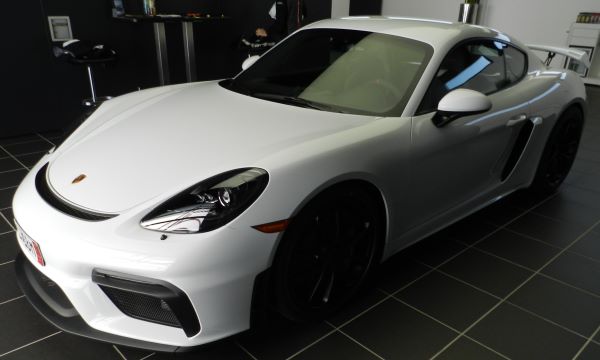 Then it was time for the pretty massive amount of paperwork. The predelivery inspection and a review of some issues that were identified in the prep session earlier that morning. There was an issue with the exterior driver's side window molding. A new one was in route from the local dealership and would be installed before I left for the day. There was also an issue with one of the keys. Understand that these are quite a costly key and not something I wanted to mess around with or be without a backup in a foreign country. Inside each electronic fob is still an actual door key for the driver's side door. Under the handle you can still find an actual lock. One of the keys was damaged and would not lock into the fob. A new key was ordered but would not be ready that day. It was decided that I would get the new one when the car was delivered to the shipping agent in Stuttgart.
In the meantime, the spare fob was put in a zip lock to make sure the key did not get lost. Better safe than sorry. We proceeded to then spend the better part of the next 45 minutes going over the car in fine details and getting it fully configured for not only myself but my iPhone as it would be the primary source of GPS for the rest of the journey. As we were digging around in the rear trunk, we found a left-over piece of something. It took a few minutes to identify it. Turned out it was the damaged window trim as the prep crew wanted to make sure it was accounted for and to show why the replacement was ordered. After orientation who were taking delivery had a few minutes to chat and look over each other's builds. All were pleased, and all issues were identified.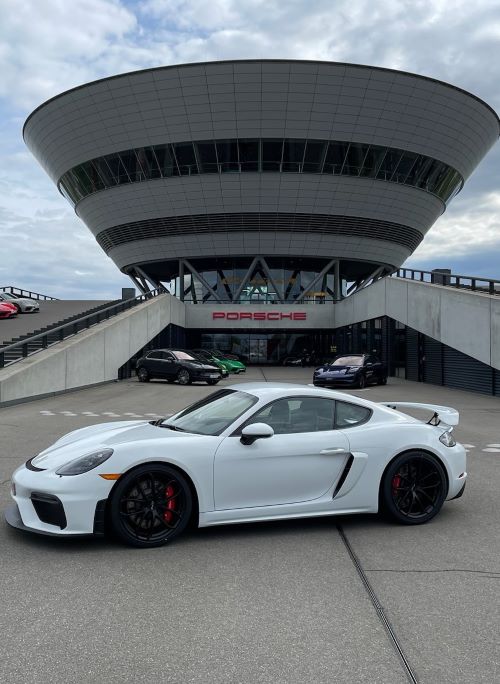 The whole experience was topflight. We headed back to the staging area for a little more review time. During this time frame I received the required safety equipment as mandated by German law. This consisted of the reflective safety vest, a first-aid kit and a reflective safety triangle in a case. These would also cause some issues later on. My soft side travel bag was loaded into the frunk and one of the keys was in my possession.
We were then off to Level 3 of the facility which is kind of a misnomer here as 3 and 4 share a central semi-circular staircase from one to the other. And the facility gets wider, larger, and taller as you go up. It was time for lunch. But like everything else that Porsche does for these experiences I was in for a special treat. Porsche has focused on making these facilities to include the total gastro experience also. From hiring the best chefs and sourcing the finest of everything they do it right. This was to be a Michelin-level meal. It was time for the third floor that includes the Porsche auditorium, restaurant, and a snack area. The floor offers a 360-degree view of the entire complex.
Despite my lack of appropriate attire (and to be honest everyone else's also) that would be respectful of a five-star event, we were treated to a multi-course meal. We started with a specially curated sparkling beverage and a selection of freshly made breads with locally sourced specialty butters. It was followed up by a nice salad paired with a wide variety of wine and beverage selections. And then off to the main course. Several options were available, but I chose to have the medallions of beef with a unique reduction and a medley of fresh vegetables. My taste buds were happy. The meal ended with a selection of mousse for dessert. I was quite happy. We all had a great time debriefing and sharing stories.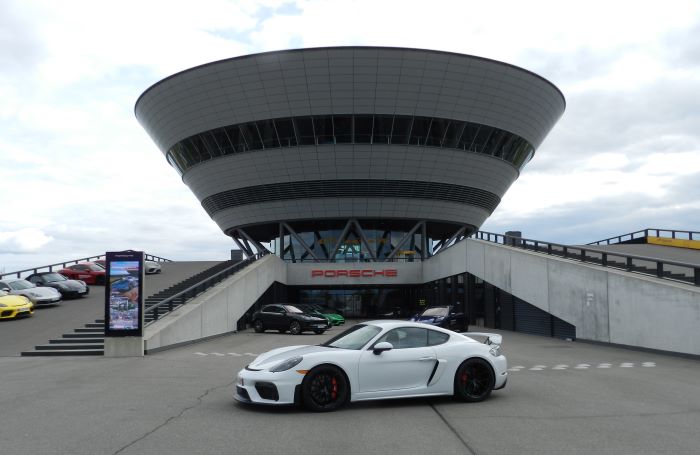 After lunch we were off to the fourth floor with the historic car gallery. I will say it is more like a carefully curated collection of vehicles that rotate in and out of the museum in Stuttgart and the legendary non-public vault. Themes are constantly changing, and it is a great complement to any events being held at the facility. The upper architecture of the building plays into making the space more open and inviting. From the moment I reached the top of the stairs, I was greeted by what could only be described as a brand new vintage Porsche tractor. I knew I was in for a treat. During my visit there was an automobile history of the 911. It consisted of at least one vehicle from each era of its legendary run. Also present was a collection of historic races including a 917 Spyder, 935, a GT1 and the legendary 917 #20 in Gulf livery (made famous by Steve McQueen in the movie LeMans and one of my all-time favorite Porsches). Also present was a Porsche foosball table, a few simulators and a nice Scalextric track of Porsche vehicles.
The display was enhanced by the presence of the most famous vehicle to roll out of the Leipzig facility. The legendary Carrera GT was built there and remembered with showings of a bright yellow finished product. A rolling chassis and a static display of the mighty V-10 and transmission were also on hand. It was quite telling to see how small the rolling chassis was compared to the final car. Truly a nice way to finish up the tour of the main facility. As mentioned above, photos are being worked on.
The day was just half over and many special experiences and a few more yet to come.
We were told that our tour of the Leipzig factory was up next. Due to it being a holiday window in Germany, tours were limited. Ours was all set and a few other guests would be joining us. Tours are conducted in multiple languages but ours was in English. This factory is where the Panamera and the Macan make their way through the production process. This is a coordinated and well-timed process as parts arrive just in time to hit their marks just as the chassis arrives. Rule number one on the tour: always give way to the robots and the crew roaming around the facility. The cars are the stars, and we are just guests.
We were also told that no photos were allowed inside the building and our phones were to be locked up. New and unique products roll along the line with production cars. The purpose of this is to test and enhance procedures as the line never stops. 45 to 60 minutes later we watched finished products roll off the line and head out to the test track for a baptism by fire as they called it. After that it is ready to officially be called a Porsche. As I mentioned before this facility has been evolving for just over 20 years. And they have plenty of room to grow and improve. It was time to go be reunited with our possessions and our cars.
The next stop was the first-floor gift shop. They really know how to get to you with a well-stocked facility of all things Porsche including jars of honey sourced right on the grounds. A 10% discount on anything we wanted for the duration of our visit enticed us. Several of my fellow guests were in for the long haul here. I was lower key in that I picked up a track map outline to put in my rear side window. I was also limited by the amount of space I had in the car. I briefly considered buying the video system that the car was pre-wired for. Sadly, it take 2 hours of dealer setup and it has to be done in the destination country. Each of us was presented with a 20th anniversary limited edition ceramic plate. I had the outline of the PEC emblazoned on it. It is the right size to set one's keys on it. A unique memento of the experience. It would also become a source of amusement during the remainder of the trip (as I have said before, more on that later). I was also given free reign of the onsite literature to add to my collection. I added a few 718 dedicated pieces of literature and sales documentation. And a few nice postcards that I would not actually be able to send but look nice at my place.
We all had full run of the facility for the remainder of the afternoon. I used it to explore and take many pictures. I also went to claim my car. It was going to be delayed for a while since they had neglected to fill it with gas. Once they found someone with the key, they would fix that. A nice gift to say the least given the $8.25 cost per gallon average (sold in liters at over $2 apiece and 3.8 liters to the gallon).
Once the car was firmly in my possession, I moved it around the facility for some spectacular pictures with the PEC in the background and watched as cars came and went from the track. And the rest of my fellow delivery guests were heading out. I went to say goodbye to the father/son team from Cali. They were all set to leave, and we exchanged contact information. I noticed they made it all about 1000 feet before their GT3 Touring shut down. It was in limp mode. The Leipzig crew was now in full react mode and a team from the dealership was on standby. Diagnostic hardware was set up right in the parking lot. My curiosity got the better of me. It was 4 p.m. and I wanted to know what happened. I hung around for another 30 minutes while it was dissected and diagnosed. Ultimately it was determined that they needed to replace the battery of all things. It appeared that a dead cell was providing inconsistent voltage. Once the new one was in place, all of us were off and running on the next adventures.
I was headed to the Autobahn for a low rev trip to Munich. 4k max rpm for the first 500 miles, and sadly the car was set for kilometers so that meant I had to be patient. I still enjoyed the ride!
Tune back to the newsletter for the next installment.
Mike
Posted on Saturday, July 1, 2023 12:00 AM, updated on Monday, July 3, 2023 9:31 AM
Return to List of Journal Articles