Oct. 1 Zuffengruppe: Vintage airplanes and Porsches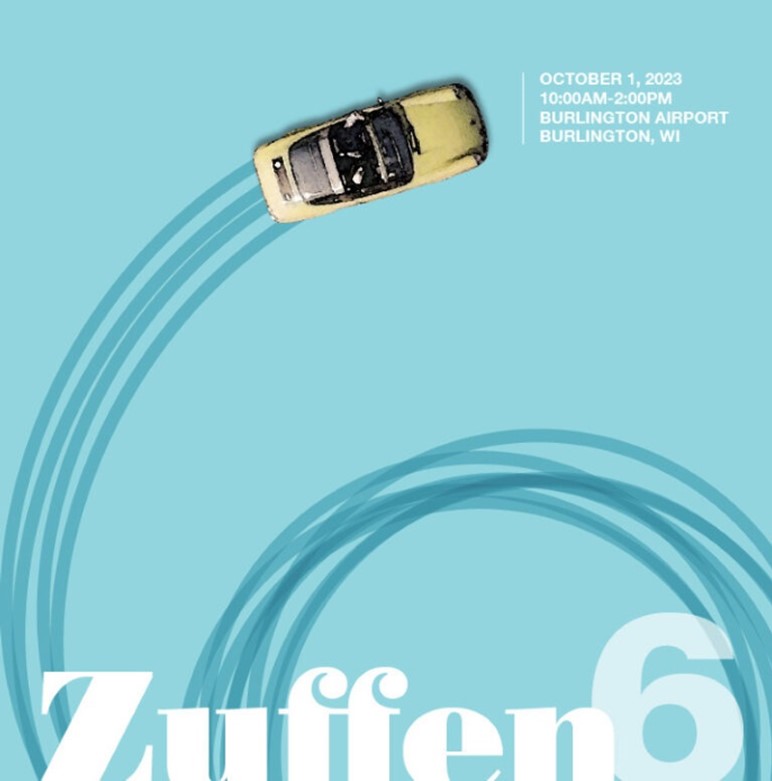 Courtesy announcement. This event is not sponsored by PCA or the Milwaukee region
Zuffengruppe is the Midwest's exclusive gathering for air-cooled and pre-1995, water-cooled classic Porsches.
For 2023 the host group is going topless…featuring all cabriolets and targas. There is also a special display area for pre-registered modern 911s, Boxsters and Caymans.
Zuffengruppe events have always kept things fresh with unique locations by learning from each previous event. Vintage Porsches will be joined by vintage aircraft including historic Warbirds; most will be flying in from around the Midwest. Historic aircraft will be displayed among Zuffengruppe Classics with our Vendor Village set between the two areas.
The host group is proud to be supporting two local organizations to raise funds. A local non-profit will have breakfast items available, and lunch will served by the Burlington Fire Department with proceeds going to each.
Registered Porsches (classic and modern) will receive a reserved display space, event lanyard, Zuffengruppe swag and Zuffengruppe 6 event stickers.
Back by popular demand, Saturday night, Sept. 30, we are having a vintage Porsche street display in downtown Burlington in the quaint "LOOP" district from 4:30 to 7:30 p.m. Limited to 30 curated classic Porsches only. Special Zuffen Lager will be make its untapped debut for all those in attendance as well as being served at Zuffen 6 on Sunday. Live music, local craft breweries and food will be at the event.
Zuffengruppe 6 is staged on the airfield of the Burlington Airport in Burlington, WI. Vintage Porsches will be joined by aircraft flying flying in from early morning through mid-afternoon, weather permitting.
Vintage Porsches will display in a large dedicated area along the runway where we'll be front and center to watch planes flying in and taxing into the event. There will be all the air-cooled Porsches you've come to expect at Zuffengruppe events plus vintage front-engined Porsches. Yep, we are including classic 924, 944 & 928 transaxle Porsches now. Vintage Porsches need to be pre-registered to display.
Airplane hangars line the entire area, many of which will be open displaying private collections and planes, including historic Warbirds. Our Burlington Airport partners may be giving plane rides as part of their Burlington Fly-In event.
A limited number of Modern Porsche 911s, Caymans, and Boxsters that pre-register will display in a separate reserved area. Additionally, a limited number of spectators can pre-register for Reserved Spectator Parking to ensure the closest parking.
There will be plenty of food this year at the event to support the drivers, pilots, and spectators, and your purchases will be supporting the fundraising efforts of two local groups. A local non-profit will have breakfast items available, and the Burlington Fire Department will be manning the lunch grill. An additional lunch food vendor will be joining us to provide a wider selection of food options. And, yes, the coffee tent should be up and running when you arrive this year. (heads up: food/drink is cash only)
Come join your fellow vintage Porsche enthusiasts. Rain or shine.
October 1, 2023
10 a.m. to 2 p.m.
Burlington Municipal Airport – 703 Airport Rd.
Burlington, WI
Pre-registration is required. See below.
This is not a PCA or Milwaukee region-hosted event.
Vintage Porsches register here
Modern 911s, Caymans, Boxster register here for preferred parking
Posted on Wednesday, August 23, 2023 6:57 AM, updated on Wednesday, August 30, 2023 11:20 AM
Return to List of Journal Articles