Everything Porsche Spring Driving Tour - 300 miles of fun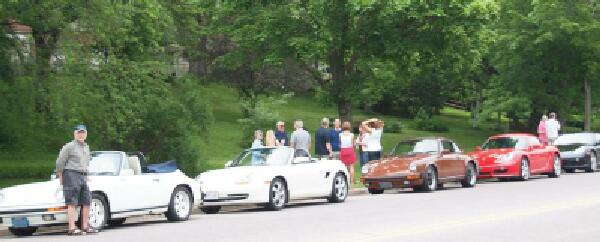 by Jim Del Balso
Our members and guests gathered for our Everything Porsche 50 anniversary spring drive at the Delafield Park and Ride lot on Highway 83. Though the weather forecast had been for a very hot and humid day, we were greeted instead by a relatively cool, but rain free morning (which was significantly better than our spring tour of 2008 amidst floods of epic proportions) and was great for driving. Cabriolet tops were generally down, as they should be, though some might have called upon heaters for auxiliary comfort. We spent a bit of time socializing, before our tour organizers, Jay and Lee Heppe held the drivers meeting.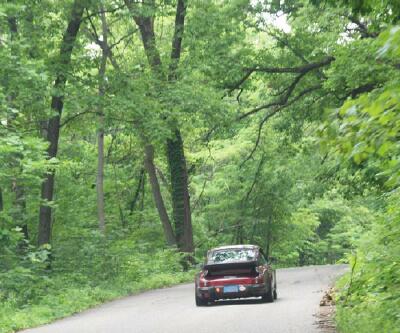 We were also welcomed by Gary and Renee Messing, who reminded us that at our final destination we would have cake and champagne waiting, to help us commemorate our club's 50th birthday year. Lee told us it would be one of the more challenging driving tours that he has put together, in part, because of its length, which for this driver, was about 325 miles in total. We also greeted Lee's girlfriend Sharon, and Jay's wife Kristin, both of whom we had not met before on a tour.
With about 30 or so cars in our group, we headed west to Madison, and then north toward Wisconsin Dells, hitting our first stop in Portage for rest, refuel and a leg stretch for all. The second stage became much more challenging, as we motored along in a general westerly direction, traversing some of the best driving roads Lee could find in central Wisconsin. We made our way to Devils Lake State park, and upon entering park roads, became a more sedate driving group, as we took in the beautiful scenery of Devil's Lake. From there we headed north to Baraboo, home of the Circus World Museum. We were intent on driving however, so did not find any circus wagons or animals, and that became our second rest stop.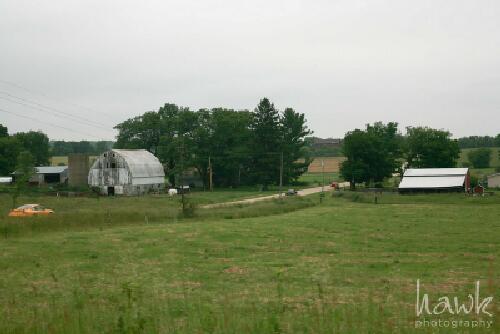 We headed south, then northwest, toward Reedsburg, again following the great winding roads of Wisconsin countryside. We even saw a cow on a leash, and wild turkeys in the road. The scenery was breathtaking, and reminded us of what a wonderful state we live in. Our journey headed toward Wisconsin Dells, where Lee had arranged a marvelous lunch at the Northwoods Bar and Grille. We were all ready for some time to relax from the driving chores, and partook of a great lunch and camaraderie of fellow club members and guests. Unfortunately, we lost the Messings along the way, since their trusty 914 lost oil pressure and they were forced to return to Milwaukee.
After lunch, we traveled along the Wisconsin River through Sauk County and the Pine Island State Wildlife area, as we went through Portage for our second time of the day, before our next stop in Pardeeville. The next stage Lee termed, "Go east for cake," and this took us from there to Beaver Dam by a circuitous and beautiful route. At a couple of points we drove through a bit of mist, but the entire day was accomplished without dealing with any major rain events. Our last stage, called "Finish it Out" was more relaxed, as we found our way to Allenton, traveling through Horicon.
In Allenton, we gathered at the MJ Steven's Restaurant, where our arrival had been anticipated by the staff, who quickly headed outside to "see all the Porsches," as many of them were heard to say, "I like that one or that one..."
Gary and Rene Messing were able to rejoin us after getting their 914 home safely, as we enjoyed great dinner and conversation with the group. A champagne toast by Gary Messing, 50th anniversary committee co-chair, followed brief remarks by Ron Pace who acknowledged the special birthday year and upcoming events for our club Finally.a special birthday cake featuring a 356 prepared by the MJ Stevens chef capped another wonderful memorable day of fun spent in our favorite automobiles.
Editor's note: Special thanks to Geoff and Stacey Wilde and Jim Del Balso for contributing photos for this article.
| | | |
| --- | --- | --- |
| | | |
| Lee Heppe, left) and Jay Heppe, conduct the drivers meeting. | Geoff Wilde, left, relaxes before he starts shooting photos at the event. | Kim Zinda (left) enjoys the re-fueling break along with Rick Zinda (center) and Jerry David. |
| | | |
| Jim Schustedt (center) talks about Porsches with another driver while Jim's wife Kay looks on during a re-fueling break. | More conversation during a break along the route. | The Heppe's arranged for a sighting of a freight train along the route. 'How do they do that?' wondered Jim De Balso, photographer. |
| | | |
| A line of Porsches await a traffic light change. | Kristin and Jay Heppe wait for lunch to be served. | Lee Heppe and his friend Sharon relax at the lunch stop. |
| | | |
| Paul and Sharon Stewart were among the many attendees. | Happy 50th cake was made by MJ Stevens for the special occasion. | Todd Fleming and his 911 anticipate a fun curve ahead. |
| | | |
| Many Porsche models, including this 914, were part of the tour. | Straight roads were the exception on this tour. We expected nothing less. | |
Posted on Sunday, June 27, 2010 1:14 PM, updated on Thursday, July 29, 2010 6:26 PM
Return to List of Journal Articles