50th finale gala caps a great year
By Bev Jurkowski

above photo by Donna Daufenbach
The Milwaukee Region's 50th anniversary finale on Sept. 25 was all that had been promised, and more.
All of these elements contributed to a wonderful evening at the Wisconsin Country Club:
Gathering of 85 members and guests
A beautiful setting for members to re-connect with each other or make new acquaintances
A manicured lawn in front of the country club for Porsches of nearly every vintage to be parked in a stunning display
A multi-course meal tastefully prepared and served
Kudos delivered by a national PCA officer
Entertaining remarks from two great speakers – one with ties to PCA and the other with ties to racing and race tracks.
A memorabilia display that showed just how far we've come in 50 years
A spirited silent auction that raised more than $1,500 for breast cancer research
Attendance by a number of our region's past presidents.
The 50th anniversary finale concluded a year long schedule of events that began in February with Turbo Spaghetti and continued with a two-day Hallenbeck Drive into Spring driver education at Road America, a day long Spring driving tour, a special event at Porsche Park during the Kohler International Challenge with Brian Redman, a Show and Shine concours at International Autos-Waukesha, and an autocross at Miller Park featuring free runs for novices and a catered picnic lunch.
Region President Don Kiepert welcomed attendees and thanked the 50th committee co-chairs Gary Messing and Ron Pace, and also thanked board members and all committee chairs for their tireless efforts to create a rewarding experience for our 500+ members. Kiepert also acknowledged the attending past presidents which included Gary Messing, Renee Messing, Dan Matre, Ron Pace and Bob Shellman.
Caren Cooper, PCA national secretary, presented a 50th anniversary flag to the region on behalf of her fellow national officers. Cooper noted how special it was for a region to be observing 50 years. "Many don't make it this far," she said. She also complimented the region on the variety of activities that the club offers it members.
Gene Bussian, who was a founding member of the Chicago-Milwaukee region, shared his memories of the earliest days of PCA formation and the challenges that Porsche lovers had in finding dealers from which to purchase their Porsches. The crowd particularly enjoyed his story of a test drive that he and some friends took in a 356 at a dealer in Oshkosh. The friends were quite familiar with a turn on one of the streets in the area. When they took the car back to the dealer, they pointed out that the speedometer on the 356 was "off by about 15 miles." No, the dealer said, it wasn't. The young men had never taken that curve at such a speed in any vehicle before. They immediately asked to take another test drive.
Bussian also noted that the Chicago-Milwaukee region caught the attention of the national PCA because of the ice races that the members had on lakes in Wisconsin.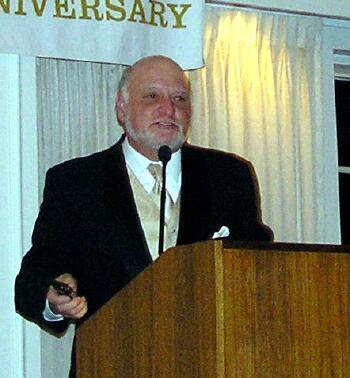 Author, journalist and race driver Burt Levy, left, captivated the audience with an entertaining slide and video show that chronicled his years of involvement in the world of sports car racing which forms the backdrop of his novels featuring Buddy Palumbo, his main character who is a garage mechanic with racing aspirations. Region member Jim DelBalso was sporting a Buddy Palumbo button at the event, testifying that he's a loyal Levy fan.
Many in the audience had read Levy's works and already owned his books. Many went home with his books, too. His stories included memories from hours spent at Road America and post-race gatherings at Siebkins in Elkhart Lake. Levy often got recruited to be part of driving teams in sponsored cars so that he could write about the team or the car. His hilarious stories included experiences in a TR3, GT 40 Mark II and even a Ford Pinto. Follow Levy on his website: Last Open Road.
The evening came to an end all too quickly but it was indeed a checkered-flag finish for a region celebrating 50 years of camaraderie and Everything Porsche.
Photos by Mike Wiviott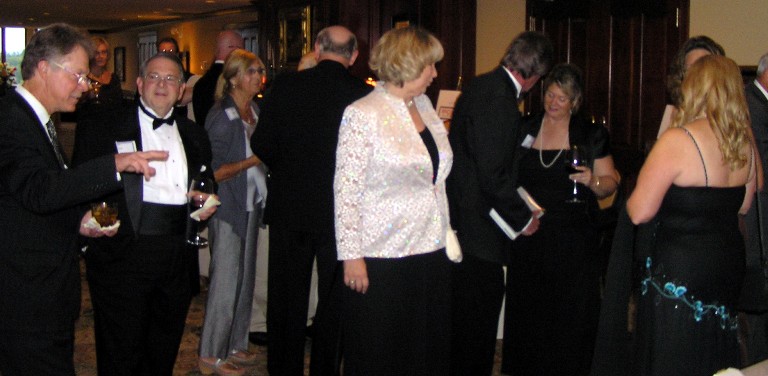 Gene Bussian, right, and his wife were our special guests.
Caren Cooper, PCA National secretary, presents a 50th
anniversary flag to Milwaukee Region President Don Kiepert.
50th Committee Co-Chair Gary Messing
50th Committee Co-Chair Ron Pace.
Don and Marianne Kiepert
Greg and Diane Kovacs check out the auction items.
A table full of region newsletters and Panoramas chronicled the region's 50-year history.
Larry Miley arrives at the Wisconsin Country Club.
Posted on Saturday, October 2, 2010 3:19 PM, updated on Tuesday, October 5, 2010 7:48 AM
Return to List of Journal Articles