A Buick turned into my first Porsche
by Bev Jurkowski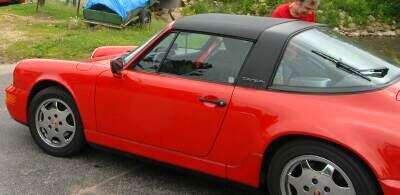 As your region newsletter editor and webmaster, I am always nagging members about sending me their personal story about how they got into Porsche ownership. I decided I should set an example and tell you our story.
I can't remember what I was driving at the time but my husband, Mike, thought I needed a different car. He saw a Buick Gran Sport on the lot of a local leasing company in the Milwaukee area that he thought I would like. Coincidentally, Mike had worked at that leasing company at one point in his career. He knew they had a reputation for selling quality cars. As we got out of our car and approached the lot, a Porsche 924 Turbo jumped out and grabbed me. Not literally, but it sure caught my eye. What Gran Sport?
Let me back up. I had been nuts about Porsches for a while. At the time, I liked the 928. It had power, luxury and great handling all in one package. So the 924, with its water-cooled engine and body lines, appealed to me. The car was being sold as a courtesy to one of the leasing customers so it wasn't a leased vehicle. Mike was familiar with the car's owner and in particular the company that was a leasing customer. The car had spent most of its life in Colorado.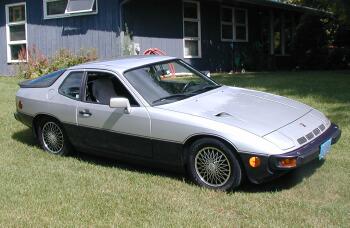 It had low mileage and looked terrific with its European color scheme of dark blue metallic on the bottom and bumpers with classic Porsche silver on the top. A thin side moulding separated the two colors. Being a turbo, it had the trademark, functional hood scoop and air intake grille in front. The removable sunroof and five-speed tranny were the icing on the cake for me. The five-speed H pattern with reverse to the left of second gear and in front of first was an interesting set up that required concentration when shifting from first to second, or downshifting to second. Once you got the hang of it, it wasn't bad. The concept of the Getrag tranny was that first gear only got you rolling; the most used gears were in an H pattern.
The 924 Turbo soon was my daily driver. There's nothing like commuting to work in a Porsche. Who hasn't said that? We joined the club shortly after the 924 joined the family vehicle collection. We headed out to Colorado Springs for our first Parade in 1988. We got to know several Milwaukee region members through that trip and also loved the entire Parade experience in which you are surrounded by Porsches of every year and model for an entire week. It's also a blast traveling to and from Parade on the interstate system as you see many Porsches along the way.
The 924 took us to Parades in the Upper Peninsula and Cincinnati. As members, we also participated in many of the region's social and touring events. We'd often attend board meetings just to be around people who enjoyed Porsches as much as we did. We were spectators at autocross and driver education, too. In 2000, we got a call from Renee and Gary Messing. They wanted to pay us a visit to talk to us about an "opportunity." We agreed to a visit. I don't remember how much time elapsed between the moment we said, "Sure, come and see us," and when they were at the front door. I think it was within days, if not hours.
If you know Renee and Gary, they are great recruiters. It's hard to say no to them because they themselves are so invested in the club. They informed us that they had taken on the leadership of the national Parade that Milwaukee would host in 2001. They needed us to handle the hospitality suite. If you've been to Parade, you know how popular hospitality is. It's the meeting place throughout Parade for all attendees. It's a place to enjoy free snacks, check email and visit with exhibitors. Everyone who attends Parade eventually shows up in Hospitality. Working Parade was exciting and tiring. The Messing's had assembled an outstanding team to handle all aspects of Parade. Starting in the summer of 2000, monthly meetings were held as plans were developed. As we got closer to Parade week in 2001, meetings were held weekly. Through that involvement we formed several lifelong friendships and would not trade that experience for anything. In fact, our participation in multiple Parades has led to lasting friendships with wonderful people from New York and Canada and acquaintances with many more.
After our committee role with Parade '01, both of us served on the board of directors. I was also region secretary for a term and helped with editing the print newsletter for years. As a board member, Mike also took on the role of membership chair, a position he held for nearly a decade until recently. We've both been on various committees too.

The year 2001 was pivotal in another way. Maybe it was being around hundreds of 911s at the Milwaukee Parade or perhaps it was just time -- time for an air-cooled classic 911. We set our sights on replacing the 924 Turbo. In August of 2001 we found a one-owner 1990 964 Targa, which is another classic Porsche design that catches my eye. The Targa is a compromise. Mike wanted a Cabriolet but I was more a coupe person. It's Guards Red and features "standard" 964 wheels, but they are polished chrome. Mike is the principal driver but I've had some seat time in it. It's a great car.
So there you have it. What's your story?
Posted on Friday, April 20, 2012 12:00 AM, updated on Monday, April 23, 2012 4:23 PM
Return to List of Journal Articles